The tinsel town of Bollywood is busy with a wedding of Ranbir and Alia Bhatt. A wedding that has made the entire mainstream media go berserk. From covering who will be applying the first coat of the mehndi to how low did the groom kneels to be garlanded the varmala – the media has done its fascinating paparazzi job to filthy perfection. And of course, the reader must have guessed by now which wedding we are referring to. Yes, the #Ralia wedding which supposedly is the biggest event of the year, if the media reports and their fascination is any indication.
Ranbir Kapoor and Alia Bhatt got married on Thursday at the former's apartment 'Vaastu' in a private ceremony. Reportedly, Ranbir and Alia got married on the balcony of the apartment as Alia took to Instagram to share the pictures of the wedding and captioned the post as saying:
"Today, surrounded by our family and friends, at home in our favourite spot – the balcony we've spent the last 5 years of our relationship – we got married. With so much already behind us, we can't wait to build more memories together memories that are full of love, laughter, comfortable silences, movie nights, silly fights, wine delights and Chinese bites. Thank you for all the love and light during this very momentous time in our lives. It has made this moment all the more special. Love, Ranbir and Alia."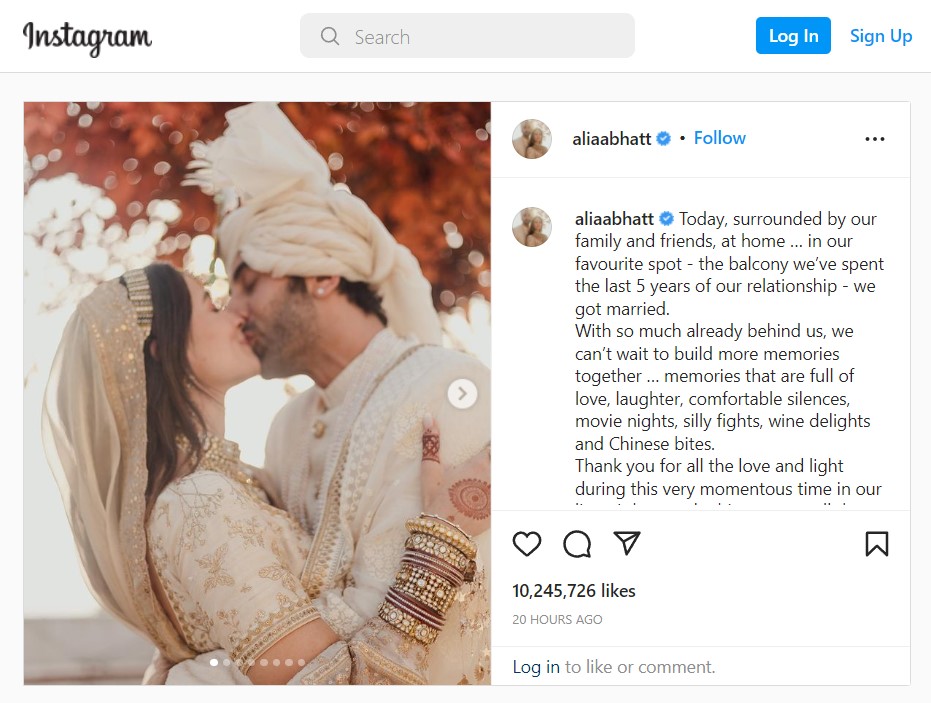 The pictures suggest that Alia and Ranbir got married according to Hindu rituals but there is still no clarity on whether the Kanyadaan ceremony was performed or not. Notably, Alia Bhatt had called the ceremony regressive in an advertisement for the Manyavar brand last year.
Read More: Alia Bhatt in legal trouble for the anti-Hindu Manyavar ad
Bollywood actors marry into famous families only 
Wedding of Ranbir and Alia also suggests that the big names of the industry with influential family surnames only tend to get married amongst themselves. Ranbir Kapoor in the past had been associated with actresses like Deepika Padukone and Katrina Kaif – both of whom he dated for a significant period of time.
However, both relationships ended on acrimonious notes with news reports implying that Ranbir was the toxic one and his behaviour led to the demise of the respective relationships. Moreover, some media reports indicated that the Kapoor clan was itself against Ranbir marrying an outsider, especially referring to Katrina Kaif.
Both Deepika and Katrina do not come from star families. Padukone may have a popular father figure in Prakash Padukone, but it does not match the standards of the 'Kapoor' royalty clan. As for Katrina, she was a complete outsider, a foreigner who was only helped by Salman Khan.
Kapoor and Bhatt coalition – a perfect family alliance
Meanwhile, Alia comes from a family that has been an established player in the industry for decades. Thus, the wedding of Ranbir and Alia makes perfect sense for both parties as it allows nepotism to flourish inside the industry and within the posh family circle.
There is in fact, a trend in Bollywood where actors tend to get married amongst their close groups. Kareena Kapoor getting married to Saif Ali Khan was seen in a similar vein. Saif is a prince and has a rich monarchic history whereas Kareena has the Kapoor surname.
Marrying an outsider like Shahid who at the time was still trying to carve out a separate identity for himself would have been a total mismatch. Despite Shahid's father Pankaj Kapur being an industry veteran, he has never been acknowledged as the one having an 'in' within the industry. Shahid had to learn the ropes all on his own with his father's name bringing little to no help.
Bollywood is still a closed industry where very few manage to make a mark for themselves if they do not have a godfather or a popular surname. The entire Sushant Singh Rajput death controversy opened the can of worms regarding nepotism and how it could drive the brightest of minds towards attempting something unthinkable.
Thus, a wedding like #Ralia showcases that the 'Khandans of the Bollywood' want to remain confined and recycle the so-called 'talent' through the established names and families.