Lately, cricket has become a game of individuals where the top players often tend to perceive themselves as bigger than their teammates and the game itself.
While players are elevated to cultish demigod like status, their fan echo chambers become a toxic legion of supporters.
One such toxic fanbase is of Virat Kohli, the former Indian skipper. Virat, through his trials, tribulations and gaffes has had his fair share of controversies in the last few years.
However, it's his fans that pollute the social media platforms with their filth take and incessant deracinated trolling. This time, the target has been Parthiv Patel, the former Indian cricketer who merely revealed what Virat told him, a few summers ago in an immature haste.
Bumrah-Vumrah Kya Karenge: Virat Kohli
Reportedly, during a Cricbuzz cricket show, hosted by Gaurav Kapur, Parthiv remarked that when he was with Royal Challengers Bangalore in 2014, he told Virat Kohli about Jasprit Bumrah and asked him to take a look at the fast bowler, but the then RCB skipper shrugged it off.
Parthiv said, "In 2014, when I was in RCB I had told Virat that there's a bowler Bumrah, just see him. The reply that came from his end was 'Chord na yaar, ye Bumrah-Vumrah kya karenge?' (Leave it. What will such players do?)"
What was #ViratKohli's reaction on hearing of #JaspritBumrah for the first time?
Watch @parthiv9 narrate an incredible story, only on #CricbuzzLive हिन्दी#CricketTwitter #IPL2022 #DCvMI@kreditbee pic.twitter.com/OoYDawlaNy

— Cricbuzz (@cricbuzz) March 27, 2022
It is imperative to note that Bumrah was an unknown commodity at the time and was still finding his footing in domestic cricket — forget IPL or international cricket. Thus, it could have been a genuine oversight from Kohli, who may have received reports about such players on an almost daily basis.
Parthiv later clarified that he told Kohli and Bumrah about the incident as well. All in all, it was a routine conversation between teammates with nothing of malice, despite the immaturity shown by Kohli in disregarding a promising youngster. However, Kohli's fans took the statements out of context and started trolling and abusing Parthiv, left, right and centre.
Kohli fans troll and abuse Parthiv
One Twitter user named (@EightyTwoNotOut) wrote, "Parthiv patel chut*iya hai. Idk at what extent this is true. One thing you can't leak dressing room things-Bumrah wasn't successful at that time…Kohli knew who is Bumrah because he got Kohli's wicket in 2013 itself. So his statements not adding up! Shame attention Ke liye kuch bhi." (anything to gain attention)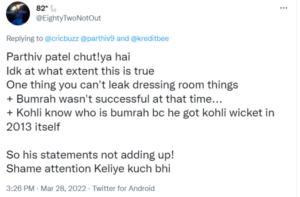 Meanwhile, another Twitter user named Cricfan termed it as agenda from Parthiv, "Agenda is at best by Parthiv & Co against Virat! Private conversation now being public.. Slow claps"

Then came Kohli supporters who mocked Parthiv's height and said, "Iss ded futiye ko utha ke fenk do koi (Somebody pick up and throw this one and a half feet idiot)"

One called Parthiv a douchebag and added, "Revealing private conversation you once have with a teammate to public. God knows if he even telling the truth, even if it's true selling your integrity for some attention. What a jealous bit*h."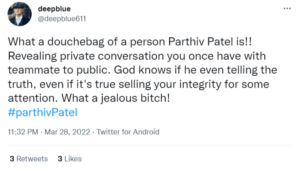 Read More: By condemning imaginary hate campaign against Shami, Virat Kohli fuels anti-Hindu rhetoric on social media
Bumrah's meteoric rise to the top
While Kohli failed to notice the initial spark in Bumrah – the talented pacer worked hard in the shadows and emerged as one of the most potent options in Kohli's arsenal in all three formats of the game.
Such has been the rise of Bumrah that many consider him the ideal fit to replace Rohit when he hangs up his boots. The selectors are also aware of Bumrah's potential and have started polishing his leadership skills.
After picking Rohit as the captain, chief selector Chetan Sharma was quoted as saying, "Rohit was the clear choice for us. We want to create leadership under him. As long as Rohit is fit and available, he will be the Test captain. We will give him rest whenever he or the team management or the medical staff gives us a directive. K.L. (Rahul), Bumrah, and Rishab have all worked as vice-captains, so we want Rohit to groom them as leaders."
Bumrah has not shied away from taking the captaincy role
Bumrah, ever since bursting onto the scene courtesy of his heroics in the IPL has improved leaps and bounds, both as a cricketer and a human. He made his international debut in 2016 against Australia in their backyard and since then, has not looked back. Bumrah is a player who wears his thinking cap all the time and has a good head on the shoulder — a required pre-requisite for becoming a captain.
Bumrah was appointed vice-captain of the Indian team for the South Africa ODIs, and recently during a press conference, the 28-year-old did appear tempted at the prospect of leading India.
Bumrah had remarked, "If given an opportunity, it will be an honour and I don't see any player would say no and I am no different. Be it any leadership group, I always look to contribute however I can, to the best of my abilities,"
It's a welcome change of perspective from an Indian cricketer that tend to be overly diplomatic when it comes to their plans. Bumrah fancies himself as a captain and it comes from the tremendous confidence he has in his abilities.
Rohit all praise for Bumrah
Rohit Sharma has already waxed lyrical about Bumrah's capability and the cricketing brain he possesses. During a presser, Rohit was quoted as saying, "It doesn't matter whether it is a batter or a bowler. What matters is the cricketing brain and he (Bumrah) has a good brain. I know him well and I understand what kind of cricketing brain he has,"
The skipper further added, "Good for him to step into the leadership role. He has taken his game to the next level. I'm sure he would like to do this further. This role will add more confidence in what he's going to do. It's nice to have him as the vice-captain of the team,"
Read More: Can Bumrah become the next Team India captain?
Bumrah can be a shrewd choice who can lead the Indian side and groom the up-and-coming talent. And if by any chance, he was to take the mantle just now, no one would bat an eye and that explains the mettle of the man. In the meantime, the Kohli fans need to simmer down and show respect to Parthiv who has been a part of the Indian cricketing setup for a long.