BlackBerry's final hopes of relaunching itself have crashed as the manufacturing company has shut down its operations
The company has failed to innovate over the years and has been stiff on its old school rule book
The closure, as well as the company changing its core business to other areas, indicate that it's the end of the road for BlackBerry in mobile manufacturing
If anything can be termed a brand ambassador of an ever-changing world, then it is technology. Either you change with it, or you go extinct. No entity more than BlackBerry has faced the brunt of this ruthlessness.
BlackBerry production line shut
Once a darling of Barack Obama, BlackBerry is set to decline into oblivion. OnwardMobility, the Texas-based manufacturing company has finally given up on all hopes of reviving BlackBerry's fortunes. The company has said that it is shutting down its operations of manufacturing mobile devices.
OnwardMobility had acquired manufacturing rights from the Canadian giant in 2020. The updated BlackBerry was supposed to be launched in 2021 itself. However, due to some technical difficulties, it could not fructify. OnwardMobility had reiterated that it was on track but would take some time. Finally, the supply chain issues in the wake of covid-19 forced the company to close its operations.
Last nail in the coffin for BlackBerry
With the closure of manufacturing operations, experts believe that it is next to impossible for BlackBerry to revive from here on. Currently, the smartphone market in the world is saturated in favour of Android and iPhone. Though the Canadian company has tried to make its foray into Android, it has been a massive failure.
Not so long ago, the Canadian giant was one of the dominant players in smartphone markets. One of the most unique features offered by the company is a physical keyboard-based smartphone. Additionally, its privacy features made it one of the hot favourites of its dominant era.
E-mail communication on Keypad phone
BlackBerry came into the market as a company named Research in Motion (RIM). Initially, it used to make pagers. The first device to acquire BlackBerry's name was BlackBerry 850, an email pager. In 2002, RIM launched its first sophisticated device. The smartphone featured push email, mobile telephone, text messaging, Internet faxing, Web browsing and other wireless information services.
Initially, the company relied on easing email communication as its trademark. It started to offer its email services on non-BlackBerry devices as well. The company also made innovations in typing process for consumers. Initially, BlackBerry phones required you to use a single thumb impression to type. In Storm1 and Storm2 versions. BlackBerry offered its customers an experience of a QWERTY keypad.
Hot favourites of the aristocratic class
Soon, BlackBerry became a hot favourite of everyone. During his presidential campaigns, Barack Obama provided massive PR to the company. With fame came controversies as well since BlackBerry was labelled as not secure by many. All this was quashed by Hillary Clinton continuing to use her BlackBerry even after assuming the position of Security of State in the Obama administration.
For the next four years, BlackBerry pounced on the free endorsement by the Obama administration. Within 3 years of Obama taking charge, BlackBerry's revenues increased by more than 300 per cent.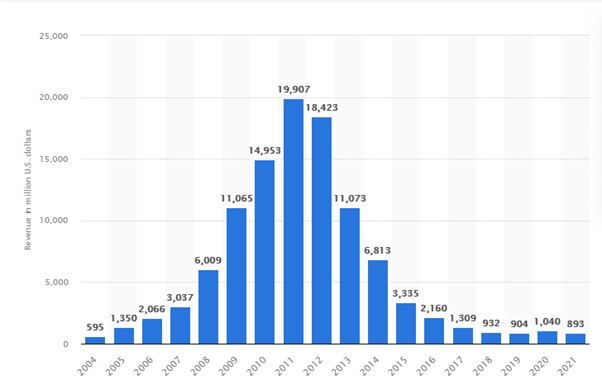 Its adoption increased many folds among government departments as well. Various local police departments such as that of West Yorkshire in England, Kochi, Bangalore and Pune police in India, US Federal department kept using it for a long period. It was also endorsed by Eric Smidt, Executive Chairman of Google from 2001 to 2011. It is pertinent to note that Google is a competitor of BlackBerry.
Could not compete with Android and iPhone
However, soon the brand started to feel the heat of rising competition. Android and iPhone were the new buzzwords in the market. The Canadian company however refused to innovate much. At its best, it launched BlackBerry10 iOS in 2013. It was based on the QNX operating system and was a departure from the ageing BlackBerry OS.
The company failed to compete with Google's Android. To make up for the lack of innovation, it made its foray into Android smartphones in 2015, beginning with the BlackBerry Priv slider. However, BlackBerry continued to provide physical keyboards underneath its Android screen in some of the models. Other models like BlackBerry Aurora, BlackBerry KeyOne L/E BLACK, and the BlackBerry Motion also failed to catch momentum.
Changes did not work
The lack of innovation caused revenue loss for the company. In 2016, the Canadian company announced that it will close down its manufacturing unit. It licenced TCL technology to manufacture its product on a global level. The new production line also could not change the fortune of the Canadian Brand. Four years down the line, Texas-based OnwardMobility took charge of manufacturing operations, only to permanently shut down in February 2022. Meanwhile, the worldwide market share of BlackBerry phones is closing in on zero per cent.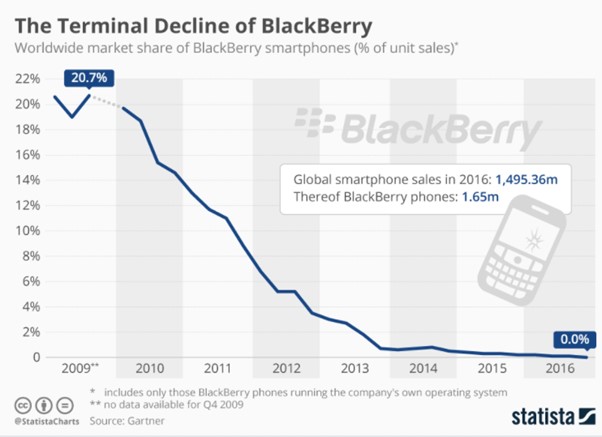 BlackBerry selling its mobile patent
Recently, Reuters reported that BlackBerry's core business has shifted from making smartphones to cybersecurity and software used by automakers. Additionally, the company is forced to sell its patents ostensibly to have some money for running its operations.
A Brand name is a prerequisite for a product to capture market share. However, the reputation of a brand is built on its track record, which keeps changing over the years. People may associate a Brand with certain features, but if the Brand gets stiff about those features, it loses its market value.