The fundamental problem with many, you see, is their brazen disgust for Prime Minister Narendra Modi. Have no doubt, they would rather see PM Modi dead than remain in power. And so, when a security lapse did occur with the Prime Minister's convoy on January 5 near Punjab's Ferozepur – India's liberals, opposition and far-left activists cheered like there was no tomorrow. 
They saw an opportunity to get rid of PM Modi once and for all. It did not pan out as expected for them, of course, and now – they are all frustrated and annoyed.
Their annoyance best became manifest in the tweet of one Tamilian actor called 'Siddharth'. Apparently, this actor who does not seem to have many films to his name chose to throw a sexual slur at Badminton champion Saina Nehwal. 
Why you might ask? Well, Saina Nehwal is a Modi supporter. And so, according to Indian liberals, she is unfit to be conversed with in a decent manner. Throwing sexual slurs at her is normal for Modi haters. 
Siddharth's 'Cock' Misadventure
Recently, Saina had written about the Prime Minister's security issue in a post that read, "No nation can claim itself to be safe if the security of its own PM gets compromised. I condemn, in the strongest words possible, the cowardly attack on PM Modi by anarchists. #BharatStandsWithModi #PMModi." How dare she, right? How can she condemn the lapse in security arrangements of a sitting Prime Minister?
Siddharth took hold of this opportunity and put on public display his indecency and incompatibility with human civilisation. He said, "Subtle cock champion of the world… Thank God we have protectors of India. Shame on you #Rihanna." This tweet, replete with sexual connotations, went viral all over India. People were shocked as to how Saina Nehwal can be subjected to such crass language by a supposed actor, only because she chose to support PM Modi.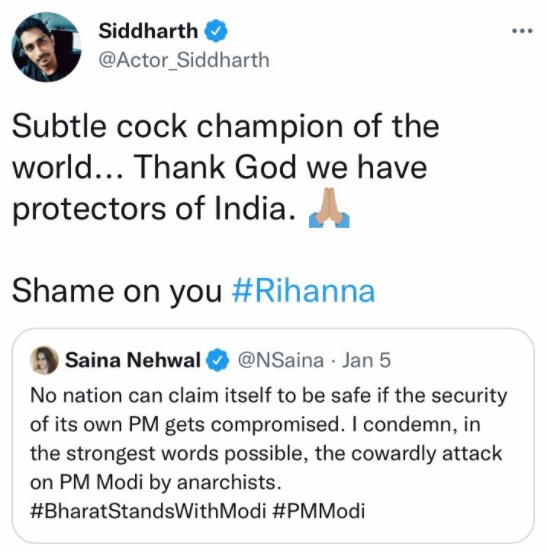 After a good amount of time, Siddharth chose to issue a flimsy clarification. Guess what he said? It's hilarious, really. Here it is: "COCK & BULL." That's the reference. Reading otherwise is unfair and leading! Nothing disrespectful was intended, said or insinuated. Period."
This is a lie. There's no way the man meant "cock and bull" when he said "cock" in his first tweet. It's a flimsy coverup, and nobody is buying it. The idiom 'cock and bull' is used to convey that a person does not believe something to be true. Like a 'cock and bull' story, where somebody finds the story hard to believe.
Dimwit @actor_siddharth while you were running naked on Chennai roads, she was training to bring championship to our Country. So better know your place distilled moron 🤷‍♂️ pic.twitter.com/v6YktD3jdX

— Arvinth (@arvinth_e) January 9, 2022
What did Siddharth find untrue in Nehwal's tweet? 
NCW Steps in as Trouble Mounts for the Tamil Actor. 
National Commission for Women chairperson Rekha Sharma has demanded action against Tamil actor Siddharth for his tweet mentioning Saina Nehwal. Rekha Sharma also condemned Siddharth for his actions. She tweeted, "This man needs a lesson or two. Why this person's account still exists? Taking it up with concerned Police."
This man needs a lesson or two. @TwitterIndia why this person's account still exists?..taking it up with Concerned police. https://t.co/qZD2NY5n3X

— Rekha Sharma (@sharmarekha) January 10, 2022
The National Commission of Women has also written to DGP Maharashtra to take action against the same. The Commission said that Siddharth's tweet invited Section 354 A of the Indian Penal Code, which covers Sexual Harassment and Punishment for Sexual Harassment in addition to Section 67 of The Information Technology Act, 2000 for Punishment for publishing or transmitting obscene material in electronic form.
In its letter, NCW said, "The Police must take prompt and strict action against such persons using indecent language for women on social media."
Saina Nehwal Reacts
Saina Nehwal reacted to Siddharth's sexual slur, and said, "I'm not sure what he meant. I used to like him as an actor but this was not nice. He can express himself with better words but I guess it's Twitter and you remain noticed with such words and comments. If the security of the PM of India is an issue, then I'm not sure what is secure in the country."
Read more: Two Champions, one Coach and a thousand emotions – The untold story of Saina, Gopichand and Sindhu
It has become normalised for PM Modi's supporters to be abused in the crassest manner on social media. They are doxed, threatened and assaulted with such sexual slurs by liberals and opposition sympathisers at the drop of a hat. Immediate and strict action must be taken against Siddharth to send a resounding message across to all such serial abusers.