Almost three decades since Compressed Natural Gas (CNG) was first introduced (1993) in the national capital, the Delhites have received little to no respite from the monstrous menace of pollution. When introduced, CNG was dubbed as the miracle fuel. However, over the years, certain studies have proved that this alternate fuel might not be the silver bullet as it was pitched for Delhi's air pollution problem.  
The Gujarat government in 2016, citing an expert committee report on fuels had told the Gujarat High Court that using CNG indiscriminately in all commercial and private vehicles may cause more harm than estimated.  
Switching to CNG is harmful: Mashelkar Expert Committee
The state government in an affidavit said, "As observed in Mashelkar Expert Committee report on Auto Fuel Policy in India, CNG vehicles for one mile emits 20 percent more greenhouse gases than a diesel vehicle for one mile. From the perspective of global warming, the decision to switch to CNG from diesel is a harmful one," 
The report further added, "CNG vehicle emits 80 per cent particulate matter and 35 per cent less hydrocarbons. However, the output of carbon monoxide is over five times more than diesel. If CNG is used, there will be a reduction in particulate matter. But other pollutants show a considerable increase. In fact, there is an increase in the emission of greenhouse gases with the increase in the age of CNG engine," 
CNG nanoparticles can cause cancer: CSIR scientists
Moreover, scientists at the Council of Scientific and Industrial Research (CSIR) have made similar observations by remarking that while CNG might not be as toxic as diesel fumes — the gases produced while burning it contain carbon nanoparticles that are suspected to cause cancer. 
MO Garg, former Director-General, CSIR was quoted as saying by ET, "This is a result of combustion which causes carbon disintegration. We have to see if the nanoparticles arise from CNG or the lubricant used. All I am trying to say is that CNG technology may have great potential but there is also a negative aspect to nanoparticles," 
Delhi has lost the gains of the CNG revolution: EPCA
An EPCA (Environmental Pollution (Prevention and Control) Authority for Delhi & NCR) report has argued that Delhi lost the initial gains made by the introduction of CNG vehicles due to the rapid motorisation in the city.  
The report stated, "The annual average PM10 levels were reduced by about 16% between 2002 and 2007. But thereafter, with rapid motorization, particulate levels – key target of policy action, increased dramatically by 75%. Between 2002 and 2012, vehicle numbers increased by as much as 97%, contributing enormously to pollution load."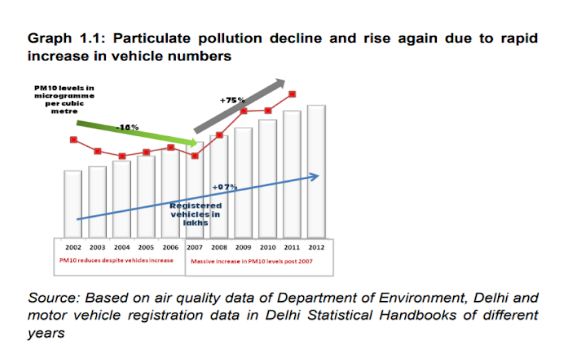 Similarly, a bench of Chief Justice Rajendra Menon and Justice A J Bhambani in 2019 had posted a query to the Delhi government while hearing a PIL along similar lines. The bench had asked the AAP government if Compress Natural Gas run vehicles caused air pollution.  
Compress Natural Gas run vehicles emit especially large numbers of ultrafine particles as small as 2.5 nm. These particles could potentially be the most harmful to human health as they have been shown to penetrate deep into the body and have been linked to an increased risk of brain cancer. If particles as small as 2.5nm are taken into account, the total amount of particles emitted by CNG cars and vans increases by between 100-500 times. 
With the advent of technology, Compress Natural Gas and its emissions might be brought down but for those remarking that CNG is the solution to Delhi's pollution woes, they are sadly mistaken. It is nowhere near the clean fuel it was once touted as.