Amazon might be fighting a battle with Indian corporates and government, posturing aggressively but in front of China, it surrenders as a timid cat. A recent report by Reuters has revealed that the US-based company agreed to cooperate with Chinese propaganda after the government issued them an "edict".
Reportedly, in the year 2019, Amazon had been selling a collection of texts by President Xi Jinping — including "Xi Jinping: The Governance of China". However, noting the negative reviews against their leader, the CCP watchdogs pressured Amazon to turn off their rating and comments feature.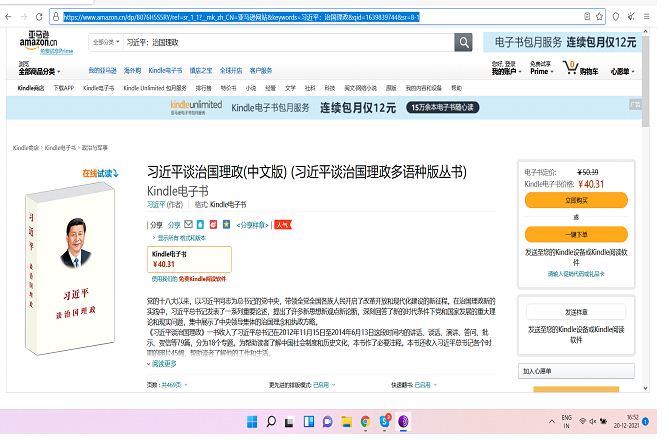 Amazon sold itself to sell products
And like an obedient child, Amazon complied. Currently, on its Chinese site Amazon.cn, the government-published book has no customer reviews or ratings. And the comments section is disabled.
It has been revealed that the tame surrender by Amazon was a part of its decades-long operations to flatter and please the CCP overlords. Amazon wanted to dominate the Chinese market but it could not have done so without the blessings of CCP. Reportedly, in Amazon's internal audits, it was revealed that the company was struggling to sell its products. And so, it did surrender.
Amazon took CCP's propaganda outside
The publication has mentioned in its report that Amazon got its mojo back in China after 2018 by helping Jinping further the ruling Communist Party's global economic and political agenda, while at times pushing back on some government demands.
To propagate CCP's devious ideas outside the borders, Amazon partnered with an arm of China's propaganda apparatus to create a selling portal on the company's U.S. site, Amazon.com – a project that came to be known as China Books. Although 90,000 books were commissioned to sell, the project never generated any significant revenue.
Amazon is not the only global giant to lie prostrate in front of Jinping. The greed for a rich consumer base in China has swayed the tech giants to take bad decisions for long. Apple in 2016 resorted to paying alleged 'bribes' to the CCP to gain a greater foothold in the middle kingdom.
Apple paid a bribe to CCP
As reported by TFI, Tim Cook, Apple's CEO in 2016 signed a previously undisclosed deal which is expected to be valued at around $275 billion. This covert pact is now being argued as the reason for the iPhone's rapid rise to the top-selling smartphone in China, the country's second-largest market.
Read More: Apple — The most Chinese American company
According to reports, the five-year agreement was reached when Cook conducted visits to China in 2016 to quell a slew of regulatory actions against the business. According to the story, Cook persuaded Chinese officials, who feared Apple was not contributing enough to the local economy, and signed the agreement with a Chinese government agency, making concessions to Beijing and gaining significant legal exemptions.
Google tried backdoor entry in China
Akin to Apple and Amazon, Google had also tried to force its way through in the Chinese market, after being banned. Reportedly, Google was developing a secret 'censored version' of its search app to launch in China.
However, after the news broke out in public about the project, nicknamed "Project Dragonfly", and Google faced massive backlash – the executives shelved the entire project.
Read More: Why Google loves China? Google is banned in China, but it gets big dollars as ad revenues from Chinese firms
Billionaire investor Peter Thiel in 2019 had accused the US technology giant of working with the Chinese military and called for the U.S. government to investigate Google. One of Thiel's other accusations was that Chinese spies have infiltrated Google's artificial intelligence (AI) projects, but he did not provide any evidence.
China, owing to its enormous population is always a sweet spot for the tech behemoths. And there is nothing wrong with trying to crack the market. However, trying to do business using unethical means and later virtue signalling the world is hypocrisy personified. This is the reason why tech giants run from being regulated.