Prime Minister Narendra Modi and his cabinet have put in some tremendous efforts in augmenting India's indigenous defence manufacturing capacity. The results have started to show up now. The newly commissioned INS Vishakhapatnam destroyer is a shining example of a push in defence manufacturing through the Make-in-India initiative.
INS Vishakhapatnam commissioned
On Sunday, 21st October, Shri Rajnath Singh was at the naval dockyard in Mumbai. He was the chief guest of the ceremony in which, indigenously built stealth-guided missile destroyer INS Vishakhapatnam was commissioned and handed over to the Indian Navy. Along with Shri Rajnath Singh, top Naval commanders were also present on the occasion.
INS Vishakhapatnam is the first ship of the Visakhapatnam-class (an upgradation from the Kolkata class) stealth-guided-missile destroyers. Stealth guided-missile destroyers are ships that are designed to carry and launch anti-aircraft missiles from them. On top of having the capability to destroy aircraft, INS Vishakhapatnam can escape the enemy's eyesight within a small interval of time, which makes it almost impossible for the enemy to get hold of it.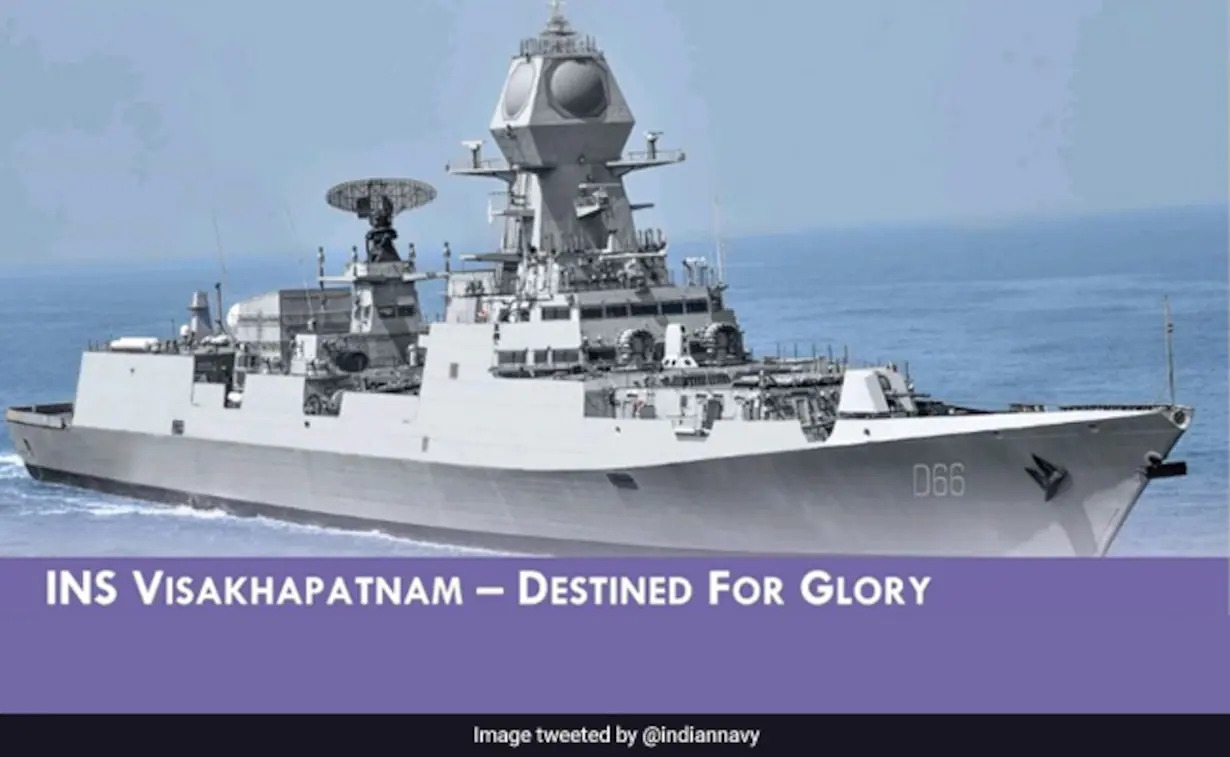 In terms of size, it is humongous as it measures 163m in length and 17 meters in breadth. If an effort is made to put this ship in a jampacked place, the ship will require 7,400 tonnes of materials to be displaced before getting established.
An upgraded engine and exponential stealth capacity
To run the ship, four powerful gas turbines are required. These gas turbines run on Combined Gas and Gas (COGAG) configuration. COGAG is a type of propulsion system for ships using two gas turbines connected to a single propeller shaft.
Simply put, two gas turbines will each be attached in two separate propeller shafts that will drive the ship. With the help of COGAG technique, INS Vishakhapatnam will be able to achieve a speed of 30 knots (55.56km) per hour.
To evade the enemies' eyes, the ship has been provided with a reduced Radar Cross Section (RCS). The area which can come under enemies' radar is extremely small. It has been achieved by marvellous engineering by using radar transparent materials on exposed decks. The hull (bottom) of the ship has also been shaped in such a way that it will escape any oversight.
The ship is armed with modern weapons
To counterpunch enemies of the nation, INS Vishakhapatnam has been provided with anti-submarine warfare capabilities. These include indigenously developed rocket launchers, torpedo launchers, and Anti-Submarine Warfare (ASW) helicopters.
Sophisticated state-of-the-art weapons and sensors like Surface-to-Air missiles and Surface-to-Surface missiles have also been provided as the main weapons on the board. To assist these sophisticated weapons, modern surveillance radar has been provided which will help in countering Nuclear, Biological, and Chemical (NBC) warfare-like scenarios.
 75 percent of components are made in India
The ship has an extremely comfortable base for the crew engaged in running it. It can easily accommodate a total of 315 personnel through accommodations based on 'modular' concepts. On top of that, the ship has 75 percent indigenous components. The indigenous components include Automated Power Management System, Foldable Hangar Doors, Helo Traversing system, Combat Management System, Integrated Platform Management System, Rocket and Torpedo Tube Launcher, Close-in Weapon System and the Bow mounted SONAR.
Read more: Make in India saves 1 lakh crore in defence expenditure
Challenges for the Navy
As India is striving towards leading the world in the 21st century, our enemies are also posing newer challenges to stop our triumphant run. One of those challenges is posed by the nexus of China and Pakistan on the naval front. Though Pakistan has tasted the Indian Navy's potency in the 1971 war, China is still trying to hegemonies itself in the South China Sea to pass a threat to India.
Read more: Rajnath's bold response to China's weird interpretations of UNCLOS in the South China Sea
The Make-in-India initiative along with Aatmanirbhar Bharat is changing the face of India's defence capabilities. Our dependence on imports from countries like the USA, Russia, France, Israel, etc has decreased and now we manufacture more than 65 percent of our defence capacity. With so much entrepreneurial bent and nationalism ingrained in our bloods, only the sky is the limit for our armed forces.