The Indian National Congress (INC) seems to be facing fresh cracks in its leadership. Party leader Digvijaya Singh has come into the spotlight, even as he dug up some pictures of Jawaharlal Nehru in an apparent bid to target viral social media posts against India's first Prime Minister. This might be a hint of fissures within INC leadership and an attempt by Singh to defy the Nehru-Gandhi family leadership.
Digvijaya Singh digs up Nehru's photographs:
Digvijaya found some of Nehru's old pictures and claimed that some of the photos were clicked with family members, while one of them was clicked with former US President Kennedy's wife, Jacqueline Kennedy and another one with Vikram Sarabhai's wife Mrinalini Sarabhai. Singh posted these pictures on his Facebook page with a brief description and context with every such post.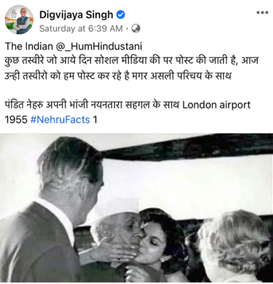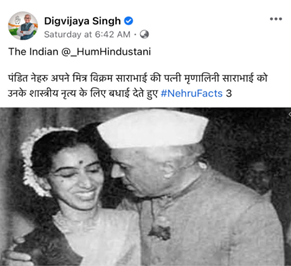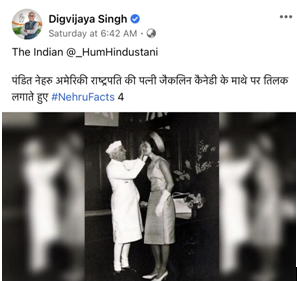 Notably, some pictures of Jawaharlal Nehru with some women of his time go viral on social media now and then. However, it doesn't serve any practical purpose for the INC to get into such issues out of the blue. Such issues tend to do more harm than good to a political party. 
What explains Digvijaya Singh's Facebook posts about Nehru:
Digvijaya Singh has had his fair share of controversies. The senior INC leader himself was caught in a sex scandal with journalist Amrita Rai in the year 2014. However, after the tape was leaked, both Singh and Rai declared that they were in love and got married in the year 2015.  
Within the INC, Singh has been facing increasing criticism. Recently, Congress leader from Maharashtra, Vishwabandhu wrote a letter to party president Sonia Gandhi urging her to stop former CM of Madhya Pradesh Digvijay Singh from making alleged "anti-Hindu statements". He alleged that Digvijay Singh, a member of his camp, has been making anti-Hindu statements continuously for the last 18 years. In such a situation, the party is suffering, the party should immediately silence him and if this does not happen, then the party may have to suffer further.
Earlier this year, Singh was also at the centre of a controversy between former Madhya Pradesh CM Kamal Nath and Jyotiraditya Scindia that ultimately led to Scindia leaving the INC and joining the BJP. 
Singh's political career took a major hit in the run-up to the 2019 Lok Sabha polls itself when he was asked by Kamal Nath to contest from the "toughest seat" in the state of Madhya Pradesh. Singh was made to contest from Bhopal against BJP's Sadhvi Pragya. He suffered a humiliating blow at the hands of Sadhvi Pragya, losing by a massive 3.6 lakh votes.
Now, there is no clarification as to why Singh posted Nehru's pictures on his page, nor do we know why he deleted it. But it seems almost as if he is exacting revenge upon the party high command for obvious reasons.