Devendra Fadnavis puts a serious allegation on Nawab Malik of colluding with key underworld operatives
Fadnavis is said to have the full backing of evidence behind his claims and is ready to handle it to law enforcement agencies
It is tough to save a coalition of opposite ideological parties when the alleged connections with Underworld are out in the open
In the latest saga of scandals coming out from India's commercial capital Mumbai, Devendra Fadnavis, former chief minister of Maharashtra has come out all guns blazing against out of control Nawab Malik of NCP. The accusations by Fadnavis supposedly armed with proof seems to be a perfect tool to drill Malik into the ground.
Nawab Malik in close cahoots with underworld-Devendra Fadnavis
Maharashtra Opposition leader Devendra Fadnavis shocked the nation on Friday when he alleged that Nawab Malik, the Minority Development, Aukaf, Skill Development and Entrepreneurship Minister of Maharashtra has close links with the underworld.
Fadnavis said that he has proof of Malik's land deal with Mumbai bomb blast convict Sardar Shah wali Khan and Mohd Salim Ishaq Patel, a close aide to Haseena Parkar, Dawood Ibrahim's sister. Detailing how the deal went ahead between Malik's company and underworld operatives, he said. "A prime property of 2.80 acres at LBS Marg in Kurla was brought by Solidus Investment Private Limited for a meagre Rs 30 lakh. The signatory of the deal transacted was Faraz Malik, son of Nawab Malik". He further alleged that the Malik family underpaid both wali khan and Ishaq as the deal originally finalised for Rs 30 lakh ended up chalking out only 20 lakh from Maliks' pockets.
Solidus investment is Nawab Malik's company and land was purchased from these underworld criminals.

3 acre land at LBS road got purchased only for ₹20 lakh.
Original value is ₹3 crore !!!

Why did you purchase land from criminals of Mumbai❓: @Dev_Fadnavis #DevendraFadnavis pic.twitter.com/bvxjfG6ZMm

— @OfficeOfDevendra (@Devendra_Office) November 9, 2021
Nawab Malik got nearly 90 percent discount on property deal from Dawood's close aids:
Fadnavis further alleged that the agreement price of Rs 30 lakh agreed by Malik for that deal is proof of the shady nature of the deal as Rs 30 lakh translates to only Rs 25 per acre for the plot involved, whereas a nearby plot was sold at the price of Rs 2,053 per acre.
The BJP leader asked whether the property was sold at a discounted price so that the law enforcement agency does not seize it courtesy of TADA charges on the Mumbai blast accused. If someone is accused under TADA, the government can seize their property. Raising the suspicion, Fadnavis added "Sardar Shahawali Khan was slapped with TADA.
Under this act, all the properties (of the accused) are seized by the government. Therefore, the question is, was Malik trying to help these underworld convicts by showing a deal so that they don't lose the property? Or was the deal shown on paper a formality and a huge black money transaction was done without any record?"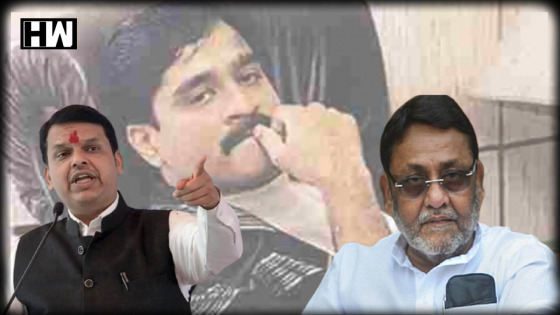 Fadnavis has evidence of each and every allegation he labelled against Malik:
Fadnavis was in no mood to provide any relief to Nawab Malik and informed that he had evidence of 5 such tainted land deals in total. According to him, all these deals took place between 2003 and 2019 and NCP chief Sharad Pawar seemed to be oblivious of the deals happening under his nose. Fadnavis promised that he will handle proofs to investigating agencies when asked for. "There is a direct connection with the underworld. I have documents of five property deals. Four properties were purchased connected with the underworld. I will furnish all the documents and details to the appropriate agencies including CBI, ED, IT and police," said Fadnavis. He also wished to inform NCP chief Sharad Pawar about the matter through a set of documents.
In such serious matter where underworld, bomb blast convicts have connections with Minister Nawab Malik, I will submit the documents to appropriate agencies for further investigation : #DevendraFadnavis@Dev_Fadnavis pic.twitter.com/YfxlBn0pVZ

— @OfficeOfDevendra (@Devendra_Office) November 9, 2021
Providing the background information about the underworld operatives Fadnavis said– "Sardar Shahawali Khan is a 1993 Mumbai Bomb blast convict. He is in jail, serving life imprisonment. He was a part of the team which was given firearm training by the mastermind Tiger Memon. Khan also did the recee of Bombay Stock Exchange (BSE) and Brihanmumbai Municipal Corporation (BMC) to decide where the bombs should be placed. Khan was present at the meeting held in Tiger Memon's residence to plot the bomb blast,"
Nawab Malik-A Politician who hounds honest officers to garner favours from celebrities:
Recently, Nawab Malik has been grabbing the media eyeballs for his alleged links with famous and high-profile celebrities of Mumbai. As NCB Zonal head Sameer Wankhede's name propped up as one of the officers in the Aryan Khan drug scandal, Nawab launched a flurry of attacks on him. As reported by the TFI, firstly he accused Wankhede of extorting money from Bollywood celebrities when they were in the Maldives, then he alleged that Wankhede was doing it at the behest of the BJP.
Read more: Sameer Wankhede is being hounded by Leftist Hyenas because he chose to go against the rich and famous
When both these allegations did not gain any leverage, he then accused Wankhede of using fake birth and caste certificates to secure his government job. He then went on to hide his nefarious intention behind an unnamed letter claiming that Wankhede had registered a total of 26 fake cases. However, NCB came out in support of its coveted officer and refused to initiate any action on the unnamed letter.
Read more: Nawab Malik tried to finish Sameer Wankhede, got trolled by the NCB
Uddhav Thackeray government in Doldrums:
Recently, things have not been going well for Maha Vikash Aghadi(MVA) coalition government in Maharashtra.
In April this year, home minister Anil Deshmukh was forced to resign after the Bombay High Court ordered a CBI probe into extortions allegations on him.
Then, the MVA coalition government was jittered by Sharad Pawar's support for key politicians in BJP including Nitin Gadkari, the Union Minister for Road Transport & Highways.
Recently, in order to do some political posturing, the state government decided to do a bandh in its own state, hammering the lives of common citizens.
Read more: From being the safest state for women to being one of the most dangerous – Maharashtra's disastrous fall
The MVA government is already facing deep internal troubles due to the contradictory ideologies of the political parties involved in the coalition. The controversies by its ministers and office bearers are not helping either. To add insult to injury, Nawab Malik's stunts have made it worse for the Uddhav Thackeray government to survive for long. Not many politicians have the wherewithal to get away with the exposure of their alleged Underworld links.