We live in the 21st century. It's a century in which it is highly speculated that the machines driven by artificial intelligence will be key drivers of Economies all around the world. This presents a huge opportunity for India to tilt the much-touted Asian century in its favour by establishing its entrepreneurial supremacy on the global stage.
India and AI potential:
India is at the cusp of Industry 4.0, the fourth stage of the industrial revolution which will be driven by Artificial intelligence (AI). Currently, India is one of the youngest countries in the world as more than 50 per cent of its population will be contributing to the national economy for the next 30 years. This presents an opportunity for Indian policymakers to prepare a big workforce for artificial intelligence. The AI revolution, if planned and executed well in India can contribute more than $957 billion, nearly 15% of GDP to the Indian economy in 2030. Its estimated contribution of $500 billion by 2025 and 2 crore jobs has the potential to contribute immensely towards Prime minister Modi's dream of a $5 trillion economies by 2025.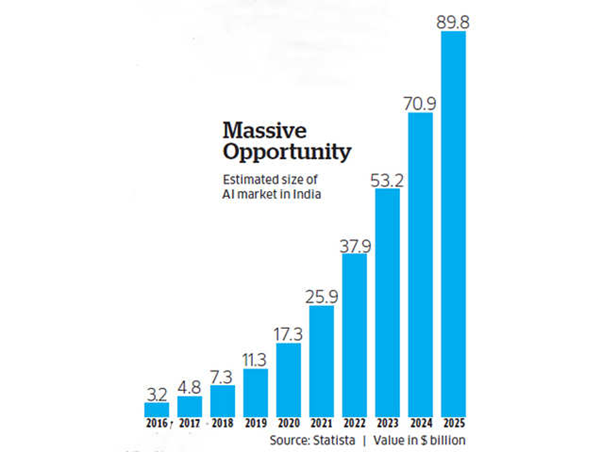 Narendra Modi Government is proactive in promoting AI:
The Narendra Modi government has taken some proactive decisions to promote AI-based entrepreneurship in the country.
The country is adopting the use of artificial intelligence in a confident but steady manner. The Modi government announced in February 2018 that NITI Aayog would launch a national program based on AI with a focus on research. Following suit, NITI Aayog launched the National Strategy on Artificial Intelligence in the same year. The decision came after the launch of a Task Force on Artificial Intelligence for India's Economic Transformation by the Department of Commerce and Industry, Government of India in 2017. In 2020, Prime minister Narendra Modi inaugurated RAISE 2020, a virtual multinational summit to exchange notes and ideas on the use of AI. Moreover, the government has infused thousands of crores in PLI, make-in-India to promote digital infrastructure which will cater to AI in a big way.
Read more: Semiconductor chips and Drones are on PM Modi's mind as he meets top CEOs in US
Notable developments in AI:
Government agencies, start-ups and big companies are implementing it in various functions and activities.
Various more use case of AI has been reported by ICMR and other hospitals for the treatment of patients suffering from life-threatening diseases.
India's challenges:
Yes, India has a huge potential to emerge as a global world leader in AI, but we still need to work on our fundamentals. Though India produces the second-highest number of engineering graduates in the world, it stands third in the number of AI-related scholarly articles published. Moreover, 83,000 + papers published is an extremely small number compared to second-placed America which produced more than 310,000 papers. India also lags behind countries like Taiwan, Germany, South Korea, etc., when it comes to AI patents
Read more: Patents registration have grown up in Modi's India by 572% and India enters top 50 list of most innovative nations
Jobs, startups and AI:
As India is moving towards more and more digitisation, more than 90 per cent of India's informal workforce need to be integrated into the economy. On the flip side, India is seeing a rapid acceleration in its startup base. According to AIMResearch, Indian AI startups raised $836.3 million in 2020, which is the largest funding outlay in the last seven years with a 9.7% year-on-year growth. In the same year, the Indian government increased the outlay for Digital India to $477 million to promote AI, IoT, data, cyber security, machine learning and robotics.
In the 2019 Union Budget, Finance Minister Nirmala Sitharaman had said that the government will offer industry-relevant skill training to 10 million youth in India in technologies such as AI, data and robotics. This is the reason that many AI startups have come up for some time now.
Read more: How a startups friendly Modi-govt is motivating Indians to be a leader in entrepreneurship
India's youth need jobs and AI companies need skilled youth. All we need to do is bridge the skill gap between India's youth and the requirements of the industry. This is not a tough job as the government and companies are collaborating on a massive scale to promote AI-based innovative job solutions. Streamlining the patent regime, increasing grants for research, providing funding to science-based institutions will turn out to be a big changer. AI will contribute nearly $15.7 trillion to the world economy in 2030 and this time we won't be missing the bus.