Tajinder Singh Virk, a Samajwadi Party (SP) leader has emerged as the mastermind of the Lakhimpur Kheri incident where fake farmers created ruckus at the protest site which took an ugly turn, leading to the death of nine people including four farmers, four BJP workers, and one journalist. Reportedly, Tajinder had coalesced the fake farmers at the spot and instigated them to attack the convoy of the minister. However, Tajinder also got injured in the kerfuffle and is currently undergoing treatment at Medanta Hospital.
A customary glance at Tajinder's social media footprint is enough to understand that he was close to SP supremo Akhilesh Yadav. The former chief minister had also stayed with Tajinder during his Uttarakhand tour. In one of the photos with Akhilesh Yadav, Virk has captioned it by remarking 'Jai Samajwad'.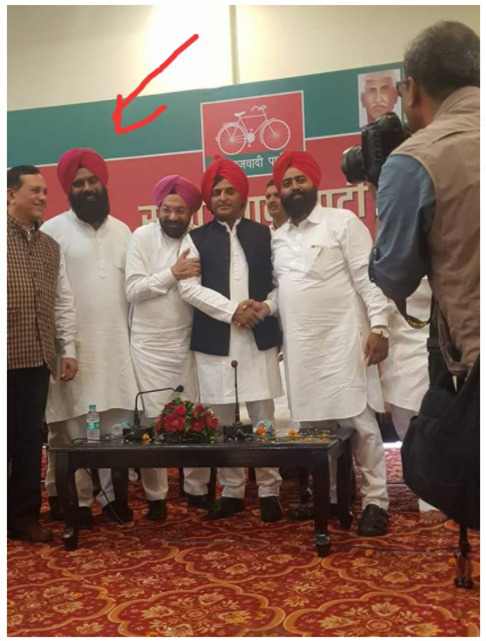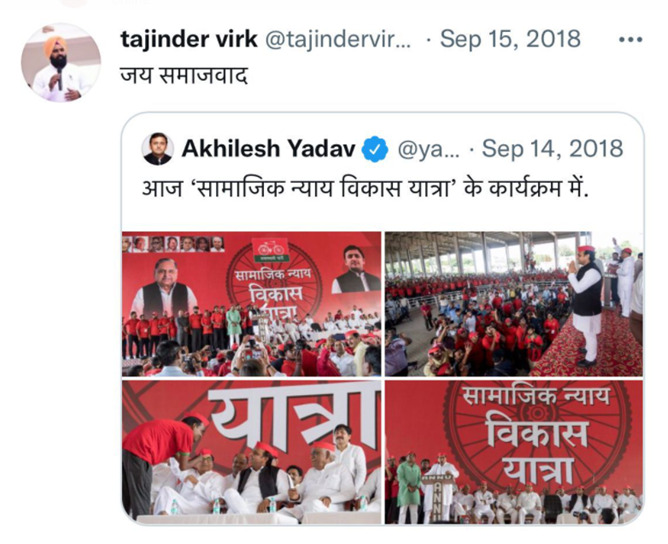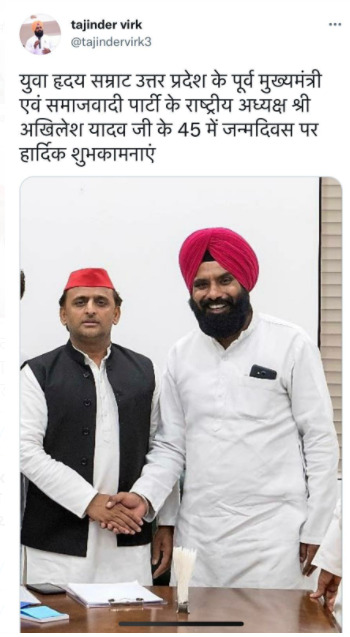 Such was the bonhomie that when the news of Tajinder's injury broke, Akhilesh Yadav himself tweeted and highlighted that Virk was indeed a Farmer leader at the protest.
लखीमपुर खीरी में भाजपाइयों द्वारा गाड़ी से रौंदे जाने की घटना में गंभीर रूप से घायल किसान नेता श्री तेजिंदर सिंह विर्क जी से अभी थोड़ी बात हो पाई। उनकी अति गंभीर स्थिति को देखते हुए सरकार तुरंत उन्हें सर्वोत्तम इलाज उपलब्ध कराए।

बस एक माँग मुख्यमंत्री इस्तीफ़ा दें। pic.twitter.com/V8FUgdZitQ

— Akhilesh Yadav (@yadavakhilesh) October 3, 2021
Trying to extract forced confession out of the driver
A video of the incident is now going viral on the internet, in which an attempt is being made to pressurize Ajay Kumar Mishra's driver in an injured state to give a forced confession. With blood flowing from his cracked head, the dizzy driver is being instructed from voices in the background.
FLASH:Video surfaces from UP's restive district of Lakhmipur Kheri – epicentre of clashes between farmers & BJP supporters -where driver of MoS @ajaymishrteni was thrashed,report @Anand_Journ &@rohanduaT02.

Farmers are heard asking him to admit if he was sent to manhandle them. pic.twitter.com/YzlAvAfvqL

— The New Indian (@TheNewIndian_in) October 4, 2021
One of the voices said, "The minister had told you to go and crush the farmers, right?", to which the driver replies, "No, Dada, this is not it, this is a hoax,". The voices continue to pester him by stating "accept it was an accident, we will not beat you,". However, unfortunately, the driver succumbed to his injuries as the bloodthirsty mob of fake farmers pummelled him to death.
Read More: Truth of Lakhimpur Kheri: What media reported vs what really happened?
The video is enough for one to believe that the incident has been orchestrated by unwarranted elements of the fake farmers protest. Moreover, the Khalistan angle has also been attached to the events of October 3. Reportedly, the district has a long history of hobnobbing with Khalistan.
Lakhimpur Kheri-Tajinder Virk-Khalistan
Lakhimpur Kheri has been a Khalistani hotbed for many years. However, it was only after Yogi Adityanath ascended to power in 2017 when any kind of concrete action was taken against the vandals. In 2017 itself, in a major operation conducted jointly by Punjab Police and UP ATS, several operatives and sympathizers of Babbar Khalsa International were arrested from Lakhimpur.
It certainly cannot be ruled out that Virk along with SP might have been in bed with the Khalistanis as there was a presence of Khalistani elements at the protest site organized by Virk himself.
As reported by TFI, in a shocking revelation, a Khalistani terrorist wearing a t-shirt with Bhindrawale written on it was spotted at the protest site. This clearly depicts that the Khalistani elements were protesting and attacked the convoy that led to the eruption of violence.
Read More: Truth of Lakhimpur Kheri: What was an 18 yr old, Bhindrawale Supporting farmer from Punjab doing at the scene
Khalistani terrorists spotted in Fake farmers March #UttarPradesh ! pic.twitter.com/D6896MzFqi

— BJP Supporters – Kerala (@Bjp4Supporters) October 3, 2021
In addition, an 18-year-old student Lovepreet Singh also went from Punjab to Uttar Pradesh to join the protests. Well, now the question arises that how this is justified that an 18-year-old student, who is supposed to be focusing on his career, went all over from Punjab to Uttar Pradesh to protest against the three revolutionary farm laws. Unfortunately, Lovepreet Singh is one of the four farmers who lost his lives during the brutal violence that erupted in the protest.
 Same Script as the Loni incident
The incident at Lakhimpur has all the shades of the SP handbook of manufacturing chaos. In June, an SP leader named Ummed Pahalwan Idrisi had emerged as the main culprit of the Loni incident where communal colour was given to the beating of one Abdul Samad Saifi.
After being caught, Ummed revealed that he was preparing to contest the Municipality Chairman elections and through his fanatical image, was looking to polarise the voters. The SP leader thought that his campaign will become much easier if the incident was communalized.
As reported by TFI, Ummed did not want to depend on any party. He had been in SP for a long time but with no significant progress in his political career, he planned to capture the attention of voters in the area on his own. Ummed told the police that he was conducting Facebook Live's routinely regarding Loni's affairs, hoping to make his own identity.
Read More: SP leader Ummed Pahalwan was the mastermind of the Ghaziabad incident. Looks like there was a larger conspiracy at play
Likes of Tajinder Singh Virk, Ummed Pahalwan, and the entire left-liberal, Islamist-Khalistan machinery is trying to plunge the state of Uttar Pradesh into chaos before the assembly elections slated to be held next year. Beating Yogi at his development turf is a Sisyphean task and thus the opposition parties are relying on communal riots through incidents like Loni and Lakhimpur to change the tide.