There are two kinds of statistics, the kind you look up to and the kind you make up on your own. Journalists driving their agendas based on 280-word tweets have perfected the art of making up the statistics. Recently, TOI tried to paint a negative picture of India's vaccination status through its carefully constructed headline.
TOI does it again-twists data to portray India in a negative light
On the 9th of October, 2021, the Times of India published a report titled '25% of adults may not get fully vaccinated by the year end'. Citing India's official vaccination data, the writer Rema Nagarajan argued that the Indian government will not be able to fully vaccinate its entire adult population by the end of the year 2021.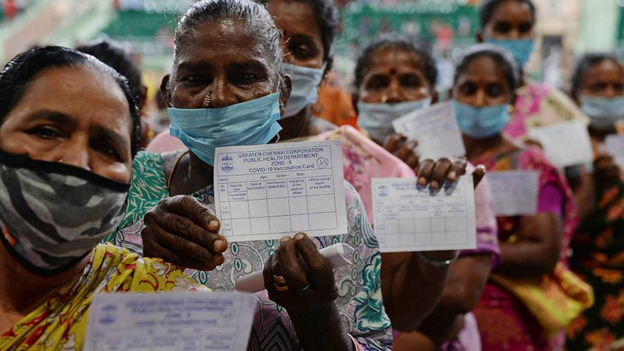 Citing a few statistics, the author argues that since 26 per cent of the population have not taken their first dose, they will not be fully vaccinated by the end of this year. Rema even backed her claim by baseless reasoning stating that only 12 weeks are left for the year to end and the regulations require a minimum 12-week gap between the first and the second dose. The author also advocated for Bharat Biotech to increase the production of Covaxin since it comprises only 11.6 per cent of total vaccines.
Furthermore, the author goes on to cite the respective vaccination status of different states and concludes that populous states like Uttar Pradesh, Bihar, West Bengal, Maharashtra, and Tamil Nadu will have more than one-third of their unvaccinated population by the end of this year. Extrapolating the current vaccination status of Jammu and Kashmir and Kerala, the author also concluded that both the states will vaccinate 94 per cent and 93 per cent of their population by the end of this year.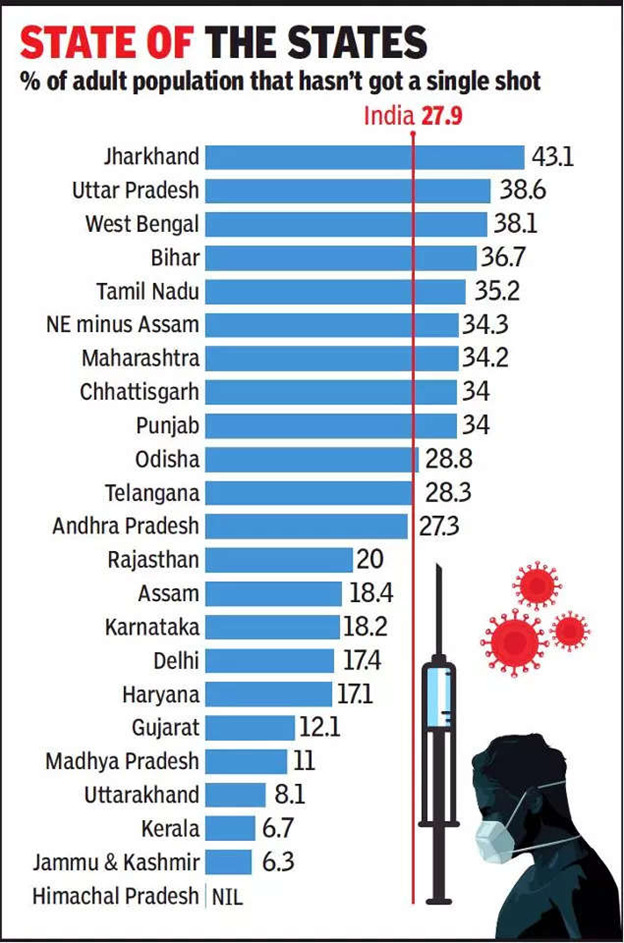 Understanding the propaganda
A simple understanding of mathematics is good enough to see the real picture of India's vaccination. TOI's headline as quoted above read-'25% of adults may not get fully vaccinated by the year end'.
Basically, it means that India will be able to fully vaccinate 75 per cent of its population by the end of the year.
The n

ews article does not talk about Herd-immunity
Moreover, there is a concept of herd immunity. It is the indirect protection from an infectious disease that happens when a population is immune either through vaccination or immunity developed through the previous infection. 
According to projections by various experts, herd immunity will get

activated

when any country will be able to vaccinate (and hence immunise from covid) at least 60 per cent of the population.

 

Since the government will be able to fully vaccinate at least 75 per cent of Indians, the herd immunity developed due to mass vaccination and infections is good enough to secure India from the third wave of Covid-19.
India's vaccination drive is appreciated all around the world
While, much-educated nations like America, Canada, Australia, and other European nations have been using forced vaccination campaigns to inoculate their population, India's vaccination drive has been making headlines all around the world. While, on average, the Modi government is vaccinating more than 50 lakh people per day, there have been some days when more than 2 crore people have been vaccinated by the government. 
TOI has a history of scandalous journalism
It's not the first time that the Times of India has been making headlines due to its irresponsible journalism.
• While reporting about a Muslim godman accused of rape, the newspaper published an image of Hindu Sadhu in its news article.
• The newspaper ran an insidious headline while reporting about the attack on the CRPF convoy in Pulwama.
• The newspaper did not even spare India's medal winners and misquoted PV Sindhu in an article. Later, Sindhu slammed the newspaper for this grossly insensitive act.
Read more: How Times of India unnecessarily dragged Veda Pathshala for child trafficking in a Madrasa
At the time when India is recovering from damages caused due to Covid-enforced lockdowns, one should stay away from spreading rumours. Yes, criticism is a part of press freedom, but twisting positive news into negative is not the way to do it. This kind of vulture-journalism only creates an atmosphere of fear and anxiety.