Recently, a twitter post by Sohini Chattopadhyay, made rounds on Twitter, where she made some ridiculous claims about Shri Rama, by trying to depict a false image of Ravana – the former's archenemy from the epic Indian history of Ramayana.
Sohini, as per her Twitter profile, writes for Islamo-leftist  portals such as NYT, AlJazeera, Mint and The Hindu. She made some ridiculous claims about Ravana on the day of Dussehra (October 15), and even followed her tweet with the hashtag 'Bijoya Dashami'.
Ravan is a scholar and master warrior

He avenged his sister Surpanakha's humiliation

He understood consent and respected Sita

He did not trick anyone in Ram's family even though his brother Vibhisana was tricked and persuaded by the other side#BijoyaDashami

— সোহিনী (@sohinichat) October 15, 2021
Now, we at TFI found her views to be totally untrue and distorted. Painting terrorists in a good light has been a norm for Islamo-leftist portals, since long. However, using their 'intellect' to distort Indian history by targeting Hindu devas and devis, is absolutely tasteless and shameful. So, in this article, her views on Ravana will be systematically picked apart.
Ravan was

NOT

a scholar and was

NOT

a master warrior
Valmiki Ramayan, written arduously by the legendary rishi Valmiki, is the only authority, on the history of Ramayana. Valmiki, the Ādi Kavi of Ramayana, never mentioned Ravana being a scholar anywhere, neither did he mention Ravana being the creator of various popular hymns such as the 'Shiva Tandav Stotram'. Valmiki did however, repeatedly decribed Ravana as being a terrorist and a rapist.
Puranic Sanskrit was a sweet and humble language – it gave a lot of respect to people, despite their nature. Calling Ravana and as 'Mahavir' was just one of such instances of meting out respect. However, that does not mean Ravana was a great warrior.
Also read: Millennials go 'Jai Shri Ram!' – Ramayana re-telecast has turned the TikTok generation towards Hinduism
Ravana was a coward. He wasn't even invincible. In fact, he was beaten badly by Kartavirya Arjun, who toyed with him, royally. In another instance, he was literally played with, by Bali (Sugriva's elder brother), who trapped the 10-headed tyrant in his armpit for days, so Angada (Bali's son) could have fun with his new 'doll'. Angada, who eventually got bored of his new 'doll', threw him away in the ocean when he was done with his playtime.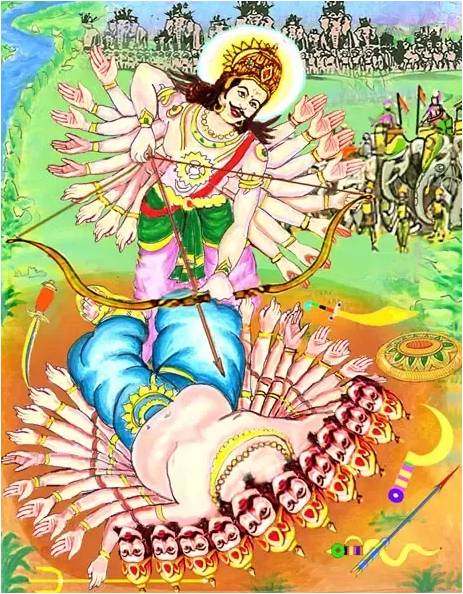 Meghnatha (or Indrajit), Ravana's son did put up a fight. So did Kumbhkarna, his younger brother. But, Ravana never put up a fight. Ravana was just a mayavi and until his maya was present, he appeared a bit powerful. The moment Rama targeted Ravana's navel (upon Vhibhishan's insistence), the latter dropped dead.
Hence, Ravana was not a 'great' warrior. He was a brutal terrorist who exerted his dominance mainly through his maya and through his other skilled warriors in his army.
Ravana did

NOT

avenge his sister Surphanaka's  humiliation; he kidnapped Sita devi for his own sensual pleasures
Ravana ran one of the world's first terror organizations in Janasthan, which was akin to the modern day Islamic terror hotspots. Janasthan was mostly under the control of his cousins Khara and Dushana, who engaged in brutal extortion activities and when extremely intoxicated, even used to slaughter rishis and splatter their remains and blood into the holy fire (homa).
Shurpanakha was also a terrorist. She was old and had an outrageous build with a big pot belly. She was a Rakshasi, of a very questionable character. When she approached Shri Rama in her mayavi form to seduce him, Rama easily saw through her maya and rejected her advances. Rama, having taken a vow of monogamy for life, instead asked her to approach Lakshmana, who like his father Raja Dasharatha, didn't take such similar vows. When Lakshmana too shunned Shurpanakha's advances, she rushed forward to attack and kill Sita devi, which prompted Lakshmana to slice off her nose.
Now, what is a devar (brother in law) supposed to do when his bhabhi (sister in law) is in such a dire situation? Was it a harsh punishment? No, it wasn't, and the punishment wasn't enough.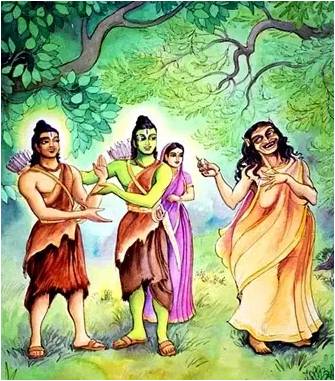 Soon after getting her nose sliced by Lakshmana, Shurpanakha hurried straight to Ravana's palace to voice her ordeals, who simply did not care at all. She however, lured Ravana by talking about Sita devi and her beauty, and told him how he had no such beauty anywhere in his harem.
He did

NOT

understand consent and he did

NOT

respect Sita devi
Ravana was far from an understanding and a respectful being. He however, did understand his shraap (curse) by mata Vedavati, and the pitfalls of it. He was cursed by mata Vedavati (his 999th victim), when Ravana tried to force himself on her and grabbed a fistful of her hair, while she was in a deep meditation. She cursed his head to explode to a 1000 pieces, if he ever tries to force himself on any woman, without consent.
Because of this shraap, he always approached Sita devi cautiously, with constant proposals of marriage. Marriage is basically giving consent, hence, he always warned to eat Sita devi if she doesn't marry him; he was bound by the curse to not force himself on Sita devi.
Vibhishana was

NOT

tricked and persuaded by Shri Rama
Ravana's brother Vibhishan, was a very sattvik man in a very tamasic place. In fact, he even abstained from consuming non-vegetarian food, much to the annoyance of Ravana and his entourage. Ravana never liked Vibhishan because of his qualities, and he, along with Indrajit, Akshayakumara and his extended family, often humiliated and berated him.
When Vibhishana told Ravana to return Sita devi to Shri Rama, Ravana lost his cool and exiled him, immediately. Vibhishana went to Rama, since he had nowhere else to go; Ravana would have killed him anyway had he gone to any other place. Hence, Vibhishana was not tricked by Rama – he voluntarily went there. It was a quid pro quo – "You give me shelter, I give you information."
Ravana tricked Rama, Lashmana and Sita devi, through his maya
Ravana did trick Rama, Sita devi and Lakshmana. During the initial stages of the battle, through his maya, he showed Sita devi's deadbody to Rama and Lakshmana, as a part of his psychological warfare. In the later stages of the battle, when every warrior in his family died and Ravana was finally supposed to enter the war, he knew he could not face Shri Rama in a one-on-on battle. And again through his maya, he presented a severed head of Rama on a platter to Sita devi, in his last and desperate attempt to lure her into marrying him. Sita devi, who by then realised his mayavi activities, firmly declined his proposal, yet again.
Also read: Justifying Ravan's abduction of Sita, Saif Ali Khan puts his next film in big trouble as netizens fume
Distortion of history can have a severe impact on many generations.  Islamo-leftist portals in India and around the world have always had a knack for showing India and its history in a false light. Stooping astonishingly low to portray the evil as good is not a new development for the Islamo-leftists. But being in the noble profession of journalism, it is very shameful and disgusting to observe that certain 'journalists' would not hesitate to distort their own region's history, to fit their own anti-Hindu narratives. And as for the people who believe and propagate their lies – they are equally in the wrong.