India's humiliating 10-wicket loss to Pakistan in the T20 world cup 2021 came as a shock to everyone supporting the team. People of the country were hoping for the Indian team to at least put a strong fight. However, after scoring a decent 151 on a slow track, Indian bowlers simply surrendered to the might of Babar Azam and the team, which is a testament to Virat Kohli's terrible captaincy.
The failure of Indian bowling owes more to the poor captaincy in selecting a bowling combination for the match.
Pandya In, Shardul Out
Hardik Pandya, once a coveted all-rounder was selected to play in the eleven despite the team being certain that he would not be available for bowling. Indian captain Virat Kohli justified his selection of Pandya in the team by calling him an almost irreplaceable hitter at the number 6 spot. However, the moist and dry surfaces of the Arabian Peninsula require batsmen to settle down and middle few bowls before getting on a hitting streak. Virat Kohli's strike rate of 116 in a 49-ball knock is testament to the fact that despite getting settled, there is no certainty whether someone could hit with ease in those conditions. Moreover, Shardul Thakur's exclusion at the expense of Pandya also raised a few eyebrows. Shardul has been a renowned lower-order hitter of the cricket ball throughout his career. . Shardul has a bit more finesse and touches in his batting which makes him suitable for scoring runs on the wicket where slowness of the wicket makes hitting tough. Shardul's selection would have given India bowling expertise of 4 overs as well as 10-20 handy runs down the order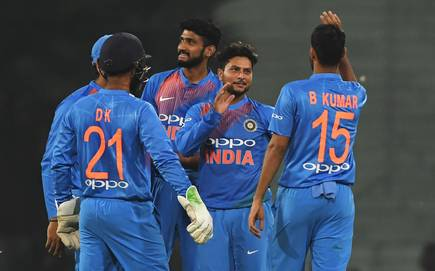 Chakaravarthy in place of Ashwin
Varun Chakaravarthy's selection also was going to reflect heavily on India's bowling failures. Chakravarthy is indeed a mystery spinner who is tough to decode. His recent successes in IPL make him eligible for the India cap. However, it cannot be claimed that he is better than Ashwin. Ashwin started off as a T20 specialist and later graduated to being an all-format player. Ashwin possesses lots of variations to deceive batsmen. On a dusty wicket where the ball turns more, Ashwin's variations could prove to be a better option for India. If the pitch is flat, Ashwin has a decade long experience of wobbling the ball in the air to beat batsmen in the flight. Moreover, Varun is a specialist bowler, while Ashwin has a few centuries to his name in the batting department too. It always helps to have a bowler who can bat a bit.
Bhuvi and Shami playing simultaneously
Bhuvneshwar Kumar and Mohammed Shami are similar bowlers. Both have the potential to bowl in-swing as well as out-swing. Although Shami has got the edge when it comes to bowling at pace as he bowls those same deliveries at 10 km per hour more than Bhuvi. But when it comes to the dry surface of Dubai international stadium helps the batsmen if the bowler is bowling with extra pace. In terms of their contribution at the death as well as opening overs, they have almost the same effectivity. Both bowl good yorkers as well as use decent slower ones to deceive batsmen. With Bumrah being able to handle the pressure situations in both opening as well as death overs, only Shami or Bhuvi were good enough to corroborate Bumrah. An extra bowler with different sets of skills could help India in defending the total.
Read more: Indian Cricket Team took the knee for Blacks, slain Hindus in Bangladesh have no takers
For the past 75 years, India-Pakistan rivalry has been mainly about the competition between a strong bowling team from one end and a strong batting team from the other. Pakistani bowling offered a stiff challenge to the Indian batting lineup. However, the equations took a sharp turn to India's detriment yesterday when Pakistan dominated India in batting departments. Though India has a depth of specialist bowlers, Virat Kohli needs to devise a better bowling lineup from a rich pool of Indian bowlers available