In 2019, the Aam Aadmi Party-led Delhi government had taken to announcing pompously on social media, "We put a complete ban in the use of coal in Delhi. Delhi is the first modular state which has no COAL-based power plants." Two years later, Delhi chief minister Arvind Kejriwal is now saying, "Delhi could face a power crisis. I am personally keeping a close watch over the situation. We are trying our best to avoid it. In the meanwhile, I wrote a letter to honourable Prime Minsiter seeking his personal intervention." How is it that Delhi – which as AAP claimed, put a complete ban on using coal for power plants two years ago, is today among the first states to sound an alert over the supposed depletion of coal stocks?
The world is facing an intense coal crisis. Prices have jumped to record highs, because China has been hoarding supplies of coal to make up for its domestic shortfall. China is the worst-hit by the coal shortage, and most of its woes are attributable to its unofficial ban on imports of Australian coal. It is, therefore, very intriguing how Indian politicians and select states have begun sounding the alarm over a purported shortage of coal supplies in power plants under their jurisdiction. Is India facing a power crisis as claimed by Kejriwal?
Is there a 'Coal Shortage'?
No, there is not. According to the Coal Ministry, the coal stock at power plants' end is about 72 Lakh tonnes, sufficient for four days requirement, and at the Coal India Limited (CIL) end is more than 400 Lakh tonnes, which is being supplied to the power plants.
According to a statement by the ministry which succinctly demolishes rumours of a coal shortage, coal available at the power plants is a rolling stock which gets replenished by the supplies from the coal companies on a daily basis. Therefore, any fear of coal stocks depleting at the power plants' end is erroneous.
Read more: Coal Crisis – A fabricated scheme created by anti-India forces to shame India internationally
Most recently, according to a fact sheet published by the Ministry of Coal, since September 25, Delhi has faced no power shortage, despite the state government claiming that it is operating on borrowed time. The maximum demand of Delhi was 4536 MW (peak) and 96.2 MU (Energy) on October 10. Yet, despite such strong demand, which happens to coincide with a peak in paranoia over a supposed coal shortage, the entire power demand of the national capital was met, without any deficits being recorded.
In fact, on the day that Kejriwal made the bizarre claims, which is the 9th of October, Delhi's requirement was 96.3 million units and these demands were fully met!
The next day again, Delhi's demand was 96.2 Million units, and guess what! That demand was fully met again and this has been the trend for months.
So, Delhi is facing no outages and no power deficits.
So what is Kejriwal talking about?
While the opposition fuels a narrative of a coal crisis having struck India, Coal India said supplies to power utilities have been scaled up to 1.51 million tonnes per day and are expected to increase further after Durga Puja ends on Friday. Therefore, at a time when there is supposed to be a 'coal shortage', rolling supplies of the fossil fuel are in fact, being scaled up.
'Coal Shortage' Faced Every Year, Handled Seamlessly
India has just gotten over with the Monsoons, which by the way, persisted over a prolonged period this year. Every year, during and in the immediate aftermath of Monsoons, domestic coal production falls – creating a sense of insecurity among stakeholders. Therefore, as is the annual custom, this year too, Coal production has been hit by severe flooding in India's eastern and central states during the monsoon season, with mines and key logistics routes getting impacted.
Coal India's production fell by 24% owing to the Monsoons, but is now picking pace. It must be remembered that the insecurity among power plants and other stakeholders this year is more pronounced, and that is what is being called a 'coal shortage' in the country. This is because India is recording a bullish economic recovery in the aftermath of the second wave, which is driving up power demand in a short span of time. In the last two months alone, power consumption went up by 17 per cent over 2019. So, as coal supply chains began being disrupted due to the prolonged monsoons, power demand actually hit unexpected highs.
So, Is the Global Coal Crisis Impacting India?
Not really. This is because over 90 per cent of India's domestic demand is met by internal production of coal. 70 per cent of India's power is generated using domestically procured coal mainly. Essentially, India is not dependent on coal imports to fuel its power sector. In 2020 alone, domestic coal production stood at 678 MT, which fulfilled 90 per cent of our coal requirement, leaving an import legroom of merely 10 per cent.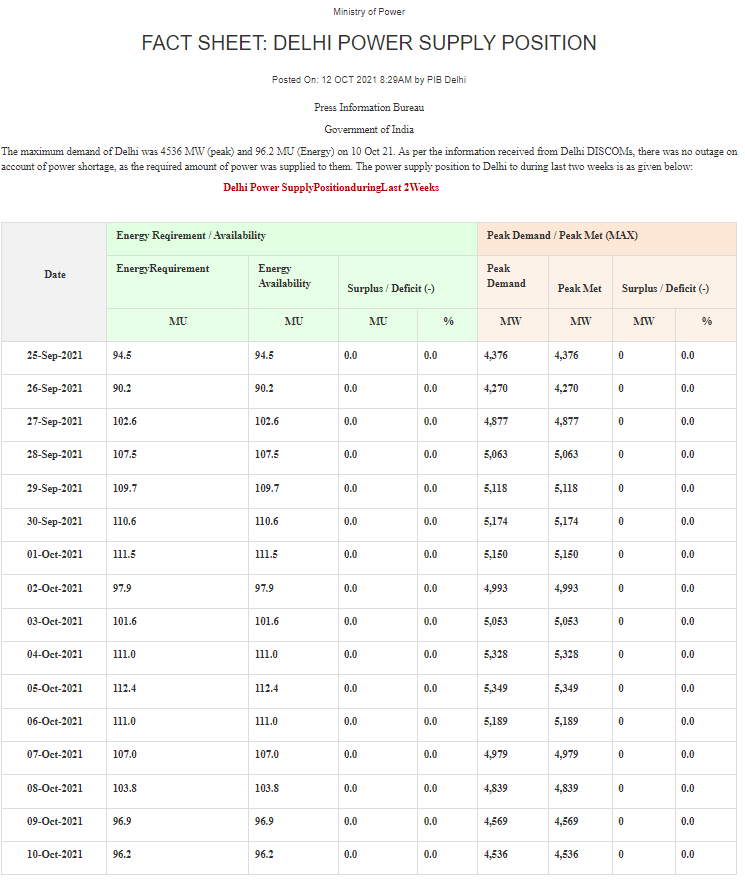 Therefore, the disruption in global coal supply will have negligible impact on India's power security. Nevertheless, to remain on the safe side, the central government is taking all steps to ensure that the insecurity among power plant operators does not transform into an actual crisis. On Monday, Union Home Minister Amit Shah held an hour-long meeting with power minister RK Singh and coal minister Pralhad Joshi. On Tuesday, the Prime Minister's Office also took stock of the overall coal availability situation in the country, after Arvind Kejriwal's fearmongering led to other states growing wary as well. Rest assured; the Modi government remains ahead of the situation.
India Snatches Australian Coal from Under China's Nose
Not only are consistent steps being taken to enhance domestic output of coal, India has begun importing stranded shipments of Australian coal from Chinese ports en masse. Indian firms have bought nearly 2 million tons of Australian thermal coal that had been sitting idle in warehouses at Chinese ports. The coal is being bought at discounted prices in a win-win situation as the stranded ships and crew finally make their way out of the mess created by China.
Read more: Kejriwal needs to be prosecuted for inflating Delhi's oxygen needs and pushing other states into oxygen crisis
While China is in a really bad state with aluminium smelting, food processing units, textiles and all other industries getting shut down due to power rationing, apart from power outages in Chinese households – all that vested interest groups and individuals in India can think of is the creation of a false 'coal shortage' narrative aimed at sounding a false alarm among Indians as they begin celebrating the festive season. The ultimate goal, of course, remains putting the Modi government on the backfoot.
However, such forces are late to the party. Monsoons are over, which means production is fast pacing towards normalcy. Coal imports are also up to make up for the shortfall in domestic production over the past few weeks. Rolling supply of coal to power plants across the country is increasing on a daily basis, and despite all the fearmongering, no real power crisis has struck India. All in all, despite concerted attempts to make an annual phenomenon a once-in-a-blue-moon crisis, the notorious forces have failed.