When it comes to e-payments, India is dominating the world market. There is no other country whose digital payment transactions come even remotely as close to India's.
India's e-payments sector leads the world:
India is undergoing what we can call a digital payments revolution. A recent report by the US-based payments system company ACI Worldwide revealed some really interesting numbers.
India is currently leading the e-payments sector in terms of transactions. In 2020, 25.5 billion real-time payments transactions were made.
India has left other countries far behind- China tries behind with 15.7 billion transactions followed by 6 billion in South Korea, 5.2 billion in Thailand, with the United Kingdom recording 2.8 billion transactions. The US came ninth with 1.2 billion transactions.
Fast growth and bright future:
Over the past 250 days or so, the growth in digital payment transactions has been spectacular.
Between November 30, 2020, to August 6, 2021, digital transactions grew by 80%.
Home services industry like plumbing and carpentry is relying on e-payments with the growth of 138% in the said period.
The Reserve Bank of India's Digital Payment Index, an indicator of adoption of the online payments system, too jumped by 30% between March 2020 and March 2021.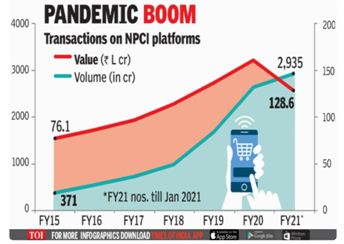 Meanwhile, the e-payments sector is expected to grow even more sharply in the upcoming years.
Online transactions will occupy a 71.7% share of all payments in India by 2025. Cash and cheque-based payments will be reduced to 28.3% of all payments.
Currently, 6% of total payments are made through instant payments, 22.9% of payments are made through other electronic means and 61.4% of the payments are paper-based.
Instant payments volume is set to increase to over 37%, while the share of other electronic payments is likely to grow to over 34%.
Kaushik Roy, VP and head of product management, Asia, ME and Africa, ACI Worldwide said, "India's journey of creating a digital financial infrastructure has been characterized by collaboration between the government, the regulator, banks and fintechs. This has helped to advance the country's goal of enabling financial inclusion and also provided rapid payments digitization for citizens."
He added, "As the industry evolves, we expect to see increased adoption across different users and volume growth driven by mass adoption, recurring payments, transit payments as well as cross-border transactions."
Prime Minister Modi's dream of the cashless economy becoming a reality:
When Prime Minister Narendra Modi came to power in 2014, he had set several aims for himself. One of such aims was to make India a cashless economy. He undertook several initiatives including the Jan Dhan Yojana and promoting Direct Benefit Transfer (DBT) to minimise the scope of cash transfers by the government itself.
To promote e-payments, PM Modi took two main steps.
Launching the Digital India movement; and
Announcing demonetisation in 2016, which led to people adopting instant payment apps.
However, it was the Unified Payments Interface (UPI) that truly revolutionized the way Indians make payments for their purchases. Launched in April 2016 by the National Payments Corporation of India (NPCI), UPI has enabled both inter-bank and person-to-merchant transactions.
UPI has been so impressive and successful that PayTM, Walmart-owned PhonePe and Google Pay also adopted it. Today, UPI is the most preferred system of instant payments in the country, because it does not operate as a digital wallet and enables seamless transfer of money into bank accounts. As of March 2021, UPI accounted for 2,732 million transactions, worth Rs 5,04,886 crore.
As the economy is being forced to turn cashless, the benefits of a formalised payments system are also going to emerge. Monitoring cash payments isn't easy for government agencies, but with cashless payments, it is going to become a lot easier for the government and security agencies to track money trails and the crackdown on menaces like terror financing and black marketing.
China was leading the e-payments market when PM Modi came to power, but over the last six-seven years, digital payment has witnessed brisk growth to make India a world leader.