It is not only terrorism but also the 'woke' community, which is a threat to any nation and Bengali actor Parambrata Chatterjee has proved the same. While the Hindu minorities are being persecuted by radical Islamists on the grounds of religion in Bangladesh, Parambrata is shamelessly defending the heinous attacks.
Parambrata is caught up in controversies

Popular Bengali actor Parambrata is caught up in controversies after he tried to justify the massacre of Hindus in Bangladesh on Saturday (October 16). While defending the atrocities against Hindus in Bangladesh, he also spitted venom against India. Parambrata, in his contentious Facebook post, wrote, "I am usually not active on Facebook but since Navamimorning, I am hearing stories of Muslim extremists attacking some Durga Puja pandals in Bangladesh. My post is based on the issue."
In a desperate attempt to glorify the 'secular' ideology of Muslims in India, he went on to describe his Muslim spot boy named Nasir Gazi's 'eternal love' for Durga Puja and temples in an emotionally manipulative manner. He also claimed, "There are multiple puja committees in India and Bangladesh where members are Muslims."
He further made a shameful attempt to demean his own country and alleged that the condition of Hindus in Bangladesh is no different from that of Muslims in India. Through his post, Parambrata made a failed attempt to portray the Muslims as tolerant and secular.
In his post, Parambrata also urged to ignore the vicious attacks in Bangladesh as he believes that the right-wing and Hindu activists in India will create a communally charged environment. Well, what else can be expected from a 'woke' actor who does not even spare his own country to play the secular card?
Parambrata does a Sreenivasan
Parambrata, with this statements, has somehow, followed the footprints of Sreenivasan. At a time when the majority of the Indians were shocked at the vulgar display of violent majoritarianism at Nankana Sahib by Islamists, senior journalist at NDTV, Sreenivasan Jain decided not to hold back his inner fears. Jain had said that what has happened is indeed wrong, but he could not resist saying that the evidence of this violence will now be used by the supporters of CAA to further their cause. He also surprisingly, for the first time perhaps, mentioned the cut-off date of 31st December 2014 up to which the minority citizens of Pakistan, Afghanistan and Bangladesh will be given citizenship.
Read more: NDTV journalist is irked by attack on Nankana Sahib Gurudwara but not out of empathy for Sikhs
Angry netizens' reaction on Parambrata's tweet
The Hindu Bengali community, however, has slammed Parambrata for such a foolish attempt to justify the brutal attacks on Hindu minorities in Bangladesh. Sounak Sengupta, a Twitter user, wrote, "I know your movies don't make a lot of money. So, you are desperately trying to keep your career afloat by this display of pseudo intellectualism (atalami) and appeasement (telmara) of Bangladeshi viewers."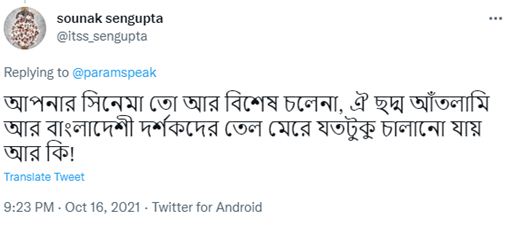 Another Twitter user named Surya also slammed the actor and tweeted, "You are irrationally rational and master of shifting goalposts. Instead of condemning a pogrom (yes not a riot), you are balancing this issue."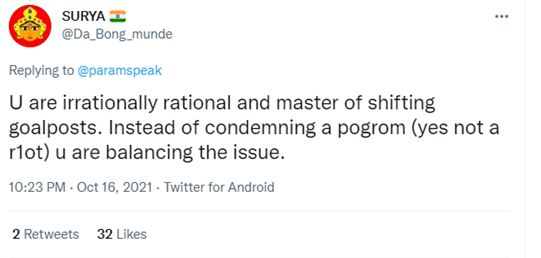 Bangladesh is fast getting filled with radical Islamists who have no tolerance for other beliefs and faiths. According to a report by the Centre for Democracy, Pluralism and Human Rights (CDPHR), an organisation that works towards advocating equality, justice and human rights, the situation of Hindus in Bangladesh has become so deplorable that the community might cease to exist in the next 25 years if corrective measures aren't taken to protect the community from unprecedented persecution.
Read more: There will not be any Hindus left in Bangladesh in the next 25 years, top think-tank concludes
Thus, the 'woke' Bengali actor needs to recognise the above instances that clearly show how Hindus are being tortured in Bangladesh. In addition to that, every Bengali should learn to prioritise 'nation' over everything as demeaning your own country in the name of secularism cannot be justified at any cost.