The death of Mahant Narendra Giri is turning out to be more and more mysterious. Though a 7-page suicide note from the spot has been recovered by the Prayagraj Police, the chances of Mahant being murdered have not been ruled out. In fact, as the investigations into the matter are progressing forwards, suicide and murder both seem to be equally possible causes of death.
Mahant Narendra Giri's mysterious death
The president of Akhil Bhartiya Akhara Parishad(ABAP), one of the largest organisations of sadhus in the country, Narendra Nath Giri was found dead on Monday. His body was recovered from Baghambari math in Prayagraj. Police recovered a 7-page suicide note from the spot. The suicide note allegedly written by Mahant Narendra Giri himself explained how he was under intense mental stress. According to the letter, Mahantji was being blackmailed by his disciple, they were threatening to upload a morphed picture of him with a girl or a woman in an objectionable position. He mainly accused Anand Giri, his most famous disciple of blackmailing. Two other co-conspirators, Adya Tiwari and his son Sandeep Tiwari were also named in the letter.
He wrote- "Truth will eventually prevail but by then my image would have been tarnished…So I am going to commit suicide and Anand Giri, Adya Tiwari, and his son Sandeep Tiwari will be responsible for it,". He then went on to elaborate how living with dignity was of utmost virtue for him and if his name was defamed in the society, he won't be able to survive. He also mentioned his plan to commit suicide on September 13, but could not gather the courage to do so. The reports of video suicide notes were also circulating, but the police did not confirm the existence of the video. Anand Giri meanwhile denied his involvement in the death. He claimed that Mahant Ji used to barely write more than two-to-three lines at once, it's impossible for him to write a 7-page letter. He also denied any misunderstandings between him and Mahant Ji and called Mahant's death a conspiracy by the people involved in irregularities of Math funds.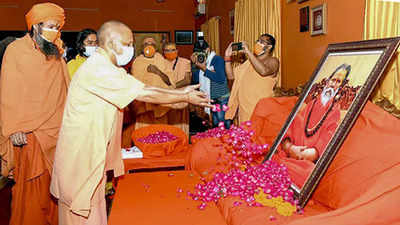 High-level investigation team to lead the charge
The postmortem performed by a five-member panel of doctors concluded that Mahant Ji's death was due to suffocation. Meanwhile, the Yogi Adityanath government has set up an 18-member special investigation team to probe the death of MahantJi. A 4-member high-level team, comprising ADG (Prayagraj zone), IG (Prayagraj range), DIG/SSP (Prayagraj), and commissioner (Prayagraj division) is conducting a detailed investigation into the incident. Furthermore, the three conspirators named in the suicide note have been arrested. Anand Giri was firstly detained at his Haridwar Ashram on September, 20 and was later formally arrested and brought to Prayagraj on 22nd. Adya Tiwari, the priest of the city's Bade Hanuman Jimandir, and his son Sandeep Tiwari have also been arrested.
Anand Giri, the chief suspect
Anand Giri is second in line in ABAP after late Sri Narendra Giri. Originally from Bhilwara, he has completed his PhD in Yoga Tantra and mainly engages himself in yoga training and teaching. He is a prominent guest lecturer at many universities across India and abroad. Talking about the controversies surrounding Anand Giri, two Australian women had accused him of misbehaviours in 2016 and 2018, but he was later acquitted by the Australian courts. His latest controversy was a viral picture of him travelling in business class. The picture showed him sitting beside a glass half-filled with wine-like liquid. Though, Anand had later said that it was apple juice.
Mahant Narendra Giri and his disciple Anand were having some differences for a long time. It is being said that Anand Giri had maintained close contact with his family, which is against the norms set for sanyasis. Also, he was allegedly involved in financial irregularities related to temple funds. These issues had led to his expulsion from Baghambari Math and Niranjani Akhara. After the expulsion, Anand Giri accused his guru of selling Math's land. Later, following a verbal scuffle, Mahant Ji accepted the public apology from Anand Giri and lifted the ban which restricted him from entering the Bade Hanuman temple and the Baghambari Mutt.