Punjab politics is changing rapidly, and in a major twist, Captain Amarinder Singh has resigned as Punjab Chief Minister on Saturday. So, how does this change Punjab politics from here on? Well, let us give you a hint; with Amarinder Singh quitting as the Punjab Chief Minister, it is advantageous for BJP, especially if a disgruntled Amarinder Singh floats a new party.
Amarinder – a tall leader with huge clout in Punjab:
The Indian National Congress (INC) leadership seems to have preferred Sidhu to Amarinder. However, Captain Amarinder Singh isn't the kind of man that you should let go of.
Only in Congress party a non performing asset asset like Sidhu can trounce a proven winner like Captain.

— Atul Mishra (@TheAtulMishra) September 18, 2021
Also read: Only in Congress party, a non performing asset like Sidhu can trounce a proven winner like Captain
Remember that before Singh resigned, he was a popular CM in Punjab. Amarinder was no rubber stamp and remains one of the state's tallest leaders for several decades now. Even at a time when the Akalis enjoyed a tight grip on the state of Punjab, it was Amarinder who catapulted the INC to power in the North Indian state.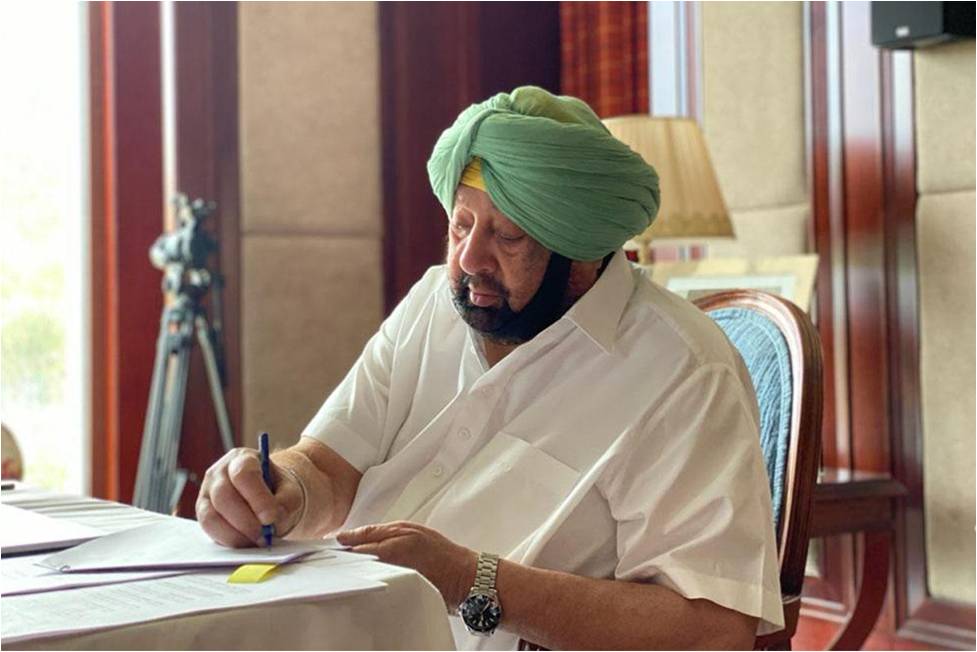 Amarinder, who is himself a Jat Sikh, enjoys considerable popularity amongst both Jat Sikhs and the dalit Sikhs, in Punjab. As such, any party that banks on Sikh votes in the state of Punjab wouldn't want to take on Amarinder.
Also read: Can Amarinder Singh join the BJP now?
What if Amarinder Singh floats a new party?
Well, Punjab politics is such that a new Sikh-centric party puts the BJP ahead of everyone else. Punjab consists of 38.5 per cent Hindu voters, who used to be predominantly Akali-BJP voters, 21 per cent Jat Sikhs, which formed a major constituency for the Akalis, and 31 per Dalit Sikhs, who have traditionally preferred the INC.
Amarinder Singh with his Jat image was able to capitalise on the Dalit vote as well as the Jat vote in Punjab, and this is why he emerged as a really popular leader in the state.
Punjab:
38.5 per cent Hindus – H were SAD-BJP voters.
21 percent Jat Sikhs are traditional voters of SAD – J
31 percent Dalit Sikhs are traditional voters of INC – D
SAD is weakened.
INC is divided.
AAP is unchanged.
H votes and the rift in both J&D will script history in Punjab.

— Atul Mishra (@TheAtulMishra) September 18, 2021
However, with Amarinder quitting as the Punjab CM and the BJP-Akali breakup, political dynamics have changed radically in Punjab. BJP today is the only party in Punjab that can claim to have a significant stronghold on the Hindu vote, and any other party that wants to come to power will have to rely heavily on Sikh votes.
However, if Captain floats a new party, he would be able to grab a major share of the Dalit Sikh votes, which could harm the INC and also grab a healthy share of the Jat vote, which would weaken the Shiromani Akali Dal (SAD).
Also read: Last six months aside, Amarinder Singh will be remembered as the man who tamed Khalistanis and the drug mafia
For the INC, there is also an added risk of internal cracks that could take shape post the Captain's exit. Remember, Amarinder was Punjab's Chief Minister till yesterday and a highly popular one. As per ET, 78 out of 80 Congress MLAs attended a Congress legislative party (CLP) meeting that immediately followed Singh's resignation.
The numbers at the CLP meeting were an attempt to show that the party's high command is in 'total control', but informally many leaders in the party conceded that Singh had some 'sleeper cells' among them. So, if push comes to shove, Amarinder can really create new divisions within the INC ahead of the Assembly polls next year.
Advantage for BJP:
As for the BJP, the saffron party would like to raise the issue of Khalistan resurgence and Pakistan's plans to keep Punjab on the edge. The party is likely to offer strong leadership to push back against any serious security situation that Pakistan Army and the ISI might try to create in Punjab by reviving the Khalistan movement and fanning separatism.
If Amarinder actually floats a new party, the BJP might as well be able to spring a surprise victory in the state of Punjab.