Virat Kohli's resignation has sent a flurry of gossiping waves among journalists and social media pundits. However, the saddest part of this gossip around Virat Kohli's resignation is that it is being twisted as an evil play by BCCI president Saurav Ganguly.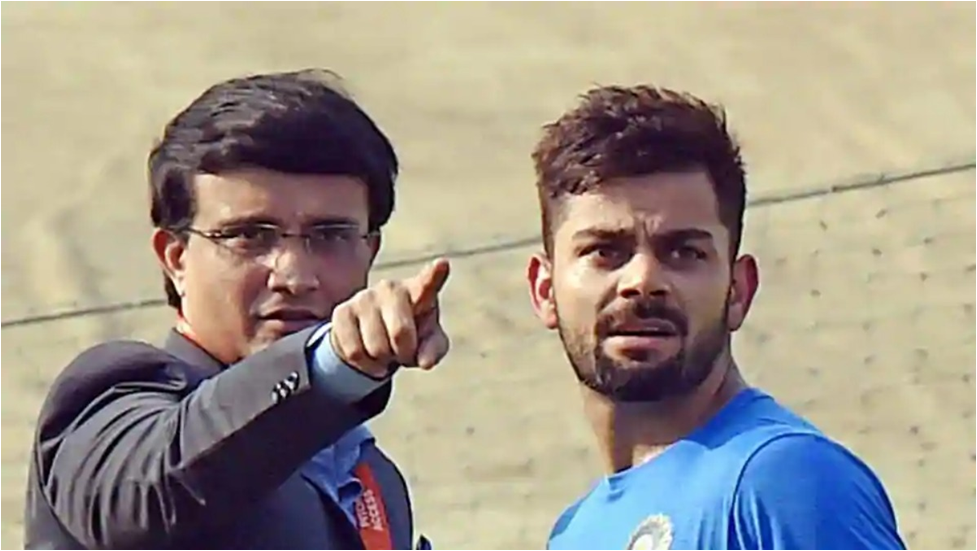 Social media blames Ganguly for Kohli's resignation
As soon as Kohli announced his resignation from the T20 captaincy, the 'sports experts' on social media started to run from pillar to post to use his resignation as an excuse to castigate Saurav Ganguly. Just after Kohli's resignation, the hashtag #IndiasPrideViratKohli was trending on Twitter. Initially focused on thanking Virat for his stellar record, the hashtag soon turned into a blame game.
A user going by the name @GoatHesson blamed Ganguly, BCCI and Jay Shah by tagging them in a tweet that read as "GREATEST CRICKET CAPTAIN OF ALL TIME ILL TREATED by BCCI, GANGULY, JAY SHAH".
Another user @Pokiri_tweetz tagged Ganguly and tried to strike a similarity between Ganguly's and Kohli's resignation. He wrote- "Being the most adversely affected, there is none better who knows how the transition would work setting aside your main man!! Captaincy didn't end on a high, at least try to leave the presidency without a black mark".
Hundreds of other tweets were sent which suggested some malafide intention on the part of Ganguly.
GREATEST CRICKET CAPTAIN OF ALL TIME
ILL TREATED by BCCI , GANGULY , JAY SHAH @SGanguly99 @bcci @JayShah @BoriaMajumdar #INDIAsPrideViratKOHLI pic.twitter.com/ybQSvuu3w1

— . (@GoatHesson) September 18, 2021
Being the most adversely affected,there is none better who knows hw the transition wld wrk setting aside your main man!!
Captaincy didn't end on a high,atleast try to leave the presidency wthout a blackmark!!
Dont make us yet another SA or SL !!@SGanguly99#IndiasPrideViratKohli

— S@tti C !! (@Pokiri_Tweetz) September 18, 2021
I don't think any other cricket board would have allowed such trash and rumours to be written about their best batsman, and their best test captain who's given such great results. The least that board can do at the moment is come out in defence of Kohli.

— Gurkirat Singh Gill (@gurkiratsgill) September 18, 2021
Kohli's resignation is part of workload management
Suffering from a poor run of form, Kohli resigned from the post of T20 captaincy. He has not scored a century in international cricket since almost two years, which impacted his decision-making abilities as captain. According to internal reports, Virat has not been available for the team as he used to be. As reported by the PTI, "The problem with Virat is his communication. In case of MS (Dhoni), his room would be open 24×7 and players could just walk in, play the PS4, have a meal and let their hair down and if required talk cricket. Beyond the ground, Kohli is literally incommunicado,".
Also read: "Perform or Perish", BCCI chief Ganguly begins exactly how he began as the captain
Additionally, Kohli's captaincy has been under scanner as well. Under his captaincy, no player has been secure about his selection, even after performing well. The bowling attack has never been a stable unit under him, as apart from Bumrah, no one is sure of their position in the team. Workhorses like Ashwin and Umesh Yadav could never understand the reason behind them being sidelined from time to time.
Under Virat's captaincy, India has earned the 'chokers' tag for constantly losing in the semi-finals and finals of ICC tournaments. Even the individual disciplines of players under Kohli have been questioned from time to time. To add insult to injuries, recently Kohli again became a bunny for James Anderson in the series against England.
Read more: Virat Kohli could step down as India's limited over captain after T20 World Cup
Is Ganguly at fault here?
Saurav Ganguly has been one of the most respected figures in Indian cricket. Saving India from match-fixing scandals, he filled aggressive instincts in the Indian dressing room during early the 2000s. Capitalising on his newly given in-your-face aggression, Dhoni and his men went on to win the T20 world cup 2007 and the CB series beating invincible Australians in their land in 2008. The 2011 world cup which India won, had talented players like Virendra Sehwag, Zaheer Khan, Yuvraj Singh, Harbhajan Singh and MS Dhoni. However, it was Ganguly's knack of recognising the talent which helped these players solidify their places in the team.
After he retired from playing cricket, Ganguly spent his days scouting talents for the Indian cricket team. He was made a member of the cricket improvement committee which recommended Anil Kumble as coach of the Indian cricket team. But Kohli's liberal and Kumble's disciplined approach did not go hand-in-hand ultimately, leading to Kumble's resignation. After his elevation as the BCCI president, Ganguly has brought in an air of discipline in the functioning style of the board as well as the cricket team. Being an ex-captain, he recognised Kohli's problems regarding his workload. Ganguly understood that Kohli has a new responsibility of being a father and maintaining a healthy work-life balance is almost impossible with the workload of captaincy in all formats. The introduction of cool-headed MS Dhoni as a mentor to the Indian cricket team in the T20 world cup is an indication of how Ganguly's experience as a player and an administrator is proving to be a boon for India.