As India successfully continues on its economic recovery riding on record vaccinations, we are set to beat China within a decade. While the business activity in India is back to its pre-covid levels, India showed a growth of 20.1 percent during the first quarter of this year.
While all other countries are struggling for the consumption of their domestic production, Indian exports hit an all-time high of $35.43 billion in July 2021. Riding on July numbers it has already touched the mark of $15 billion in the first 15 days of August. Meanwhile, FDI inflows in India touched $22.53 billion, a 90 percent rise compared to last year. The FDI increase clearly demonstrated that India has a sound fiscal and trade policy.
Apart from Finance ministry, the credit for this huge recovery goes mainly to railway and trade policies under commerce minister Piyush Goyal and asset creation under Minister of Road, Transport and Highways Nitin Gadkari.
Piyush Goyal
As Railway Minister
As railway minister Piyush Goyal made sure that 6.3 million stranded migrants were carried back to their homes by 4,594 shramik trains. The empty passenger routes during lockdown were utilized by Piyush Goyal in carrying food grains, milk and many more farmers' produce along with PPE kits, Liquid Oxygens, Ventilators across the country. Under Goyal, Indian railways provided 70,000 covid beds to the nation. Moreover, Railway buildings were converted into COVID isolation beds. He converted the Coronavirus bane into a boon for Railways as the Indian Railways completed 200 key long-pending projects during the Coronavirus pandemic.
Read more: As it did during the first wave, Indian Railways is helping states fight the second wave of Corona
As Commerce Minister
In the wake of COVID-19, Foreign trade policy 2015-20 was extended for one year, a number of relaxations were provided to address Corona Pandemic Related Hardships of Exporters. Relaxations were also provided on compliances set for the units involved in Special Economic Zones, more than 280 units in SEZs, manufacturing essential items like pharmaceuticals and hospital devices, were operational even during COVID. Under Piyush Goyal, India jumped 14 spots in the World Bank's Ease of Doing Business rankings. To fuel Aatmanirbhar Bharat, he launched the One District, One Product initiative. Recently to support the Indian healthcare system, the commerce ministry banned the export of Rapid Antigen Test kits.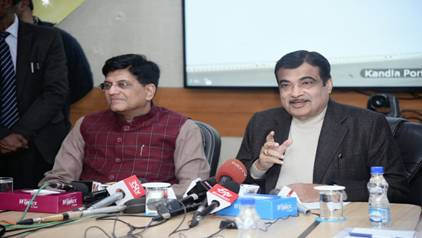 Nitin Gadkari
The experienced Gadkari takes the lead role in infrastructure and job creation in the country. In his stint as road transport and highway minister, the pace of road building has gone from 2 km per day to 37 km per day. He has overseen the building of 13,374 km of Highways in the Financial year-2021. Under him, the Government expenditure on infrastructure increased by 900 percent. The continuous progress in infrastructure creation was one of the biggest contributors to employment opportunities generated in the country during COVID. He is well on his way to fulfilling his promise of Indian roads being comparable to European and American roads by 2024.
Read more: Nitin Gadkari – a minister who seldom talks but his work speaks for itself
Challenges Ahead
With China losing its might and the US Federal bureau stooping to printing dollars to run the economy, it is now time for India to prove its economic mettle to the world. While India still lags behind on lots of economic indicators, the current challenges such as protecting and promoting innovation, establishing free trade regimes with the countries recently freed from the clutches of China will be key to India's growth in the next 30 years. Moreover, with Industrial activity picking up, the already progressive road infrastructure has a challenge of increasing its efficiency to carry the burden of rapid domestic production. Both Gadkari and Goyal are more than efficient to handle this responsibility with the support of Finance minister Nirmala Sitharaman.