On Wednesday, Delhi Congress workers protested against senior party leader Kapil Sibal outside his residence in New Delhi. This happened hours after he decided to speak his mind and made remarks regarding demands for sweeping reforms raised by G-23 leaders. Holding "Get well soon" placards, Congress youth workers protested outside his house. They also threw tomatoes and damaged his car.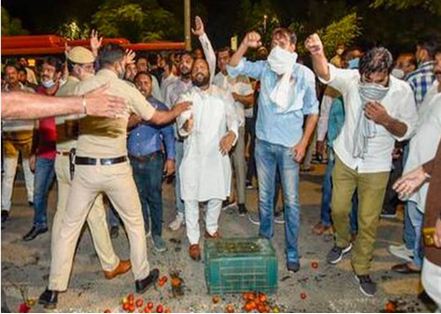 Protestors were also seen raising slogans "Leave the party! Come to your senses!" and "Rahul Gandhi Zindabad!" outside his house.
The Backdrop
Previously on Wednesday Mr Sibal while addressing a press conference raised a series of questions against the Punjab Congress's internal faction and ruckus. "In the Congress there is no elected president now. Who is taking calls? We don't know who is taking decisions in the party," he said.
The Congress party currently has no full-time president and Sonia Gandhi acts as the interim party chief.
Sibal stated that he was speaking on behalf of those Congress leaders who had written to Gandhi back in August 2020 asking for a complete revamp of the party's organisation. While taking a dig at the Gandhi family, Sibal said "We are G-23, definitely not Ji Huzoor-23. We will keep raising issues. "he further added.
Read more: Sidhu has done the unthinkable. Now everyone in the Congress party is cursing everyone
Sibal also acknowledged and raised concern regarding the ongoing crisis in Punjab, "A border state where this is happening to Congress party means what? It is an advantage to ISI and Pakistan. We know the history of Punjab and the rise of extremism there… Congress should ensure that they remain united.", he said.
#WATCH | We are not "Jee Huzoor 23". It is very clear. We will keep talking. We will continue to reiterate our demands: Congress leader Kapil Sibal, one of the 23 party leaders who wrote a letter to Congress president last year, demanding a slew of organizational reforms pic.twitter.com/JIy4HYqHeT

— ANI (@ANI) September 29, 2021
Additionally,  Congress leaders also slammed Sibal for his remarks on the age-old sinking party. Reacting to Sibal's charges, Congress leader Ajay Maken said, "Sibal, who helmed various ministries in the Congress-led UPA government over the years, should not degrade the organisation that gave him an identity."
Read more: Last six months aside, Amarinder Singh will be remembered as the man who tamed Khalistanis and the drug mafia
"He is not talking about reforms, but he is doing dalali of BJP", said an angry Congress worker at the protest. He even accused Kapil Sibal of leaking personal messages sent by Rahul Gandhi and Priyanka Gandhi to Amit Shah.
Hours after Kapil Sibal slammed @INCIndia leadership, @INCDelhi workers from Chandni Chowk district reach his house with get well soon boards @TheNewIndian_in pic.twitter.com/9HQxCSgluB

— Anand Singh (@Anand_Journ) September 29, 2021
The few leaders in the Congress who dared to stand up to the Gandhis and openly defy them are bound to face harassment within the party. The youth party workers protesting and vandalising Sibal's property seemed to be working on the orders of the Congress High Command. With the Congress leaders fighting amongst themselves and a lack of leadership further disintegrating the party, the future looks very bleak for the Congress party.
Additionally, prominent leaders are resigning from the party as they cannot comply with the ideology of the Congress high command. The Congress will face a mammoth defeat in all probability if the party doesn't change its ideological and organisational leaning.