Yogi Adityanath has never believed in a political correctness narrative built by the left-liberal lobby of Lutyens' media. Even after being physically and verbally attacked several times by the opposition and zealots on the ground, he never shied away from publicly showcasing his proud Hindu identity. Yogi's presence at the helm of affairs in Uttar Pradesh has made sure that the people of Uttar Pradesh shed their baggage of shame imposed on them by previous Muslim appeasing governments. But some zealots tend to spew venom from time to time.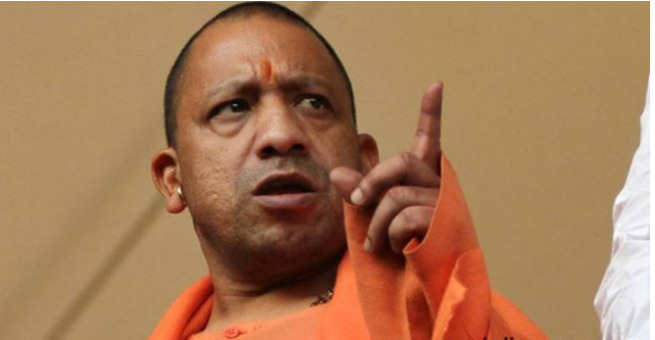 Taliban won't be tolerated in India
Giving a stern message to those who are still engaged in Muslim appeasement, Yogi Adityanath has launched a castigating attack on Akhilesh Yadav led Samajwadi Party. Exposing the Talibani mindset of the Samajwadi Party, Yogi wrote on Twitter- "The people of the state should not tolerate the pro-Taliban casteist-dynastic mentality that shoots at Ram devotees."
Remember! Wherever the scorpion is, it will sting". He was referring to the 1990 incident in which Mulayam Singh Yadav in his capacity as chief minister had ordered the state police of Uttar Pradesh to openly fire on the Karsevaks in Ayodhya, the birthplace of Lord Ram.
राम भक्तों पर गोली चलाने वाली तालिबान समर्थक जातिवादी-वंशवादी मानसिकता को प्रदेश की जनता कत्तई बर्दाश्त न करे।

याद रखिएगा! बिच्छू कहीं भी होगा तो डंसेगा।

— Yogi Adityanath (@myogiadityanath) September 12, 2021
Yogi Adityanath was on his tour to Kushinagar and Sant Kabir Nagar. On Sunday, he laid the foundations stones for a medical college and other 96 development projects. The total cost of these projects is around 600 crores. He also inaugurated 11 development projects worth 14 Crores.
जनपद कुशीनगर में ₹281.45 करोड़ की लागत से राजकीय मेडिकल कॉलेज तथा ₹310.44 करोड़ की अन्य 96 विकास परियोजनाओं का शिलान्यास एवं ₹14.17 करोड़ की 11 विकास परियोजनाओं का लोकार्पण… https://t.co/XOmdFWjVGc

— Yogi Adityanath (@myogiadityanath) September 12, 2021
The Kushinagar welcomed Yogi with the inauguration of the project worth 26 crores while he also laid the foundation stone for 106 projects worth 206 crores.
जनपद संत कबीर नगर में ₹126 करोड़ की लागत से नव निर्मित जिला कारागार का लोकार्पण एवं ₹119 करोड़ की अन्य विकास परियोजनाओं का लोकार्पण/ शिलान्यास… https://t.co/jDNXriO8Wa

— Yogi Adityanath (@myogiadityanath) September 12, 2021
Yogi forced SP forced to take a pro-Hindu stance
After realising that the people of Uttar Pradesh have united and are now proud of their Hindu identity, Samajwadi Party has been on its Pseudo Hindu-appeasement spree. Recently, Akhilesh Yadav had publicly claimed that he was a better Hindu than BJP leaders like Yogi Adityanath and Modi. Claiming that his father and former Party Supremo Mulayam Singh Yadav is a staunch Hanuman Bhakt, he said that his safai home has always consisted of temples. In an attempt to appease Brahmins, SP has promised that it will build a 108 feet statue of Lord Parshuram. Akhilesh had also played an election gimmick before the 2019 general elections by declaring that he would be building a Vishnu temple. 
Read more: Hanuman Bhakt Mulayam, Parashuram Bhakt Akhilesh – the Hindutvavadi SP is here
This is the same Samajvadi party that was so much bent on appeasing Muslims that it had ordered to open fire on Hindu Karsevaks. Mulayam Singh Yadav was the chief minister who passed the orders. His command had no mention of sparing women, children and old people from open firing. In its letter, it could be compared to General Dyer's open fire on Jalianwaala Bagh. Though, stunned by the feet-touching gestures of women and elderly Karsevaks, UP police tried to show some restraint. Still, the shooting ended up killing 17 Karsevaks if we go by the official data. RSS and other pro-Hindu groups estimated a much bigger death toll. It was the Akhilesh Yadav administration that withdraw cases against 16 prominent Muslim accused in the Muzaffarnagar riots.
Recently, Shafiqur Rahman Barq, a veteran SP leader compared the Taliban's rise in Afghanistan with the Indian freedom struggle. Iftaar parties and other Muslim appeasing events were common in the UP assembly during the Samajwadi party-led government. 
Uttar Pradesh won't look back
Yogi government has left no stone unturned in making sure that Uttar Pradesh becomes the next industrial and manufacturing hub of the country. Private industrial parks, Defence Industrial corridors, MSME parks and development in IT and electronics has made sure that UP emerges as a favourable destination for investors. Along with development, the construction of Ram Mandir and rejuvenation of cities like Kashi, Mathura has been helpful in people realising their cultural roots and not compromise with their cultural identity to come off as modern. Watching a beautiful amalgamation of culture and modernity, the opposition is frightened and are quickly trying to jump on Hindutva led bandwagon. But the people of Uttar Pradesh have seen all this, and they are not going to be fooled anymore.