On Tuesday last week, the 14th Dalai Lama's birthday was celebrated by Tibetans across the world – particularly in India. In China-occupied Tibet, though, celebrations did not take place due to the dictatorial control of the Chinese Communist Party. The CCP feels threatened by the Dalai Lama. Not only has China banned the Dalai Lama from the country and disallowed any observances of him in Tibet, but it is now also trying to intimidate the followers of the Dalai Lama in India. Unfortunately for China, the Indian Army is always ready to break the jaws of Chinese wimp-like soldiers.
At a time when India and China are locked in a tense military standoff in Eastern Ladakh, PLA soldiers and some Chinese civilians intruded into Indian territory and objected to the Dalai Lama's birthday celebrations at a border village. Chinese People's Liberation Army troops and civilians came on the other side of the Sindhu River in the Demchok region of Ladakh. The Chinese tried to intimidate villagers of Doley Tango near Koyul. They did not enter the village, but displayed objectionable banners saying China and Tibet are one.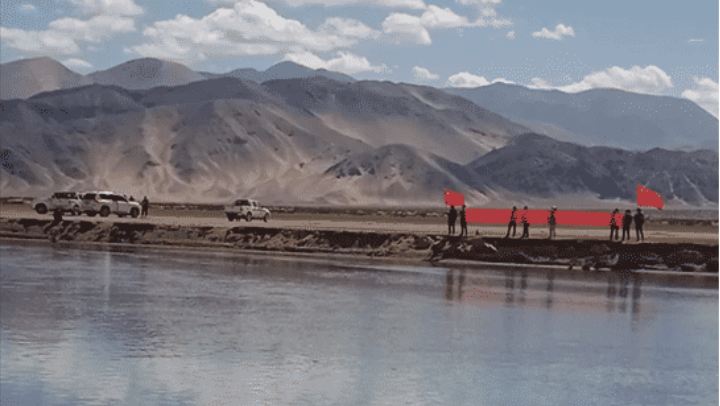 A senior government official told news agency IANS, "It is a regular affair every year. The Chinese protest as we celebrate Dalai Lama's birthday. They waved their flags in protest when villagers on Indian side were celebrating the birthday." The officer added that the Chinese soldiers and civilians came in with five vehicles and raised their country's flag as well.
Officials say Chinese PLA did step into territory India calls it's own. The banner they carried said China and Tibet are one

— Arunima (@Arunima24) July 12, 2021
#Watch | Chinese nationals seen protesting against Indians celebrating His Holiness the @DalaiLama's birthday.

Visuals emerge.

Details by Srinjoy Chowdhury. pic.twitter.com/86aeyGionw

— TIMES NOW (@TimesNow) July 12, 2021
This year, the Chinese are particularly infuriated – since the Dalai Lama was publicly greeted by no less than Prime Minister Narendra Modi and two of his senior cabinet ministers – Nitin Gadkari and Hardeep Singh Puri themselves. This was the first time since taking over as Prime Minister that Narendra Modi openly associated with and wished the Dalai Lama. Not only did Prime Minister Modi wish the Tibetan spiritual leader on Twitter, but also called him and spoke to the man who has millions of followers around the world.
Read more: A simple Birthday message from Indian Prime Minister has set the CCP top brass on fire
PM Modi tweeted, "Spoke on phone to His Holiness the Dalai Lama to convey greetings on his 86th birthday. We wish him a long and healthy life." China regards the 14th Dalai Lama, who has lived in exile in northern India for more than six decades, as a dangerous "splittist", or separatist, and is outraged upon seeing any engagement with him.
Spoke on phone to His Holiness the @DalaiLama to convey greetings on his 86th birthday. We wish him a long and healthy life.

— Narendra Modi (@narendramodi) July 6, 2021
Make no mistake, this year's protests by China against Indian villagers celebrating the Dalai Lama's birthday are a direct consequence of Beijing realising that the Modi government has dramatically changed its position on the much-touted 'One China Policy'. Now, India is willing to play the Tibet card if China does not begin behaving itself. It is for this very reason that China is writhing like a decapitated snake.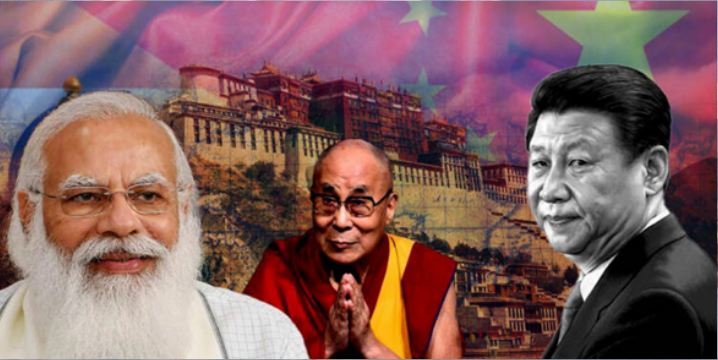 What is also worrying China is the fact that India has stepped up its military preparedness to not just defend itself against a PLA offensive, but also go deep within Chinese territory and perhaps, liberate Tibet. India has reoriented around 50,000 troops, whose main focus will be the disputed border with China. The Mathura-based 1 Strike Corp, earlier tasked to cross the western border into Pakistan, has now been reoriented to the hottest of border areas with China.
According to IANS, the Panagarh based Mountain Strike Corps has been assigned to the Eastern sector of the border. The XVII Mountain Strike Corps, also called the Brahmastra Corps, has been assigned to hit back along with the eastern sector when the need arises. This will result in more acclimatised troops being able to shift rapidly from the northern to the western border – in case India faces a two-front war with China and Pakistan. This reorientation gives the Indian defence establishment a higher level of manoeuvrability and flexibility vis-a-vis its neighbours.
Last year, during the peak of hostilities between India and China – the Modi government had taken the bold decision of deploying the covert Special Frontier Force, comprising of Tibetans to the border with China. This has sent China into suffering a magnanimous gush of anger, anxiety and insecurity. The Dalai Lama, meanwhile, is also slated to personally meet Prime Minister Modi after the Covid-19 situation stabilises. China does not really know what is hitting it. All it knows is that the pain is real and unbearable for it.