Taking a leaf out of Himanta Biswa led Assam government which has barred individuals with more than two children to be eligible for government jobs, the Yogi Adityanath led Uttar Pradesh government is now planning to bring changes in family planning rules, which might result in couples with more than two children being debarred from welfare schemes.
News18, based on sources in the UP government, is reporting that ahead of next year's assembly elections in Uttar Pradesh, the state law commission is preparing a draft which will result in legal amendments in the family planning rules, and ultimately may result in couples with more than 2 children being debarred from certain welfare schemes like ration subsidy.
Justice Aditya Mittal chairman of state law commission, said, "Commission is preparing a draft bill which has several key recommendations. The report will be soon submitted to the state government."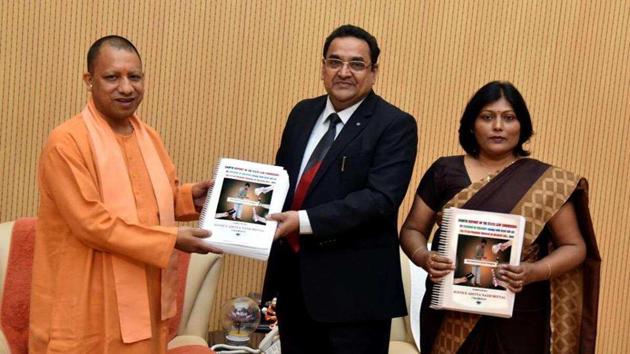 It is pertinent to note that there are already several existing provisions in India's most populous state to discourage people from having more than 2 children with the prospect of tweaking the family planning rules being worked on since early 2020.
Recently, the Assam government decided to adopt a strict two-child policy, which will bar individuals from availing benefits under certain state government schemes if they have more than two children. However, the people belonging to the Scheduled Caste (SC), Scheduled Tribe (ST) and Tea Tribe community will be exempted from the two-child norms for availing state government's schemes.
The decision to gradually adopt a stringent two-child policy comes a week after chief minister Himanta Biswa Sarma had called on the state's Muslim community to adopt 'decent family norms' in order to bring down the state's population and eradicate 'social menaces like poverty'. On his government's first month anniversary, Sarma said, "We want to work with the minority Muslim community to control the population explosion. Social menaces like poverty and land encroachment have their roots in the population explosion. We can solve several social problems if the immigrant Muslims can adopt decent family norms…this is my appeal to them."
At a press conference on Saturday, the Assam chief minister made his plans about controlling Assam's population clear, and said, "We will slowly implement population norms for government schemes…in the case of some schemes, say if a scheme like a Chief Minister Awas Yojana is launched in the future for the middle-class, then the two-child norm will be enforced. Similarly, population norms will gradually be put in place in the case of some chosen schemes."
Read More: No government jobs for those who have more than two children: Himanta Biswa govt's new policy in Assam
He, however, said that the two-child policy cannot be implemented under central government schemes like availing free admission in schools and colleges, or for houses under the Pradhan Mantri Awas Yojana. Apart from bringing state government schemes under the ambit of the two-child policy, Assam had, in 2019 itself, decided that those with more than two children would not be eligible for government jobs from January 2021.
As India looks set to overtake China and become the most populous country in the world in the next few years, steps must be taken to curb the current population explosion. It is encouraging to see Himanta Biswa Sarma and Yogi Adityanath take the bull by horns and not caring for political correctness as they look to solve the population crisis.