For the seventh year in a row, BJP has remained the top receiver of corporate donations. This is an indication that the corporates trust the party and are very sure that it will come back to power after the 2024 general election.
As per report by Election Commission, the saffron party received roughly Rs 750 crore in donations from companies and individuals. This is at least five times more than what the Congress party received (Rs 139 crore). The NCP got Rs 59 crore, TMC Rs 8 crore, CPM Rs 19.6 crore and the CPI Rs 1.9 crore in the same period.
BJP MP Rajeev Chandrasekhar's Jupiter Capital, the ITC Group, real estate companies Macrotech Developers (earlier known as Lodha Developers) and BG Shirke Construction Technology, the Prudent Electoral Trust and Jankalyan Electoral Trust were among the BJP's biggest donors.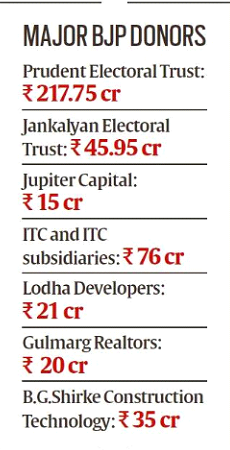 The record donations indicate an unprecedented level of confidence that the leading and respected corporate houses have in the BJP. All these corporate houses are well respected and have worked a lot for the nation's development. Their trust in the BJP implies that they also support pro-people, pro-nation and pro-development policies of the party, and have complete trust in the leadership of PM Modi. They want BJP to return to power and that is the reason why they make huge political donations to the party.
Monetary resources are very important in order to win elections in any democratic setup. The elections in India cost far less than in countries like the United States, still, the role of donation becomes important in any country. The amount of donation any party receives is directly proportional to its electoral prospects in upcoming elections. The BJP is currently the richest political party in India. BJP receives the largest chunk of political funding that stands at more than a thousand crores, almost equal to the total funding of the seven national political parties in the previous fiscal year and two-third of the funding to national parties this year.
Read More: Ex Prasar Bharati CEO spews venom against PM Modi and BJP, gets caught peddling photoshopped photo
On the other hand, the corporate houses have not funded the Congress party for the last few years because they are confident about the party's bleak future. The anti-business activities by the Congress party like opposing the GST, land reforms, labour reforms etc have miffed the corporate houses, and to further exacerbate the things for the Congress, Rahul Gandhi is leading the party.
The corporate and individual donors back the parties with high prospects. Therefore, the reduction in funding to Communist parties and the Congress suggests that their political prospects are low in the upcoming elections. BJP alone bagged almost two-third of total funding which means that its political prospects are high in the next general elections.