In a shocking turn of events from Uttar Pradesh's Hathras, a father of two daughters was shot at multiple times by one Gaurav Songra alias Gaurav Sharma, leading to the victim succumbing to the bullet wounds on his way to the hospital. The disturbing incident is drawing attention since the accused Gaurav Sharma identifies himself as a Samajwadi Party leader on his social media pages, and is also said to be allegedly involved in the organisation of a Kisan Mahapanchayat on Wednesday in Uttar Pradesh's Tappal. Incidentally, the same will be attended by SP supremo and former chief minister Akhilesh Yadav.
The killer – Gaurav Sharma is an accused in a sexual molestation case, which was filed against him by the man he shot on Monday. The victim had filed a case against the SP leader and his accomplice for constantly harassing and troubling his daughter in 2018. The molestation case had led to Gaurav Sharma being arrested for a month, subsequent to which he was released on bail. Ever since, enmity and bad blood exists between the victim's and the family of the accused.
Gaurav Sharma runs his social media pages with the name 'Gaurav Songra'. On his Facebook page, the accused has put up multiple photos calling himself a "Samajwadi Party leader", who truly seems to believe in the ideology of his party. The SP, on its part, has distanced itself from Gaurav Sharma, saying that he was no office holder within the party.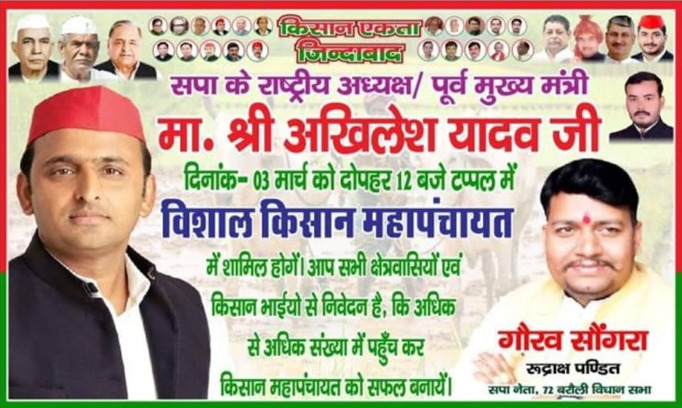 Chief Minister Yogi Adityanath on Tuesday ordered the police officials to invoke the stringent National Security Act (NSA) against all the accused. The Hathras police have filed an FIR in the case against six accused including the main accused SP leader Gaurav Sharma, his family members namely Rahitash Sharma, Nikhil Sharma, Lalit Sharma and two others. Hunt for the SP leader and another accused continues.
Superintendent of Police, Hathras, Vineet Jaiswal, speaking on the incident, said, "The wife and aunt of the main accused had gone to a village temple to pray where both daughters of this man were present. The women had an argument. Gaurav and woman's father intervened. After this, Gaurav flew into a rage and called some boys from his family and shot at the man.
Several shots were fired at the victim's father, who has succumbed to his injuries.
Samajwadi party leader Gaurav Sharma eve-teased this poor girl and shot her father down when he complained to police.
Requesting @myogiadityanath govt to make sure that justice prevails in this case.pic.twitter.com/f4D0VNH95F

— Monica (@TrulyMonica) March 2, 2021
The cold-blooded murder of the victim's father gained traction after a video of her outside the temple went viral, in which she was seen crying and pleading for justice. "Please give me justice… please give me justice. First, he molested me and now he has shot my father. He had come to our village. There were six-seven people. My father had no enmity against anyone. His name is Gaurav Sharma…Aatankwadi hai woh (he is a terrorist)," she was heard saying. The victim's wife, meanwhile, has claimed that the killer wanted to marry their daughter, and upon being refused, killed the man on Monday.