With global numbers of COVID-19 cases still rising, India's share in COVID-19 cases is depleting. Even union minister of health, Harsh Vardhan went ahead and claimed "We are in the end game of the COVID-19 pandemic in India. But within India, the state of Maharashtra is reporting a daily spurt in COVID-19 cases." As reported, Maharashtra recorded 14,317 new cases on Friday, on the contrary, India reported 22,854 total positive cases. Uddhav Thackeray resort back to imposing lockdowns.
Maharashtra accounts for more than 62 per cent of the whole of India's COVID positive cases. The unassailable Covid number has once again brought Uddhav Thackeray-led Maharashtra Vikas Aghadi government on the back foot and he is ought to consider lockdown options.
Read More- India is steadily flattening the COVID curve, but Maharashtra is making sure it gets delayed
Recently, the Maharashtra government announced a complete lockdown will be imposed in the city of Nagpur from March 15 to March 21. Before Nagpur, a weekend lockdown was imposed in the city of Nashik and Thane. Moreover, the district administration issued an order that no wedding will be allowed from March 15. Jalgaon also observed the Janta curfew on March 12,13,14.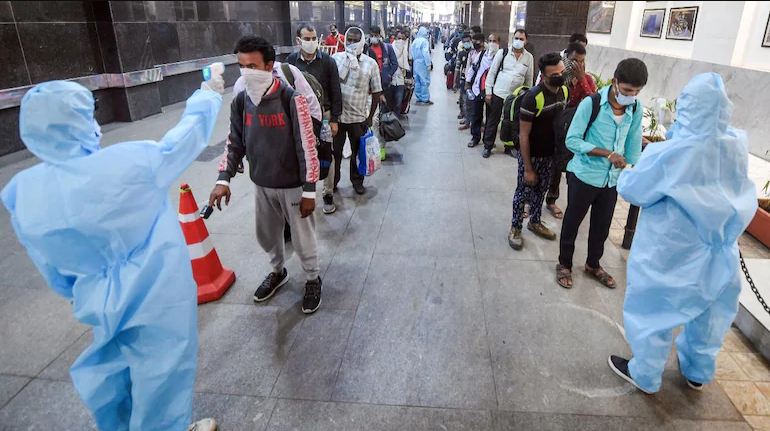 Nagpur district guardian minister Nitin Raut said, "Nagpur has been witnessing an increase in Covid patients. Hence it has been decided that all the areas under the jurisdiction of Nagpur Police Commissionerate will be under total lockdown between March 15 and March 21."
Uddhav Thackeray, Chief Minister of Maharashtra cautioned the public of Maharashtra about the lockdowns that may be imposed soon. "A strict lockdown will need to be imposed in some places. We will make a decision in the next two days and the lockdown will be imposed wherever required," CM Thackeray said after he received his first jab of the vaccine at the JJ Hospital in Mumbai.
Read More- 'No money to pay employees,' As Maharashtra battles COVID-19, Uddhav govt buys luxury cars
The statements of CM Thackeray could push the citizens of his state towards a state of panic. Maharashtra is the only state in India that never plateaued in terms of Corona cases. And at a time when the whole of India is in midst of a vaccination drive, the state of Maharashtra is struggling in controlling and containing the pandemic.
The incompetency in Uddhav Thackeray's governance is visible. We don't need to be a health expert to say that Maharashtra is a failed state when it comes to the health sector. The western state of India is one of the richest states in India. Apart from the richness, the state has better health infrastructure as compared to other parts of India, like Uttar Pradesh and Bihar. In the past, the central government came out and assisted the Maharashtra government in tackling pandemic. So, despite every necessary amenities, the state seemed to be a failure.
Grabbing power by the unholy alliance and governing the state are two different things. This is exactly what seemed to have happened with Uddhav Thackeray; he is a man with no experience in administration or governance. He was never in charge of any ministerial responsibility, neither fought any election. He reached the helm of affairs by just using his family name resulting in sheer incompetence, resulting in the suffering of the people of Maharashtra.