The trailblazing news anchor of NDTV, Ravish Kumar has landed himself in yet another controversy. Ravish, who proclaims to be the only unbiased journalist left behind in the wilderness of the world, on Thursday apologised for spreading fake news about paddy procurement of Union Minister Piyush Goyal in one of his prime time shows. Kumar took to Facebook to apologise for making a 'mistake' of putting false information without verifying facts.
"The information is incomplete and therefore it is not correct. In this event, a mistake was also committed by me in the episode of 14 January. The analysis of a tweet put out by the Railway Minister turned out to be a mistake," said Ravish Kumar in his Facebook post, albeit without any morsel of remorse.
The controversy started when Union Minster Piyush Goyal on January 10 tweeted a post where he communicated that till January 10, the centre had procured 534 Lakh Metric Tonnes of paddy, compared to 423 LMT in the same period last year. Therefore, the paddy procurement had gone up by 26 per cent till now this year.
किसान हितों के लिए PM @NarendraModi जी द्वारा किए गए प्रयासों से 10 जनवरी तक पिछले वर्ष की इसी अवधि की तुलना में 26% अधिक धान MSP मूल्य पर खरीदा गया, जिसकी मात्रा 534 LMT है।

एक लाख करोड़ रुपये से भी अधिक के भुगतान से 71 लाख किसान लाभान्वित हुए।

किसान हित में MSP है, और रहेगा। pic.twitter.com/xOAaqlvem0

— Piyush Goyal (@PiyushGoyal) January 11, 2021
The tweet by Piyush Goyal was clearly meant to clear any rumour being spread by the detractors of the Farm bills regarding the MSP and its future. However, Ravish could not stop himself from taking a dig at the government and launched a monologue on his show where he went on a verbal diarrhoea rampage and simultaneously busted his lungs venting fake news.
Ravish Kumar and his team deliberately cropped the post of Piyush Goyal and made misleading claims. The minister had clearly said that the data of procurement is only up to 10 January. However, Ravish in his report compared the entire 2019-20 season with that of ongoing procurement of 2020-21 season.
In another Fake News, PIB has sent a mail to NDTV's @soniandtv on Fake News spread by Ravish Kumar by cropping tweet and picture to claim that Govt is lying.

If NDTV doesn't apologise, action will be taken on this sensitive matter. pic.twitter.com/w9MVRHjkhP

— Ankur Singh (@iAnkurSingh) January 15, 2021
Consequently, the Press Information Bureau sent a scathing letter to NDTV and blasted Ravish Kumar for his 'shocking display of poor journalism and sheer disregard of actual facts'. The letter also stated that Piyush Goyal's tweet was cropped in the TV program, giving the impression that it was a mala fide act.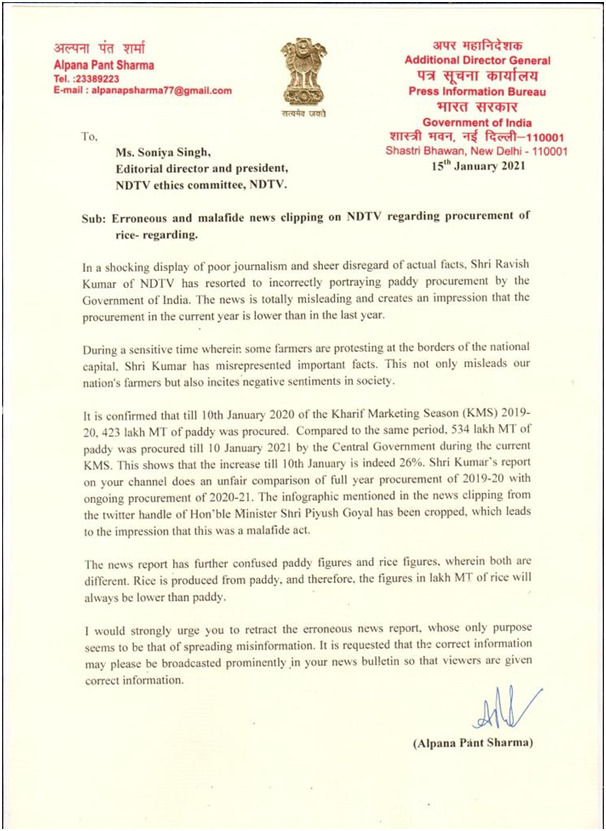 As mentioned earlier, despite being caught with his pants down, Ravish Kumar did not seem sincere in his apology either. Kumar's lack of self-awareness was so acute that he repeatedly called out media that doesn't pander to his line of editorial policy by terming it as Godi Media, even in an apology letter.
On several instances, Ravish tried to paint himself as the righteous and virtuous person for owning his mistakes. But the truth is, Kumar's apology only came after the PIB gave him the stick and forced his hand. 
Read more: Don't listen to what naysayers like Ravish Kumar say, Common Eligibility Test is a gamechanger
Read more: 'Ravish Kumar will go to Jahannam after death,' We are not saying this, ZakirNaik said it
The last few days have been difficult for current and former NDTV employees. If a 'journalist' having 21 years of experience could fall prey to a phishing scam for nearly a year without doing any due diligence on her side, then we can certainly give some leeway to Ravish Kumar for missing the dates of the data. We take him for his words, at least up until this point, eh?