After an exodus of disgruntled leaders from the TMC, a new crack appears within the party. Clearly pointing a figure towards Mamata Banerjee's petty politics, discontent brews as Chairman of Board of Administrators in Asansol and TMC MLA, Jitendra Tiwari, claims that TMC supremo is blocking development in the state.
Tiwari has written a letter to the West Bengal Urban Development Minister, Firhad Hakim, stating that ₹ 2000 crores allotted to Asansol by the centre under the Smart City Project were stopped due to political reasons.
The letter states, "I am very grieved to state that our city was chosen by the Ministry of Urban Development, Government of India under Smart City Mission Project which, it would have been allowed by you, our city could have received funds amounting 2000 crores which would be very crucial for the development of our city. Asansol was chosen under this project as a result of tremendous work effort of Councilors and an entire team of AMC leading to being qualified as a city to be chosen under this but due to political reasons we were not allowed to get the benefits of this project by the State Government."
Underlining the TMC Supremo's pettiness, the letter further reads, "It was instead promised that funds will be made available by the State Government for the overall development of this city but it was not done. Similarly, under Solid Waste Management project, Asansol City could have received another 1500 crores fund by the Central Government like several other cities in our country but you and your department have not allowed us to get the benefits of these Central Government Funds due to which I feel that injustice has been made to the city of Asansol."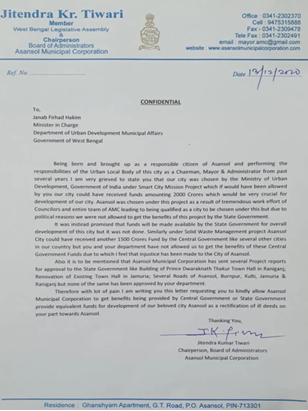 The letter also stated that several other project reports have been sent for approval to the state government but none of them has been approved.
This really is the final straw against Mamata Banerjee. Due to her vindictiveness and petty politics, she is blocking central schemes from being implemented in the state, even when it is for the clear benefit of the people. She is becoming a hindrance to all progress in the state and because of this West Bengal is reeling from underdevelopment.
Commenting on this, Union Minister and BJP MP from Asansol, Babul Supriyo said, "Tewari's letter vindicates BJP's claim that the State Government was obstructing development for narrow-minded politics."
This isn't the first time that leaders from Mamata Banerjee's own party leaders have lashed out at her arrogant and corrupt governance. TMC has been witnessing a slew of exoduses in recent times. This includes West Bengal Minister for Transport, Irrigation and Water Resources, and Chairman of Haldia Development Authority, Suvendu Adhikari and TMC MLA from Cooch Behar Dakshin, Mihir Goswami. Goswami had called his decision to resign from the party a "crusade against the immoral and incorrect happenings in our state."
West Bengal is one of the most backward states in the country, largely untouched by the development of the last few years due to the apathy of the communist government and subsequently, the TMC regime. Not only is Mamata Banerjee disinterested in expanding funds to her own state, but also, it seems that she is keen to become a hindrance to any development the central government has to offer to West Bengal.