Global Hunger Index (GHI), an index created by a non-profit organization named International Food Policy Research Institute (IFPRI) in 2006, is again in the news as India is ranked 94th out of 107 for whom data is released. India's much poorer neighbours like Pakistan, Bangladesh, and Myanmar are ranked better despite having lower income levels. Bangladesh ranked 75, Myanmar and Pakistan are in the 78th and 88th.
But, does the Global Hunger Index represent a true picture of hunger in India? Well, far from it. GHI actually distorts the true picture given the fact it tries to enforce western standards on Indian population.
Let us see on which parameters GHI is calculated and whether that represents the true picture of hunger in India or distorts it?
The GHI is calculated on four parameters 1) Undernourishment: calculated by the share of the population whose caloric intake is insufficient; 2) Child Wasting that is those who have low weight for their height; 3) Child Stunting that is, those who have low height for their age; 4) Child Mortality: calculated by the mortality rate of children under the age of five and  33.33% weight each to components 1 and 4, and giving 16.66% weight each to components 2 and 3.
Given the fact that three out of four parameters refer to child health, calling it hunger index is a scam in itself. As Shivendra Kumar Shrivastava, Agricultural economist and member rightly argued, It would be more appropriate to term the conceptualisation and composition of this composite index as a "Global Hunger and Child Health Index" than a "Global Hunger Index". An index, two-third of whose weightage is given to child health is deliberately referred to as hunger index because the term is more sensational compared to child health index.
Out of these four components, Child Wasting and Child Stunting are based on weight and height as per western parameters, despite the fact that many researchers have argued that there should be country-specific requirements for height and weight.
The height and weight of Indian children and even Indian adults are generally lower than that of western kids but that does not mean that they are malnourished or suffering from some kind of deficiency. "Weight and height of children are not solely determined by food intake but are an outcome of a complex interaction of factors related to genetics, the environment, sanitation and utilisation of food intake," says Ramesh Chand, member of NITI Aayog.
Sachin Tendulkar's height is one of the lowest among the international cricketers but that did not stop him from becoming the greatest batsman of all time. Messi is also among the footballers with low height, but still, he is the greatest footballer of all time. Tendulkar and Messi, if measured as per GHI's standards when they were below the age of five, would have probably qualified hungry and malnourished, thus wasted children.
Moreover, given the fact that GHI is primarily concerned with the child's health, it excludes almost 89 per cent of India's population above the age of five. So, an index which gives the majority of the weightage to India's minority population claims to represent the Hunger situation in India.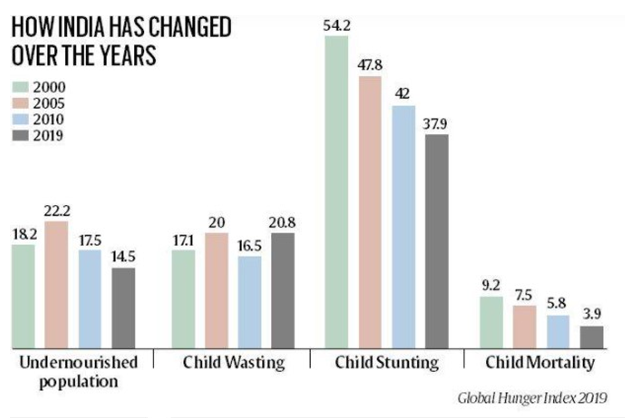 If one takes a close look at the data, India primarily lags behind in Child stunting and child wasting, the two parameters which have very little to do with the availability of food and more with genetic, geographic, sanitation and many other factors.
The two indicators where the country needs to work are the undernourished population which has been already addressed with the Public Distribution System (PDS). More than 70 per cent of India is already covered under National Food Security; all that the government needs to do is to improve the delivery system and prevent leakage. Through the digitalization and portability of ration cards, these issues are already being solved by the Modi government.
And now comes the child mortality rate. There is very little justification to include child mortality in hunger index as more than half of the deaths of the children under the age of five has nothing to do with hunger and malnourishment. Moreover, child mortality has consistently declined in India in the last two decades, thanks to the investments in public health and Integrated Child Development Program (ICDS).
As there is universal coverage- for all those who need- of public food distribution in India, there is no question of any Indian citizen facing unavailability of food. A food surplus country, India's agricultural exports are more than 10 billion dollars a year. So, whatever problems persist, are of execution not of unavailability and most of these are related to health, not acute hunger. As argued earlier in this article, calling GHI a hunger index is a scam in itself because it primarily deals with child health.