The Ram Mandir Bhoomi Pujan, yesterday, unified the entire country, as India erupted in joy after a centuries-old error was finally corrected. As expected, India's left-liberals suffered a glorious meltdown as Prime Minister Modi dumped their pseudo-secularism to the bin. Unsurprisingly, the global liberal media, which have been inundated with leftists, left nothing to the imagination in their extremely biased coverage. Clearly, the global liberal media burned as Prime Minister Modi visited Ayodhya.
Leading the charge was The New York Times, as it ran an article with a headline stating, "Modi Founds Temple on Mosque's Ruins, in Triumphal Moment for Hindu Base". The biased article claims that the foundation laying ceremony is an effort by PM Modi "to shift India's secular foundations toward a more overtly Hindu identity."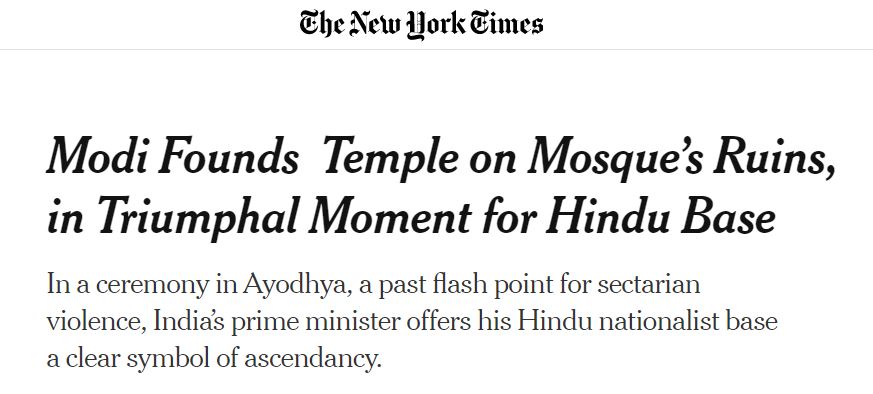 The article ranted about how the ceremony took place amidst the Wuhan coronavirus pandemic and how Modi's close aides (read: Amit Shah) have also been infected with the virus. It further went onto predicting the gloomy situations about the Indian economy and how the construction of the temple was a "captivating distraction".
Such was the burn that the authors of the article then wailed about how PM Modi abrogated Article 370 and in the same breadth dubbed CAA as a law "that blatantly discriminated against Muslims."
Time and again it has been proven that the NYT cannot shed its communist mask and is uprooted from the ground reality; this article is a further testament to this fact.
Al Jazeera, too, suffered an almighty meltdown, as in its article, titled, "Indian PM Modi lays the foundation of Ram temple at razed mosque site." The publication claimed that, "Prominent Muslims have said the community was resigned to the new reality but fear the new temple could embolden Hindu nationalists to target two other mosques in Uttar Pradesh."

It also labelled RSS as "the militaristic Hindu supremacist group and a parent organisation of the Bharatiya Janata Party".
In its another article, which titled, "As Modi launches Ram temple construction, fears of 'new republic'", the liberal media outlet indulged in fear-mongering, as it claimed that there are genuine fears that India is losing its secularism.

The article read, "The (Supreme Court) judgement was widely criticised for lacking a sound legal basis, as well as signaling a majoritarian push, that compromised on India's secular and democratic constitutional ethics."
It further read, "Modi's government has faced both domestic and global criticism for deliberately neglecting its vast Muslim minority, numbering nearly 200 million. The Ayodhya verdict has only cemented this opinion among its opponents and critics."
Al Jazeera then covered how there has been a Muslim exodus from the city of Ayodhya, ever since the demolition of Babri Masjid. Not once did Al Jazeera talk about the historical evidence and how Babur destroyed the temple and build a mosque over it. There's ample evidence of how the temple used to exist in Bhagwan Ram's birthplace, but, it seems that facts and logic is a luxury for the writers at the publication.
Habitual fake news peddler and author of a fictional book, Rana Ayyub couldn't desist from spewing venom as she wrote for The Washington Post with a headline, "India marks another day of erasure and insult against its Muslim citizens"
It is important to remember here that The Washington Post had earlier labeled a dreaded terrorist and ISIS chief Baghdadi as an "austere religious scholar". Hence, it comes as no surprise that the publication gave a platform to Ayyub for spewing venom.
Ayyub in her article wrote, "As a citizen, a journalist and a Muslim, I find it hard not to grow alarmed at the gestures to settle political and religious scores; and every week seems to bring another dystopian development in the ugly slide toward majoritarianism."
She further wrote, "The choice of Aug 5 is yet another reminder of Hindu supremacy in India, symbolic of the transformation of India into a Hindu state."
In a comical turn of events, Ayyub equated the Black Lives Matter with the reconstruction of Ram Mandir. She wrote, "As people continue to protest in support of Black Lives Matter in New York and other cities, giant screens will be endorsing sectarian division and violence."
Apart from this, CNN, another liberal media, also wrote a scathing article on Bhoomi Pujan performed by PM Modi, titled, "India's Narendra Modi lays foundation stone at divisive Ayodhya temple despite rise in coronavirus cases"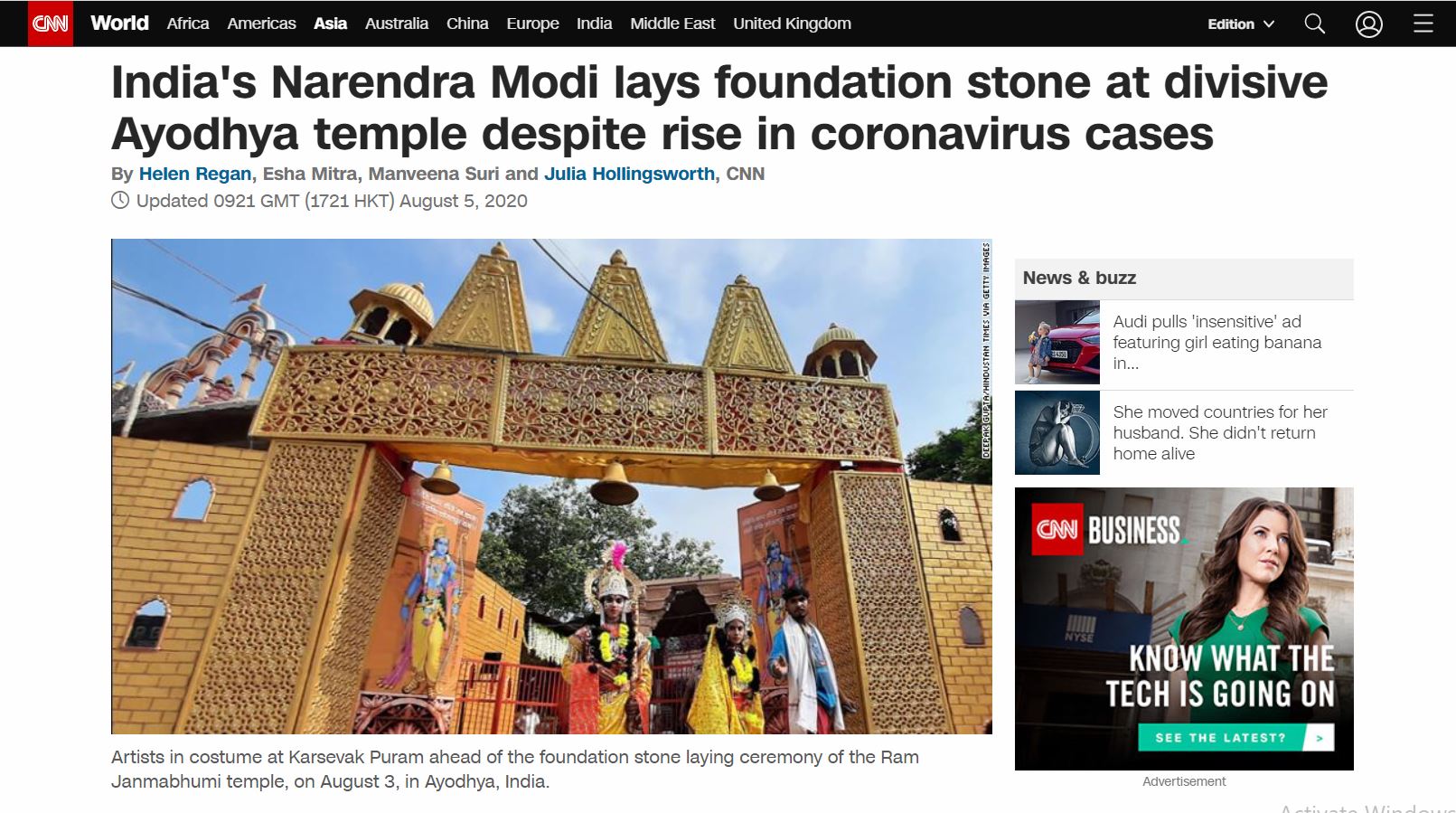 According to the CNN article, "Wednesday's ground laying ceremony went ahead as India's coronavirus cases spiral, with around 50,000 new infections recorded every day for the past five days. Before the ceremony began, live streamed video showed that social distancing measures were not being practiced, although those measures were in place during the ceremony."
It further added, "India has recorded the third-highest number of coronavirus cases worldwide, according to data from Johns Hopkins University, and several high profile politicians in Modi's Bharatiya Janata Party (BJP) have tested positive for the virus, including Home Minister Amit Shah, who was set to appear on stage Wednesday with the Prime Minister."
As the global liberal media continue to publish their communist propaganda in a desperate bid to target India, it seems that these publications have forgotten that the new India is no longer bound to bow its head before any threat. As PM Modi has said in his speech, India is now on its way to becoming a superpower, which is also the most trusted for friends and adversaries, and 'Bhay Bin Hoye Na Preeti' for its enemies.