Beijing keeps spreading its tentacles through CCP General-Secretary's flagship Belt and Road Initiative (BRI)- a euphemism for Chinese colonialism and debt-trap diplomacy. And now, capitalising on the desperation of the pandemic-ravaged economies of Central Asia, China is trying to engulf the entire region with its debt trap diplomacy. The future looks bleak for a post-pandemic China, and therefore the Communist country is going full throttle to retain hegemony, wherever possible. Central Asia is a natural choice for Beijing when it comes to retaining influence.
Once seen as the backyard of Russian influence, Central Asian countries of Kazakhstan, Kyrgyzstan, Tajikistan, Turkmenistan and Uzbekistan are now dominated by Chinese influence and BRI projects. As of 2018, Chinese FDI in the five Central Asian countries stood at 14.7 billion US dollars, that is, 1.2 percent of Beijing's total investments in Asia.
Chinese investment in Central Asian countries has risen rapidly over the past decade or so.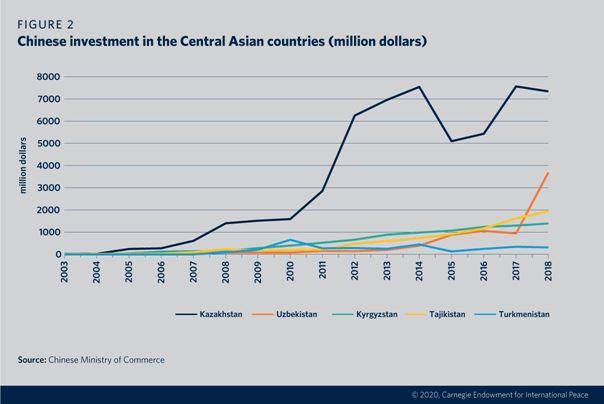 Central Asian countries are getting overwhelmed with Chinese influence. Take, for example, Kazakhstan, Central Asia's biggest economy. The country has taken the bait of Chinese partnership and has allowed itself to be branded as the "buckle" of Beijing's BRI. In fact, China is also building the world's largest "dry port" at Khorgos on the Sino-Kazakhstan border. This is designed to serve as China's gateway into the Central Asian country.
No other global power exercises as much influence as China in this largely landlocked part of Asia. China has emerged as the biggest trading partner of Central Asia, leaving behind the European Union and Russia.
Apart from Kazakhstan also, Kyrgyzstan and Tajikistan already owe a bulk of their foreign debt to China. Turkmenistan is also completely dependent on Beijing, as the latter purchases 80 per cent of its gas exports. China hasn't shied away from weaponizing debt distress in Central Asia either. Finding alternatives to debt repayments and grabbing territory is the modus operandi of Beijing's debt-trap diplomacy.
In Central Asia, Tajikistan has been the biggest victim of debt traps. Back in 2011, Beijing wrote off Tajikistan's debt, but it didn't come for free. Dushanbe had to lose 1,158 square kilometers of its 'disputed' territory to China.
Post-COVID, Central Asia's dependency on China is set to grow only further. There is popular sentiment against China in line with the global backlash against Beijing, but the local governments have no real choice in the face of a major power vacuum.
The United States hasn't focussed energies in this part of the world. The European Union also doesn't have the capability to match the quantum of Chinese investments in the region. As far as Russia is concerned, it is true that Moscow considers the entire Eurasian region, including Central Asia, its own sphere of influence primarily because these countries were a part of the former Soviet Union. But the Russian economy is itself in deep trouble with Western sanctions, and therefore Putin is unable to counter China in Central Asia.
Coronavirus has devastated Central Asian economies, but only lukewarm help has come from other powers. The European Union (EU) has, for example, pledged 3.4 million US dollars to help fight COVID-19 in Central Asia. But how can this amount help Central Asian economies in recovering from the long term economic devastation that the Coronavirus pandemic has caused? Moreover, when China is pumping in billions of dollars in the form of loans, a 3.4 million-dollar help won't account for much.
China has realised that this is the time to push through with even greater vigour. Chinese Foreign Minister Wang Yi has reiterated Beijing's stance to "get key Belt and Road infrastructure projects restarted as early as possible, keep industrial and supply chains secure to provide a solid underpinning for the economic recovery of all countries."
In the backdrop of soaring Chinese influence in Central Asia, there are certain caveats too. The anti-China sentiment has been rising in at least two Central Asian countries- Kazakhstan and Kyrgyzstan. People of these two countries sympathise strongly with the culturally close Uyghur Muslims incarcerated in Chinese concentration camps in Xinjiang.
Xinjiang shares borders with both Kazakhstan and Kyrgyzstan, and Beijing has also incarcerated roughly 22,000 ethnic Kyrgyz and 10,000 ethnic Kazakh peoples in these concentration camps. China might have made deep inroads into Central Asia, but there are certain fault-lines in the context of growing Chinese influence.
The big regional powers- Russia and India must watch out. At some level, these two countries have already started preparing for a bigger role in Central Asia. Moscow has been pinning its hopes on a Free Trade Agreement between the Eurasian Economic Union (EAEU) and India.
Moreover, India's Shahid Beheshti port in Chabahar in Iran could be a gamechanger, being India's gateway to Central Asia. Russia has also evinced interest in this port project in the past and therefore New Delhi can help Moscow regain its receding political and economic influence in the region.
As the COVID-19 Pandemic ravages Central Asia, China is trying to consume the entire region and it will unless the democratic world wakes up to the growing Chinese influence.