After the ban on 59 Chinese apps, at least 7 Chinese majors with a large stake in the Indian market are under the radar of the union government for alleged People's Liberation Army (PLA)- the armed force of the Chinese Communist Party. These companies include Alibaba, Tencent, Huawei, Xindia Steels Limited, Xinxing Cathay International Group, Chinese Electronics Technology Group Corporation, and SAIC Motor Corporation Limited.
"We have zeroed in on some companies with links with the Chinese army but what action would be taken is yet to be decided," said a government official aware of the development, as per a report by Economic Times.
These companies work for PLA under the civil-military fusion policy of the Chinese government, which is aimed at economic growth and defense modernization. PLA gives billions of dollars every year to these companies under the military use of civil innovation policy.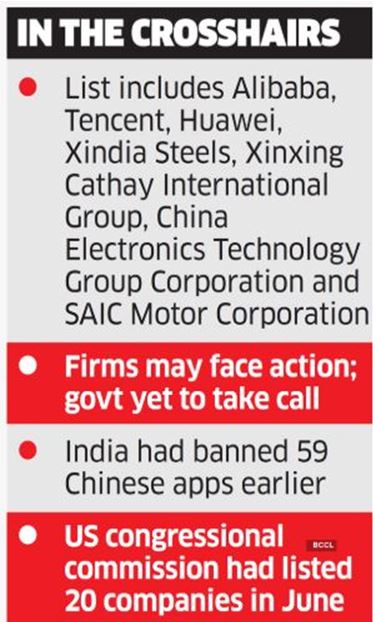 The United States-China Economic and Security Review Commission, a Congressional commission of the US government that monitors and investigates national security and trade issues between the US and China, in its 2019 report said, "The Chinese government's military-civil fusion policy aims to spur innovation and economic growth through an array of policies and other government-supported mechanisms, including venture capital (VC) funds while leveraging the fruits of civilian innovation for China's defense sector."
The companies which the government has zeroed in have large investments in Indian startups and many other sectors. "This raises direct question mark on Chinese VC investments in India including big names like Alibaba and Tencent," the government said in an internal note.
These companies are also bound to share intelligence data with PLA under the National Intelligence Law of China, 2017- which forces the Chinese companies with big international presence to share intelligence with the armed forces.
"The state intelligence work organization shall carry out intelligence work according to law, and may require relevant organs, organizations and citizens to provide necessary support, assistance and cooperation," reads Article 14 of National Security Law of People's Republic of China.
Alibaba, a global tech giant, also raises security concerns, which the Centre too has realised. Alibaba has made strategic investments in the Indian startup arena, and its portfolio includes food delivery startup Zomato, online grocer BigBasket, Snapdeal and logistics firm Xpressbees.
Jack Ma, the founder chairman and majority stakeholder of Alibaba, has shown loyalties towards the Communist government of China by availing himself for the image makeover of the country amid the Coronavirus pandemic.
This also raises concerns over investments by Tencent, which invested 400 million dollars in Ola followed by a $700 million investment in Flipkart, in a deal that made Tencent the biggest Chinese investor in India.
Ma Huateng, the founder chairman and CEO of Tencent, is a deputy to the Shenzhen Municipal People's Congress and is a delegate in the 12th National People's Congress.
Tencent has acquired a diversified portfolio in India, targeting stakes by leading a $175 million fund-raising round in Hike Messenger to a $90 million injection in the healthcare startup Practo. In the education space, it has invested $40 million in the learning app Byju's, following up with $11.4 million in a subsequent funding round.
Huawei, the Chinese tech giant which has total revenue of around 2 billion dollars from India, is also a PLA asset. Huawei's links with PLA and its ownership is well within public knowledge. Ren Zhengfei, a former deputy director of the People's Liberation Army engineering corps, who had founded Huawei in 1987 in Shenzhen.
China Electronics Technology Group Corporation (CETC) had announced a multi-million dollar investment in a 200 MW PV manufacturing facility in Andhra Pradesh's Sri City in 2018.
CETC is China's leading military electronics manufacturer and also makes Hikvision CCTV cameras. It is known as China's surveillance czar that identifies Xinjiang's 11 million Muslim Uighurs through facial recognition, and unleashes a state-sponsored suppression.
Washington has long banned government agencies from buying Hikvision products. Several CETC research institutes and subsidiaries have been added to the US government's list, restricting exports to them on national security grounds.
Xindia Steels Ltd has recently commissioned a 0.8 mtpa iron ore pelletisation facility in Karnataka's Koppal district, adjacent to Hospet, at a total cost of slightly over Rs 250 crore.
However, its main investor is Xinxing Cathay International Group Co. Ltd. (China), which as per its website, is "reorganised, reconstructed and unhooked from the previous production department and subordinate enterprises and institutions of the General Logistics Department of the PLA".
Therefore, all the companies under government radar have deep-rooted PLA links and they would share crucial Indian data with their masters on any given day. In the case of war, they can be used to strategic advantage of PLA, and therefore, showing the exit door to these companies is crucial from safety and security point of view.