A new geopolitical challenge night be knocking at the doors of democratic countries like India, Vietnam and Australia in the Indo-Pacific Region. These countries want to contain Chinese influence in the region and thwart its blue-water Navy ambitions. But China is trying to find a Suez Canal of its own.
China has been looking to construct a 120-kilometre mega canal cutting through the isthmus of Kra in Thailand, which would help it solve the "Malacca Dilemma," as it will open the South China Sea to the Indian Ocean, bypassing the Strait of Malacca. What China is eyeing is a canal project in Thailand called the Kra Canal, and the Thai leadership seems to be on board.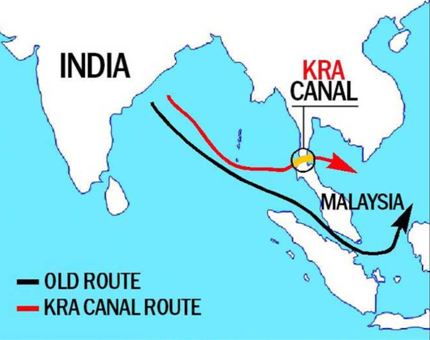 Through this canal, China is trying to reduce dependence on the Strait of Malacca. Currently, 80 per cent of China's oil imports pass through the South China Sea via the Strait of Malacca.
A key reason why China has not been able to grow too powerful is the looming threat that democratic and fair powers like India and Australia and other Southeast Asian nations are well-positioned to cut-off Chinese supply lines in event of a major military confrontation by creating a blockade around the Strait of Malacca.
China wants to ensure that its commercial and naval vessels find an alternate route that altogether avoids the Malacca chokepoint while travelling between the Indian and Pacific Oceans. This is an overhang of the maritime portion of Xi Jinping's flagship Belt and Road Initiative (BRI) that seeks to connect Southeast Asia with the Middle East and Europe.
Writing for The Tribune in 2018, Vivek Katju, Ex-Secretary, Ministry of External Affairs has encapsulated this geopolitical situation accurately.
Katju said, "The Malacca choke makes China uneasy, for it is not only dependent on West Asian oil which passes through the straits, but also its general trade uses these waters. Hence, the canal alternative is strategically valid."
According to Firstpost, the Indian government sources have said that Longhao, a Chinese company that is infamous for involvement in the Chinese government's artificial island-building spree in the South China Sea will be given the responsibility for building the Kra Canal.
Private Chinese investors have already committed an investment of 30 billion US dollars for the construction of the Kra Canal. Presently, Thailand's Prime Minister Prayut Chan-o-cha has ordered feasibility studies to examine the economic viability of the 120-kilometre long mega canal.
At the outset, however, it seems that investments on the Canal would not offer rich returns. The Suez Canal and the Panama Canal were successful projects because they bypassed entire continents and thus charged hefty fees from large ships- 2,50,000 dollars and 1,25,000 dollars respectively.
But the returns with the Kra Canal will not be that lucrative. Additional fuel costs for alternate routes through the Malacca, Sunda or Lombok Straits go up to 40,000 dollars to 1,20,000 dollars. This is not enough to justify the costs of an upcoming Kra Canal.
Chinese investments are hard loans that impose exorbitant, commercial interest rates. As we have seen with Laos, the Maldives and the Hambantota port project in Sri Lanka, BRI infrastructure projects are rarely viable.
Countries end up paying with their territorial sovereignty when they cannot pay in terms of money. This is how Beijing has been targeting ports and other strategic infrastructure. A mega canal in Thailand could be its next big target.
Scholar Ivica Kinder further states, "The history of the Panama and Suez canals shows that despite the unquestionable economic advantages of a canal, one country's funding of its construction on the territory of another country usually leads to the spread of significant influence by the first country."
If Thailand's Prime Minister decides to go ahead with the Kra Canal project and that too with the present arrangement of heavy Chinese investment, then the project might get ready by the end of the next decade.
Consequently, the Strait of Malacca would stand bypassed and China will end up controlling a Canal that flows into the Andaman Sea. This would a massive setback for the free world.
Not only will it pose a direct naval threat to India from the Chinese People's Liberation Army Navy (PLAN), but it will also deprive fair players like Australia and India of a strategic advantage over Beijing.
India, in particular, will have to make a military re-posturing in order to meet the Chinese threat.
Thailand must re-think its ambitions to build the Kra Canal. It is well-understood in the entire Indo-Pacific Region that China cannot be a friend. Thailand itself doesn't stand to gain anything by letting China overwhelm its territorial sovereignty.
A decision against Chinese investment in the Kra Canal has to come from Thailand because only Thailand can make a decision about its own territorial interests, no matter how badly other countries might be getting affected.
Secondly, Thailand must understand that it is a part of the ASEAN bloc and it must realise how Beijing has been bullying Vietnam, Brunei, Malaysia, the Philippines and Indonesia in the South China Sea. Thailand cannot let Beijing use its territory for hurting Thailand's ASEAN friends.
Within New Delhi, there should be an attempt to engage Thailand before its too late. Bangkok must be told that if it really wants to build the Canal, it must do so with help of fair players like India and the US instead of relying upon a belligerent China.
The Canal might be built in Thailand, but many countries are bound to get affected. A solution must be found to this geopolitical threat as overwhelming investment from Chinese companies would ensure that China usurps sovereignty over the canal, using it for its own advantage, furthering its naval and economic ambitions. Vivek Katju suggested, "One way to do so would be to ensure that except Thailand no other country is allowed to use it for the passage of its naval vessels. That will assuage strategic apprehensions of the region and beyond."
A belligerent China is trying to clear the only hurdle in its expansionist tendencies, viz. the Malacca Strait, and the world must grow aware of this nefarious attempt before it is too late.