Off late, there is no discounting the fact that a concerted campaign has been mounted to demean Hindus and vilify their deities, in order to gain social mileage. What, for instance, does an inconsequential correspondent working for Hindustan Times do, to make it to the headlines and get herself known as a fearless free-speech champion and practitioner? Insulting Hindus alone these days does not amount to many liberals making the cut, and therefore they have taken it upon themselves to insult Hindu gods and deities. Srishti Jaswal is one such specimen.
A 'former' scribe at Hindustan Times, Srishti, on June 29 took to Twitter to pass ill-informed and evidently motivated judgements on what she thinks formed a major part of Shri Krishna's character. The controversy regarding the Netflix film called "Krishna and his Leela" has been raging on for quite some time now. Presumably reacting to the same controversy, Jaswal tweeted, "Because this is what Krishna did. He was a womanizer, a fuckboi, and commitment phobic maniac. And I am a Hindu and I've read mythology." Note her assertion of being well versed with Hindu ancient history, which she calls mythology.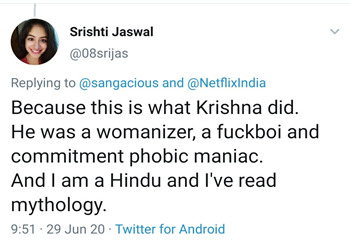 Ever since her outrageous tweet against Shri Krishna caught the public eye, Hindus have been demanding for an immediate sacking of the journalist by HT, and are also in favour of initiating criminal proceedings against her for her blatant disregard towards the sentiments of millions of Hindus who worship Shri Krishna.
Netflix film named "Krishna & His Leela" has shown a man named Krishna as a womanizer who sleeps with multiple women. One of the girls he had an affair with was named Radha in the series.

And, This is the tweet of Srishti Jaswal from Hindustan Times (HT).

HT now suspended her. pic.twitter.com/Xy8JZc3W18

— Anshul Saxena (@AskAnshul) July 2, 2020
That HT doesn't share the views of Srishti Jaswal is an outright lie. They have an entire barrage of scribes who are extremely bitter and vile. This doesn't happen by accident. That's why stopped my subscription. https://t.co/b3o6S862ka

— Kaushal S Inamdar| कौशल इनामदार (@ksinamdar) July 3, 2020
Hey @htTweets can you kick @08srijas out of your organization or is your organization too is a scum like her?

And Srishti Jaswal we will poke everything when you tweet anti-Hindu & hurt our religious sentiments. pic.twitter.com/uvTSLiFtHd

— Hindu King Account😈🎭 (@KingKhadoos) July 2, 2020
Why does @HindustanTimes make it a habit to employ Hindu hating turds like Bobby Ghosh and now this twit, Srishti Jaswal? https://t.co/e4oU21G8hD

— Shefali Vaidya. (@ShefVaidya) July 3, 2020
@lawinforce
Pls take strict action against "Srishti Jaswal" against her filthy comments against Lord Krishna 🙏@hindulegalcell@htTweets
Following tweet contains all the details required.
🙏@lawinforce expecting ir response.https://t.co/PgH7PAgxXp

— Lone Wolf 🦊 (@theaniket001) July 2, 2020
Following a massive uproar on social media, Hindustan Times has 'suspended' Jaswal, and claims to have constituted a "code of conduct committee" to look into the matter. A statement by the organization read, "Hindustan Times does not endorse Srishti Jaswal's comments which were made on her personal Twitter handle and in her personal capacity. She has been suspended from duties with immediate effect and a code of conduct committee has been set up to look into the matter."
Hindustan Times does not endorse Srishti Jaswal's comments which were made on her personal Twitter handle and in her personal capacity. She has been suspended from duties with immediate effect and a code of conduct committee has been set up to look into the matter.

— Hindustan Times (@HindustanTimes) July 2, 2020
However, nobody is impressed. The least which was expected from Hindustan Times was for them to take immediate corrective action, and terminate Srishti Jaswal's employment. What held them back, even as the tweet of Jaswal stands as reason enough to initiate punitive action against her?
Earlier, Gautam Aggarwal, ex-IT Head of BJP IP EXTENSION Mandal, Zila Shahdara, Delhi, had registered a complaint against the journalist for her derogatory tweet. In the complaint, Aggarwal alleged that on 29th June, Jaswal replied to a tweet against a film airing on Netflix and intentionally used derogatory and defamatory language. Arguing that the individual works for one of the biggest media houses in India, Aggarwal said that she could influence millions in India, as well as abroad. "Working with such media platforms and having such views being posted publicly can lead to communal disharmony and religious animosity," the complaint read.
Filed complaint against @08srijas for her derogatory Tweet against Lord Krishna & hurting #Hindu sentiments

Will @htTweets take action against her

Please RT this & follow me back as your mark of support @HinduITCell@MODIfiedVikas @Rajput_Ramesh @GSVKapoor @TajinderBagga pic.twitter.com/w1goqSDsaU

— Gautam Aggarwal (@gauaggbjp) July 2, 2020
Having been made to face the fury of Hindus, Srishti Jaswal today released a statement which read: "A tweet by me has disturbed quite a few people. The comment by me was not meant to maliciously denigrate Lord Krishna or to in any way outrage the feelings of my fellow Hindus. It was in the context of a Netflix show where the character bears the same name (Krishna). I am deeply stressed as a woman by the rape threats and abuse I am getting because my statement is being used out of context. It was no intention of mine to hurt anybody's religious sentiments. I apologize if this has hurt anyone."
STATEMENT: pic.twitter.com/lSJyUxMBzE

— Srishti Jaswal (@08srijas) July 3, 2020
However, if she was referring to the character in the film called 'Krishna', why did she mention in her June 29 tweet that she is a Hindu and has read "Hindu mythology"? What was the need to assert herself as a Hindu, if all that she was doing was to describe the character of a film, and not Shri Krishna, whom Hindus worship? The latest statement by Jaswal, in all likelihood, is a mere stepping stone for her to get exonerated by the "code of conduct" committee which has been set up by HT to look into the matter.