For decades, India struggled to become self-sufficient in power production, and majority of the villages of the country did not have electricity connection till early 2000s. However, since the last two decades, installed capacity grew exponentially and today the country is the third largest producer and consumer of electricity with installed capacity of 370 GW.

In the last few years, the country became a power surplus nation and electricity coverage reached to near 100 percent, although per capita consumption is still very low. The share of fossil fuel has also decreased over the last few years and renewable energy expanded their pie, therefore, the electricity production is getting cleaner with every passing year.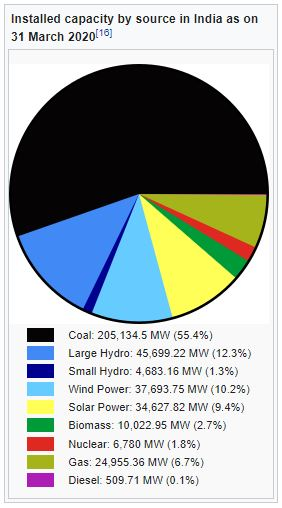 Therefore, the problems are sorted as far as power (read electricity as we will limit ourselves to it in this article) generation is concerned so why everyone in the policy domain and government is talking about power sector reforms.
Well, the major problem in India lies with electricity transmission and distribution. The electricity generation cost per unit to NTPC is below 2 rupees and it sells electricity to power distribution companies at a nominal profit.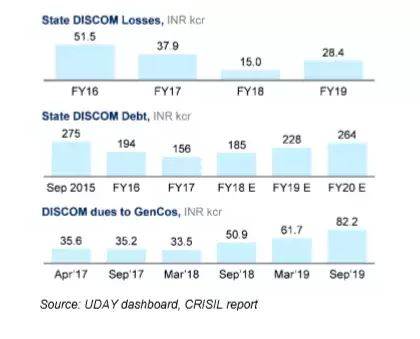 But, our distribution companies (discoms), most of which are state government owned, sell electricity in the range of 4 to 12 rupees per unit, and are still running in huge loss. As per data sourced by PRAAPTI portal, the discoms owe more than 90,000 crore rupees to power generation companies. The total debt of discoms is more than 2 lakh 64 thousand crore rupees and every year they post loss of thousands of crore rupees.
Politics and bureaucracy- the two reasons behind India's all major problems are also behind the loss posted discoms. Electricity distribution in the country is highly politicized with politicians like Arvind Kejriwal offering free power to urban consumers of Delhi and politicians from agricultural states like Punjab and Haryana offering free power to agricultural sector in their manifestos.
Agriculture, which consumes 18 percent of total power demand, is the most loss making sector for discoms. The farmers are used inefficient use to electricity to run tube wells which they keep running 24*7 unnecessarily because they need to pay very little for electricity. State governments practically subsides all electricity bills of farmers, thus encouraging them for inefficient use of power.
The domestic households use 24 percent of total electricity consumption and they are also heavily subsidized. In fact, majority of the households in rural areas does not have electricity meter and they just need to pay a fixed amount irrespective of units consumed. Many households do not pay even this cost as they get electricity connection by direct connection, what is popularly known as 'Katia' in villages.
The metre coverage has improved in the last few years. The Ministry of Power made it mandatory to install metres for getting electricity connection when Piyush Goyal was at the helm of ministry in the first term of the Modi government.
The industrial and commercial sector, which accounts major portion of the consumption (52 percent), also pays highest bill and subsidizes the consumption by households and agricultural sector, just like freight transportation subsidizes the passenger transportation in Indian Railways. The Industrial and Commercial sector pays bills as high as 12 rupees per unit in many areas compared to zero by agricultural sector, 3-4 rupees by rural households, and 5-6 rupees by urban households.
The cross subsidies given to various sectors, for political reasons and favoritism results in huge losses. The politicians are not willing to end it as bringing reforms could cost votes, and even if some politicians are willing to take the risk, the bureaucrats in electricity department are not ready to implement as it would finish a major venue for corruption. In Madhya Pradesh, some Congress stooge in electricity department replied to a complaint, "Agar bill mein chhoot paana hai to BJP ko hataana hai. Congress ko laana hai. 100 rupay me 100 ka aana hai (If you want a cheaper bill, then remove BJP from power, bring Congress to get Rs 100 bill)," as venue for corruption is closed with BJP in power.
The aggregate technical and commercial loss (popularly known as AT&C loss in technical vocabulary), is as high as 19.2 percent on average and ranges as high as 47.88 percent in Jammu & Kashmir and 34.2 percent in Bihar.
"The distribution companies would have to incur higher AT&C losses than the levels specified by the regulators, as the transmission & distribution loss incurred on the low tension (LT) residential consumers is far higher than that incurred on the high tension (HT) industrial and commercial consumers, which could result in under-recovery of cash collection," said Indian Ratings and Research.
With the Coronavirus induced lockdown, the losses of distribution companies has shot up sharply. The demand in profit making venue, which is industrial and commercial consumption, has decreased; while demand in loss making venues like agricultural has gone up. And this has resulted in increase in loss by 30 to 40 percent in last two months.
But the government is also using this pandemic as an opportunity to bring some fundamental reforms in the sector. In order to push for reforms in power distribution sector, the union government incentivized the state to implement Direct Benefit Transfer for electricity subsidies and they can borrow 0.25 percent more.
The union government wants all electricity subsidies to farmers and households to be transferred through DBT and every consumer- household, agriculture and commercial sector- pays same price initially at market rates. After that, the states can transfer subsidies as per their policies and rates to the accounts of consumer.
The government is also encouraging privatization of power distribution to increase efficiency and end the losses of discoms which ultimately state government have to pay. In the Covid-19 relief package, the finance minister announced liquidity injection of 90,000 crore rupees in fund starved discoms and privatization of discoms in union territories.
The privatization and leakage free direct benefit transfer of subsidies would increase the efficiency of discoms and end the avenues for corruption by Babus in the electricity department. The government just needs to ensure that lethargic bureaucracy implements these ideas as soon as possible.