In a sharp turn of events, the Ashok Gehlot led Rajasthan government has now given up on the demand to bring back migrants from other states following an MHA clarification to states to bring back only the "stranded" migrants as against all migrants, amidst the COVID-19 Pandemic and the ongoing nation-wide lockdown.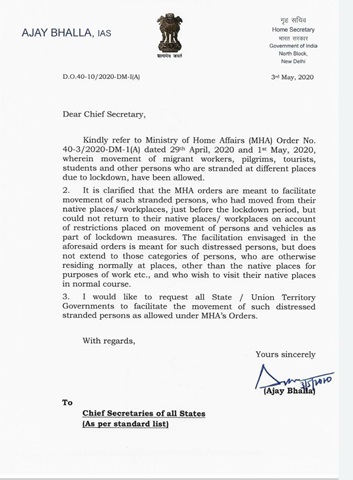 The Ashok Gehlot government in Rajasthan too has quoted this MHA clarification to state that only those migrants who got stuck in other states due to the enforcement of the ongoing lockdown have to be brought back and those who are staying comfortably outside Rajasthan are supposed to stay there.
However, not very long ago Rajasthan Chief Minister Ashok Gehlot was highly critical of the Centre for not formulating a clear strategy on bringing back migrants. Towards the end of April too, he had appealed to the Centre to allow rail services for ferrying back migrants stranded in different parts of the country to their native towns.
Earlier, he had criticised the Centre for not formulating a clear strategy on bringing back migrant labourers stranded in different parts of the country. He had said, "Since day-one, I have been saying a strategy must be devised for smooth movement of migrant workers stranded across the country, but unfortunately there is no clarity on the same."
पहले दिन से ही मैं कह रहा हूँ कि देशभर में फंसे प्रवासी श्रमिकों के सुगम आवागमन के लिए रणनीति बनाई जानी चाहिए लेकिन दुर्भाग्य से उसे लेकर कोई स्पष्टता नहीं है।
2/

— Ashok Gehlot (@ashokgehlot51) April 25, 2020
He had also said, "Planned strategy with unified command structure of communication to the states can be more fruitful instead of un-officially communicating to different states by different officers such as Ministry of Home Affairs and Cabinet secretariat to facilitate movement of students and migrant workers – this is not a comprehensive solution for the migrant problem we are facing."
Till now, the Ashok Gehlot government was critical of the Modi government for not doing enough over the issue of bringing back migrant workers to the state. After the movement of migrants to their native towns was allowed, Gehlot government had decided to bring back all migrant labourers (as opposed to only those stranded in other parts of the country) in a phased manner, after taking permission of other concerned states.
According to an HT report, the state government got nearly 10 lakh migrants- 70 per cent of whom want to return to Rajasthan and 30 per cent are migrants of other states. But the Gehlot government has suddenly fallen in line with the MHA advisory to states. It is beyond comprehension why the Gehlot government is not lodging protest against the Centre's decision to differentiate between 'stranded' migrants and other migrants, allowing only the former to return.
This has to be essentially juxtaposed against the recent controversy surrounding payment of costs incurred in transportation of migrant workers. According to Times Now, state governments of Rajasthan, Kerala and Maharashtra made migrants pay for their tickers.
However, Rajasthan government later agreed to pay migrant workers' train fare. BJP leaders later stated that railways were footing 85 per cent of the costs incurred in transporting migrants and the rest 15 per cent has to be managed by the states.
Now that the Gehlot government understands that it will have to pay for movement of migrant workers, it is falling in line with the MHA advisory instead of criticising it and sticking with the demand of bringing back all migrants.