In an utterly ridiculous and vulgar tweet, Congress leader Alka Lamba indulged in a deranged tirade on Twitter. In an extremely crude tweet, she had said, "Sangh has nothing to do with politics, but the reality is that all BJP leaders are the illegitimate children of the Sangh." The uncouth remark is that much more disturbing given that it was indirectly targeted at Prime Minister Modi.
This pathetic tweet invited the outrage of star Wrestler and Olympic-medallist, Yogeshwar Dutt who came down heavily upon Lamba for using such abusive and inappropriate language. He said that the Congress leader's comments were a display of her faulty bringing up.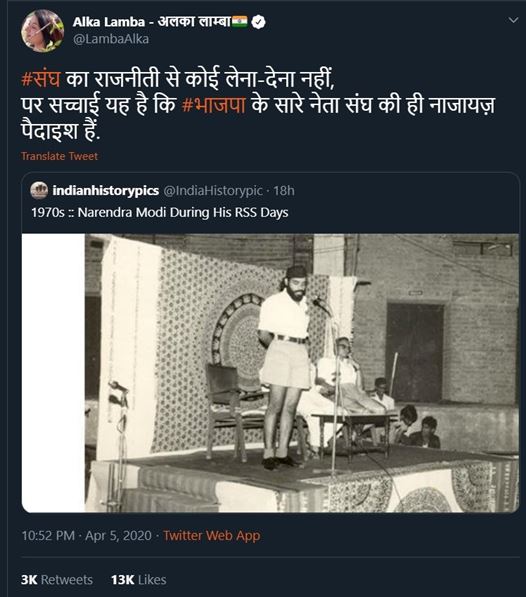 What however followed is highly shocking, as Lamba hurled nasty, personal abuses at Yogeshwar Dutt in public display on Twitter. She said, "Abbe Yogeshwar Dutt, ask your mother who your father is? Do you feel ashamed in putting a display picture along with your father? Is it so? If your mother tells you that the person in your display picture is your father, then admit it because a mother never lies. You didn't feel hurt just like that."
So, in a single day Alka Lamba wrote two tweets- one about Prime Minister Modi and the other about an Olympic-medallist and renowned wrestler Yogeshwar Dutt, both the men far more accomplished and successful in their lives than her. Who is even she to comment about someone like Prime Minister Modi or Yogeshwar Dutt?
Meanwhile, Yogeshwar Dutt remained calm went bonkers, and pointed out that when Lamba was not concerned about maintaining civility leading to such crass remarks on a public platform, how could he have expected her to uphold his dignity, or that of his mother or the Prime Minister.
सार्वजनिक मंच पर ऐसी अभद्र भाषा का प्रयोग करने वाली को जब अपनी गरिमा का ध्यान नही तो मै इनसे अपने, मेरी माँ के अथवा माननीय प्रधानमंत्री @narendramodi जी के गौरव का ध्यान रखने की आशा कैसे करु।इस देश मे पुरुष होने का कुछ घाटा भी है।आप महिला कार्ड भी खेल लीजियेगा।#ShameAlkaLamba pic.twitter.com/2iykdHV0VN

— Yogeshwar Dutt (@DuttYogi) April 6, 2020
But herein Dutt also pointed a very critical issue- that of women like Lamba posting utterly abusive and derogatory remarks and then getting away with it in the name of feminism. Dutt also hit out at Lamba saying that now she could play the female card, and as well get away with her ludicrous remarks.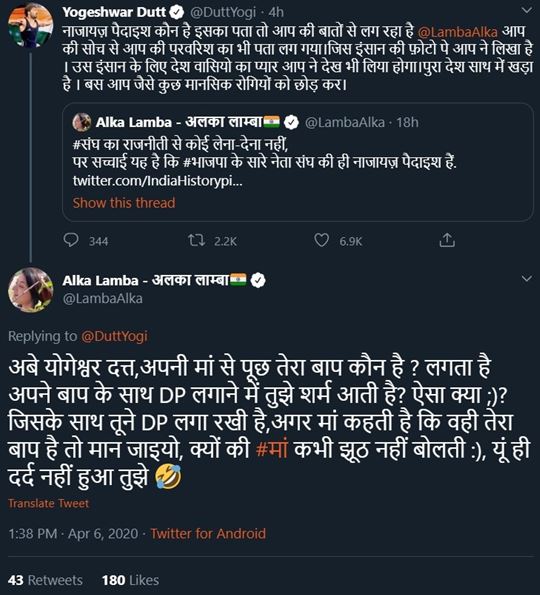 Now, #ShameAlkaLamba is trending on Twitter, and the issue that keeps coming out is whether women like her have the liberty to say anything they want- all in the name of women's rights and get away with it.
Women's rights are understood in a highly twisted manner in India, and taken more as a means of entitlement than upliftment. This is what makes the distorted version of feminism highly atrocious, and also inculcates a sense of elitism. Alka Lamba would have probably thought, 'who is Yogeshwar Dutt anyway?' A non-English speaking Wrestler, so what if he brought laurels for the country? He doesn't fit in the entitled class, being a non-English speaking man, which can be a bane in our country, and therefore Lamba decided to hurl abuses at him and his mother.
This really brings to light the issue of overzealous feminism curbing human rights of dignity and reputation on a public platform- something that the lawmakers and the law-enforcement agencies must take note of, in order to ensure that such a false sense of entitlement is not inculcated to the extent of violating a man's dignity on a public platform and getting away with it in the name of being a woman.