Natarajan Chandrasekaran, a Tamil from the southern part of the county, is a name among the long list of illustrious executives from the community, ranging from Indira Nooyi of Pepsico to currently Satya Nadella of Microsoft and Sundar Pichai of Google.
When Chandrasekaran was appointed Chairman of Tata Group in 2017, after the short stint of Ratan Tata in post- Tata vs Mistry episode, he became first non-Parsi executive of the Group and also first professional executive, as all previous executives were related to Tata family and had stake in the Group.
Chandrasekaran, educated at Tamil Government School for High School education, received bachelor's degree from Coimbatore Institute of Technology in Applied Sciences and then joined National Institute of Technology, Tirchirappalli, for Masters in Computer Application. After Post-graduation, Chandrasekaran joined Tata Consultancy Services in 1987, and has been with the group since then. In the career spanning more than three decades and TCS, he rose to position of CEO in 2009, before being appointed to Tata Group chairman and chief executive in 2017.
Started in 1968, TCS is one of the largest multinationals in the world with operations in 46 countries. In April 2018, it became the first Indian Information Technology company by market capitalization with a capitalization amount of over 100 billion dollars. The company alone generates 70 per cent of the dividends of the Tata group, popularly known as the 'crown jewel of Tata.'
TCS was registered at the Bombay Stock Exchange (BSE) in 2004. Today it is registered at both major stock exchanges- the BSE and National Stock Exchange (NSE) and its market capitalization is highest for any Indian company. Since its registration at the stock market on 25th August 2004, it has consistently posted profits and this is the reason that the investors' trust in TCS has been so high.
The 51 year old company employs more than four lakh employees across the globe. The company's performance has been so exceptional that its previous CEO Natarajan Chandrasekaran was appointed the Chairman of Tata Sons.
On February 21, N Chandrasekaran completed three years at the top job in Tata Group. In three years of Chandrasekaran's tenure, the market valuation of the group soared by 40 per cent to reach 12 lakh crore rupees, with exceptional performance from TCS, which was nourished and nurtured by Chandrasekaran himself, and is now led by Rajesh Gopinathan, who took over from Chandrasekaran, who vacated the post after bagging top job in the group.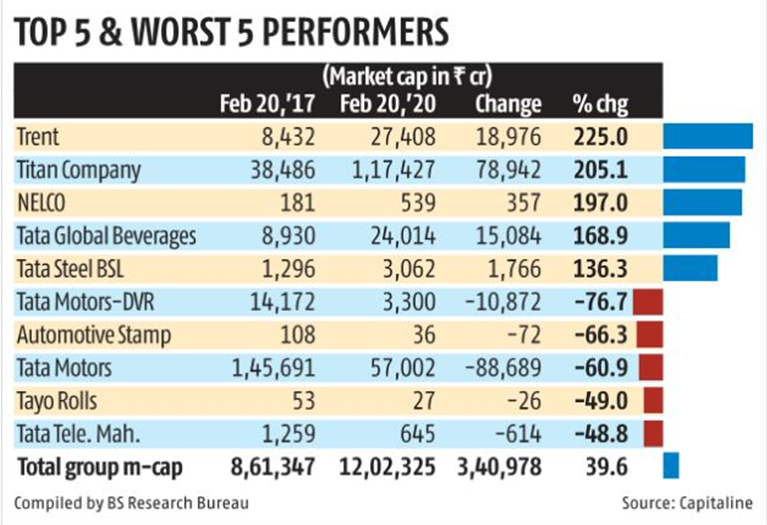 Under Chandrasekaran's watch, the best performance was registered by group entities like Trent, Titan Company, NELCO, Tata Global Beverages, while Tata Power, Tata Motors dragged down the Group's performance.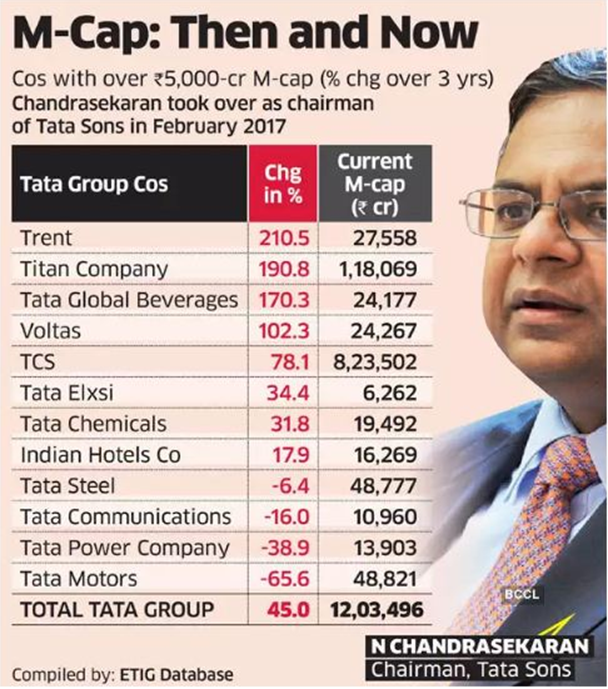 The highest value addition was from TCS, whose market capitalization rose by 78.1 percent to 8.23 lakh crore rupees, highest by any private Indian company. In fact, in the last every 2 rupees out of 3 of the group was generated by the software giant.
TCS is achieved another milestone in last financial year by becoming third largest IT Company in the world. IBM, the US based Information Technology giant is the largest company in the sector with revenue of 79.59 billion dollars followed by Ireland based Accenture which did business of 39.57 billion dollars in last year. TCS overtook DXC Technology Co. to become third largest software service provider with 20.91 billion dollar revenue. "TCS is widely described these days as the 'Walmart of IT Services'—the firm can pretty much win any large deal it wants and deliver it," said Phil Fersht, chief executive of US-based HFS Research.
Under the leadership Chandrasekaran, the company has provided information technology solutions to many government and private sector businesses in India, and Gopinathan is building on those strong foundations laid by the person who is now Group chairman and executive.
It designed an ERP system for the Indian Railway Catering and Tourism Corporation. It was awarded a six-year contract in 2013 worth over 1100 crores to provide information technology solutions to the Department of Posts. The company was trusted for maintenance of Aadhaar data, which is the world's largest biometric identity system.
Chandrasekaran took the group to tier-II and tier-III cities of country and established centers in Patna, Indore, unlike other big companies which kept their operations confined to metro cities. People from TCS started many successful startups in the Information Technology sector. Under the watch of Natrajan Chandrasekaran, the Tata Group is set to achieve new heights, as did TCS.