Hindustan Unilever Ltd, established in 1933 as Lever Brothers is known to be a company that is 14-years older than Independent India. The company was renamed in June 2007 as "Hindustan Unilever Limited".
The 86-year old company sells over 35 brands in 20 categories- most of them daily consumer goods. There would be a rare household in India that does not have or has not used an HUL product. In campuses, HUL is a coveted Day 1 recruiter attracting some of the brightest minds in India.
All of this would logically point to a company that respects its consumers. And that respect reflects in what they make, how they make it and the way they communicate. 
With the products like Fair & Lovely, Dove, Lux, Liril and Lifebuoy, the company spends the highest amount on ads, when compared to any other Indian company. It makes some of the most disturbing ads as the majority of its ads are blatantly racist, sexist, misogynist and anti-Hindu.  
HUL- The king of advertisement spending 
For FY 19, the total expenses of HUL were 29,575 crore rupees, and out of this, the company spent 3,000-3,500 crore rupees on advertising, which is more than 10 per cent of total expenditure. Hindustan Unilever Limited is numerouno advertiser of India, with ad budget of around 10 per cent of company's total expenditure, miles ahead of Amazon's 900 crore rupees budget- the second-largest by any company in India.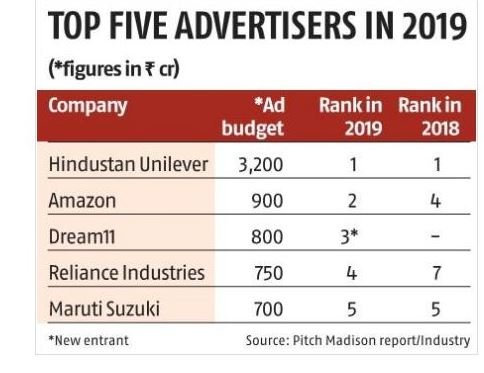 In fact, the advertising budget of HUL is more than three times that of the second-largest advertiser. Other big companies like Reliance Industries- the largest private company of India or Maruti Suzuki does not spend even a fraction of HUL's total revenue, despite having a larger revenue than HUL. 
In 2019, almost all companies reduced their spending on the advertisement, to focus more on discounts. But, the spending of HUL increased by 8 per cent to 1,196 crore rupees in the third quarter of the 2019 calendar year. 
The positive result of spending on advertisement is reflected in sales of HUL, which improved its quarterly revenue despite the decline posted by almost every other FMCG company. 
A few months ago, Sanjiv Mehta, Chairman and MD of HUL Group, blamed the slowdown in rural demand for weak quarterly results, saying "the past three months (Q2) has seen a sharp deceleration in the fast-moving consumer goods (FMCG) market growth rate, led by a slowdown in rural areas. Though the government has taken policy initiatives in the past few months to spur demand, income transfer to rural areas would be a key monitorable," but the company kept boosted the spending on advertisement spending intact, with the hope that whenever the market bounces back, it will be first to benefit. And the results were as expected, as a little pickup in the FMCG market benefitted HUL only. 
Problematic ads of HUL
With such high spending on ads, the company is able to propagate its anti-Hindu, misogynist, and sexist propaganda. Apart from its problematic ads of Fair & Lovely, some of the most recent examples of disturbing agenda of HUL are as following. 
Red Label Kumbh ad – India has just finished Kumbh Mela 2019 – the largest peaceful gathering of people on the planet. 120 million devotees from across the world gathered at the Kumbh. The world is acknowledging it with respect. HUL decides to showcase it in a negative light. In the era of Aadhar card, we read of cases of mentally disabled children reuniting with their families due to Aadhar. But in the world of HUL, Hindu offspring can somehow engineer losing a parent in Kumbh. What was the point of the ad? Switch over to Red Label tea to prevent your kids from abandoning you in old age?
.@RedLabelChai encourages us to hold the hands of those who made us who we are. Watch the heart-warming video #ApnoKoApnao pic.twitter.com/P3mZCsltmt

— Hindustan Unilever (@HUL_News) March 7, 2019
In the Surf Excel ad, the Hindu kids who are just being kids harmlessly enjoying themselves in a festival that comes once a year are shown as the problematic, aggressive characters in a subliminal way.
Another advertisement presenting the Closeup toothpaste highlights Love Jihad. Was this the only way they could find to market a toothpaste?
Adithi had to say goodbye to a happy relationship of 6 years. #FreeToLove pic.twitter.com/aVcpzjRVZ1

— Closeup India (@CloseUpIndia) November 24, 2018
HUL came under a lot of flak for these ads. Their response so far has been merely to delete some tweets and post the same video again with new tweets. 
The secular nature of HUL is yet to be seen as the company is never seen presenting its advertisements around Eid or Christmas. At present, there are no such advertisements. 
HUL is India's largest FMCG company with annual revenue of near 34,000 crore rupees, which is almost three times the revenue of Colgate-Palmolive- the second largest FMCG company. Therefore, the problematic ads of HUL are doing massive damage to Indian society with a budget of more than 3,000 crore rupees. 
The sexism promoted in products like Fair & Lovely and rabid anti-Hindu propaganda in ads like Surf Excel is doing massive damage to Indian society. A few weeks ago, the government brought a draft bill to regulate the ads and products that promote fairness, such regulations are necessary to stop companies like these from damaging Indian society.