While the nation was coping with the gruesome gang-rape and murder of the Hyderabad vet, another case of rape shook the conscience of people, as a rape victim in Uttar Pradesh's Unnao was set on fire by the very people who raped her a year ago.
The victim in Unnao was raped in December last year.In her statement to the magistrate, she alleged that the accused — Shivam and Shubham Trivedi — had abducted and raped her in December 2018. On November 30th, the prime accused was released on bail. Ever since he had been following the victim. The victim and her family repeatedly requested the police to take note of the impending threat to her life, however, the police simply refused to act and sat like lame ducks on the case. Ultimately, inaction on the part of the police to provide protection to women resulted in a group of five men– Harishankar Trivedi, Ram Kishore Trivedi, Umesh Bajpai, Shivam and Shubham Trivedi thrashing and setting the 23-year-old woman on fire. The victim ran for 1km before being offered help, dialled 112 and informed the police about the entire incident herself. Having received 90% burns, the victim was helplessly juggled between three hospitals, ultimately breathing her last in Delhi's Safdarjung Hospital. Before she was put on ventilator on earlier Friday, the victim told her family that she doesn't want to die and wants to see the accused sentenced to death.
Kuldeep Sengar, ex-BJP lawmaker raped a 16-year old at his residence. He, along with nine others, now face additional allegations of orchestrating a road accident in Raebareli that ended up critically injuring the rape survivor and her lawyer, besides killing two of her aunts.
Unnao, for reasons best known to the government and its residents, has become a den of criminalities against women. A report in Outlook has termed the town as the 'crime capital' of Uttar Pradesh, with 86 reported rapes between January and November 2019. Further, 185 cases of sexual harassment of women have also been reported from this district during the same period.
The police, residents say, are mere servile slaves to their political masters, who are known misogynists. What else can a man of Sakshi Maharaj's stature be termed as? The police take absolutely no action without the permission of the region's lawmakers, who themselves have a criminal and bigoted mindset.
Sakshi Maharaj has no reason to be in public life. The man is a blot on our political system and represents the very rot in politics that the BJP claims to fight. Not only has he allowed his constituency to become an adventure park for rapists, but he has also infused a sense of confidence in criminals, that their acts would not be subject to punishment. On Thursday, the man posted a birthday wish for rape accused Kuldeep Sengar, hours after condemning the immolation of the Unnao rape victim. Sakshi Maharaj shares a 'buddy' like relation with Kuldeep Sengar and had also paid him a visit in jail and 'thanked' the rape-accused for ensuring a Lok Sabha victory for him.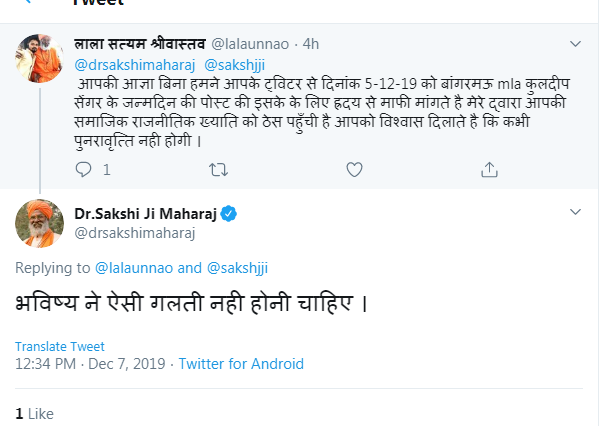 It has come to light that the birthday wish for rape accused Kuldeep Sengar was done by his IT cell and not Sakshi Maharaj himself. However, Lala Satyam Srivastav who is BJPs IT cell member has apologised to Sakshi Maharaj for wishing Sengar from his twitter handle.
Sakshi Maharaj has had it too good for too long. For reasons best known to the BJP, it has continuously pandered to this man and given him Parliamentary tickets to fight elections from. This should be a serious moment of reckoning for the party which must act against this motor-mouth. His complete indifference and apathy towards women are visible by the prevailing conditions in Unnao. Sakshi Maharaj further shamelessly dawns a Bhagwa, while completely ignoring the plight of women. Does he even have the right to minutely represent the Hindu way of life if he is not even capable, and willing, to protect and ensure the safety of women? He may be good at winning elections, but the BJP must realise that women's safety is more important than winning a constituency. As such, this ignorant man must be immediately sacked from the party, and should also be made to face the law for criminal negligence as the representative of Unnao in the Lok Sabha.
Furthermore, where is Yogi Adityanath? 
Was he voted to power to merely maintain a status quo when it comes to women's safety? Why has he failed in instilling fear amongst men who seek to violate a women's space? One must remember that in his initial phase, Yogi did substantial and commendable work in instilling fear of the law in the minds of the criminals. He successfully made the police enter the grey areas of the state which were previously strongholds of anti-social elements. His sustained campaign against illegal slaughter-houses too was appreciated by many. Regular encounters had resulted in criminals refusing bails for themselves, as they felt more protected in jails than out in the open. Moreover, criminals were surrendering in large numbers. Where has this fear suddenly vaporized? Why has the police and Yogi government not acted as diligently when it comes to women's safety? The Yogi administration should have ensured that no man even dares to think of violating a woman. Has Yogi Adityanath deliberately slowed down in his fight against a criminal-infested state, or have his priorities changed? Nothing can be an excuse for a compromise with women's safety. Yogi must step the ante and must begin with acting against powerful politicians who are clearly the worst misogynists in the minds.