Senior NDTV journalist Pallava Bagla has been in the news recently for all the wrong reasons. Bagla, who had insulted and shouted at an ISRO scientist by saying he did not want to talk to anybody but the ISRO chief Dr. K Sivan and repeatedly referred to scientist Mr. DP Karnik as "Junior", has again stirred up the cauldron of controversy.
This time around, it has been found that the foul-mouthed journalist has uploaded hundreds of images on commercial photography site Getty Images, which are available for sale. Many of the images are from ISRO premises, showing individual scientists, including chairman Dr. K Sivan and various satellites and other scientific instruments being developed and assembled at ISRO. Most of such images are priced at Rs. 35,000 or similar amounts, which also raises the question that in an attempt to earn few quick bucks, has Bagla jeopardized the security of a confidential government compound and whether he should be booked under Official Secrets Act.
There are over 3000 images on sale by Bagla on Getty Images. It is unknown if he had the prior permission to click and upload the pictures or to even sell it commercially. Either way, disclosing the identities of scientists can be a dangerous activity and it has certainly riled up the social media which is looking for answers.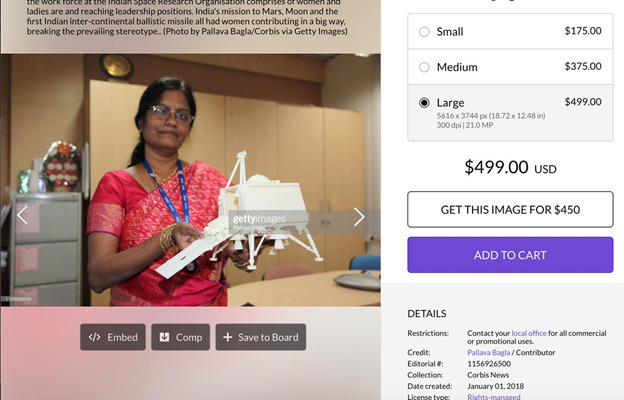 The social-media already miffed with Bagla is abuzz about his another alleged misadventure. Some of the Twitter users asked if he was exploiting the privileged access that he had been granted but the major question that has been burning up is that "is the whole thing even allowed". NDTV has a penchant for doing alleged anti-India activities; first, it was Barkha Dutt who had compromised the Indian Army's operations in Kargil by giving out live updates and similarly during the 2008 Mumbai attacks.
If selling photographs of @isro scientists for making personal money is to be considered a great service to the nation, then we need to define "service".

Seriously. I am so so so angry at this level of opportunistic thick skinned shamelessness. Unthinkable. https://t.co/pt02sxEUoQ

— Yashwant Deshmukh 🇮🇳 (@YRDeshmukh) September 8, 2019
Very shocking & shameful! Utter nonsense and cheap activity by NDTV journalist Pallava Bagla. No respect for women, no respect for scientists & last but not the least no respect for nation. Disgusting! https://t.co/FJfpCGClVw

— Rohan Pramod Manoor (@rohanmanoor) September 8, 2019
Pallava Bagla's clicks of ISRO premises point towards something more sinister than just self interest

ISRO is a govt org and photography permission is a must. Was he exploiting his privileged access?

Check the link. Images are full of sensitive details https://t.co/qsuL5ocysH

— Monica (@TrulyMonica) September 8, 2019
The Chandrayaan-2 mission was a success which made the hearts of 1.5 billion Indians soar with joy but the NDTV-clan and its so-called expert journalists could not fathom the magnitude of moment and went on to misbehave with the scientist who themselves must have been disheartened after Vikram (the lander) missed its mark by a margin of just 2.1 kilometres. It is very important to note that Prannoy Roy came out in support of Bagla by saying that "he has done more for ISRO and India's science than all the ghastly trolls put together". Well, one thing's for certain, the public knows that Bagla's apology was nothing but a half-hearted one.
I agree. It's absolutely sick. Yes, Pallava made a mistake, a terrible rude mistake and NDTV has said so. Pallava has apologised – sincerely. He has apologised to NDTV too. That's it. Pallava has done more for ISRO & India's science than all the ghastly trolls put together. https://t.co/gr1QkVtZxt

— Prannoy Roy (@PrannoyRoyNDTV) September 7, 2019
Pallava Bagla has claimed that he has covered ISRO for years and yet he could not have the basic human decency to be formal and docile while asking questions to the scientists which he must have talked to before if he did actually cover ISRO. While Bagla claims to be an expert in space and technology, a video clipping had gone viral where Bagla is seen interviewing Dr. Sivan on the eve of launch of Chandrayaan-2, which showcases Bagla's 'brilliant' knowledge about the space and its intricacies as he is seen asking Dr. Sivan on how many Astronauts ISRO is planning to send on Chandrayaan-2 which happened to be an unmanned and automated mission.
PATHETIC Low Level of Journalism of @ndtv

NDTV Journo Pallava Bagla waa CLUELESS while questioning ISRO Chief K Sivan. THEN see his Attitude & Tone -SHOUTING & Insulting #ISRO Scientist who was briefing the Press 😡#Chandrayaan2 #ProudIndian #ProudOfISRO #PallavBagla #NDTV pic.twitter.com/mzzU103eVh

— Rosy (@rose_k01) September 7, 2019
It is imperative that Bagla who has hogged the limelight for all the wrong reasons comes up with a clarification to clear the air just like he came out previously with his lacklustre apology. Whatever may be the legality of the issue, it is clear that Bagla does not command the respect to be called an expert in science and technology matters or even so a journalist in that sense because no sane journalist would risk putting up the pictures of India's braveheart scientists on Getty Images just to make some quick bucks.