"Casteism is Casteism, whether done by a Brahmin or a Dalit" the statement is short and simple yet extremely profound in the case of Mr. Neeraj Ghaywan. On September 11, the Masaan director Neeraj Ghaywan made a splash on social media with a tweet that sought assistant directors and assistant writers for his upcoming projects. So far so good, nothing different but when the eyes traverse through the notice and reach the top right side of the page, there is something mentioned in a big blue and bold font, it is written that applicants from Dalit, Bahujan and Adivasi (DBA) caste backgrounds are only required. Although his intention seems noble in the beginning but is that really the case when you dig deeper?
Looking for Assistant Directors and Assistant Writers from DBA backgrounds. Please share it to help friends. pic.twitter.com/dqL1Orq5I4

— Neeraj Ghaywan (@ghaywan) September 11, 2019
The moment Neeraj put out the tweet, it was met with severe criticism from various sections, some twitter users claimed that it was clearly a case of caste discrimination and prejudice. Promoting caste discrimination against which he claims to be standing up for a long time, isn't Neeraj being double-faced by inviting only scheduled caste, scheduled tribe writers and filmmakers? The fight against caste-discrimination should be a two-way street but it seems like the Masaan director Neeraj is stuck in a one-way.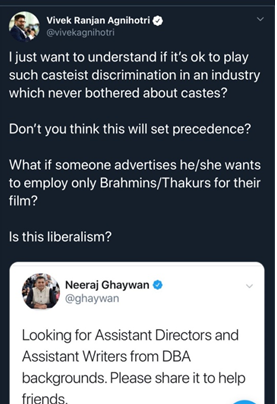 Filmmakers need to understand that it's not caste discrimination only when SCs and STs are denied the opportunities but it is also when the general castes, which only compete with their talent and merit are also denied the opportunity, which is happening in this case. Imagine the furor if someone advertised that they only wanted to hire Brahmins and Thakurs for their upcoming movie, by now, people like Neeraj Ghaywan, director of Masaan, would have taken to the streets in protests, and the liberal-secular media would have declared it as a 'conspiracy of RSS and BJP' and started crying 'Intolerance'. But since the backward caste people are being given special preference here, so everything goes down the drain.
Although, we are forgetting that he is the same Neeraj Ghaywan, who together with Anurag Kashyap and Vikramaditya Motwane directed few episodes of the second season of Sacred Games. Hindu antagonism in the web series, especially hatred of Brahmins was at its absolute peak and the personal vendetta of directors and writers were clearly visible, due to which many people were both disappointed and annoyed with the new season. He himself exposed his agenda when a Twitter user mocked a mob lynching sequence in the second season of the Sacred Games which was inserted forcefully just to irk a particular community and tarnish their image.
It's not that backward classes should not be pushed to come to the fore, but its art, and for all reasons, Casteism must be kept far, far away from Art. It should be the merit and talent that should count in such creative avenues, which should have no space for casteism. If a person has the talent and right sense of direction, he/she can, despite the obstacles make their way through the problems. Only if Mr Neeraj Ghaywan's wokeness could have salvaged the second season of Sacred Games, his audience would have been happy.