The Indian Army is undergoing a major administrative reforms, and restructuring. India has decided to deploy integrated battle groups (IBG) across the western and eastern border.
The Defence Ministry has cleared the reorganisation of IX Corps, based in Himachal Pradesh, to form the IBGs to be deployed along the Indo-Pak border. IX Corps was raised in 2009 and is one of the army's youngest corps and is part of the Western Army Command.
Indian Army's Land Warfare Doctrine 2018 had proposed restructuring of the Army into 10-12 integrated battle groups for swift action against enemy. "All forces shall be applied as Integrated Battle Groups, with equipment profile matched with envisaged role and exploitation potential, to provide greater flexibility in force application," reads the document.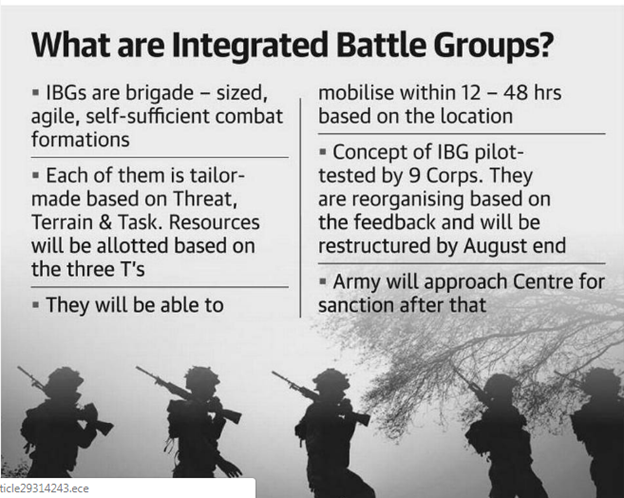 IBGs can be rapidly mobilized due to their smaller size and space for flexibility. These are self contained fighting units but can draw logistical support from other formations, if required. IBGs specialize in carrying cross border strikes and therefore the deployment along the Pakistan border is necessary, given heightened tension after abolition of Article 370. "The international border portion of Jammu and Kashmir will see reorganisation first followed by others, making the Indian Army a leaner and meaner fighting unit," said Army chief Gen Bipin Rawat.
The deployment of IBG is part of 'Cold Start Doctrine' developed by Indian armed forces in the case of possible war with Pakistan. As per British magazine The Economist, "Cold Start is the name given to a limited-war strategy designed to seize Pakistani territory swiftly without, in theory, risking a nuclear conflict."
In Cold Start Doctrine, there would be 10-12 'integrated battle groups' (IBG) based on the erstwhille Soviet Union's operational maneuver groups that combine mechanised infantry, artillery and armour integrated with support from Air force and Navy. As the IBGs based in Border States of Jammu, Punjab, and Rajasthan launch attacks on Pakistan at multiple positions, 'pivot corps' (erstwhile holding corps, with additional fire power) would man defensive positions. Instead of dividing Pakistan, the goal would be to gain territory of Pakistan that would be leveraged in – discussions across table, post attack.
Though Cold Start Doctrine is predominantly a concept of a 'limited war' highly depending on the flexibility, independence and speed of few units, as envisaged by MortanHalperin, the losing side may choose to escalate the war into a full-fledged one that eventually may lead to the use of nukes.
Following the attack on Parliament on Thirteenth December 2001, India had planned 'Operation Parakram' and mobilized its forces along the border but Pakistan came to know about the development and prepared counter measures. Therefore the massive mobilization by the armed forces produced no results. Taking a lesson from the event, India prepared 'cold start' doctrine.
Although proposed back in early 2000s, the successive government were yet to implement this fundamental reform. But the heightened tensions with Pakistan since Balakot air strikes forced the government to go quick on this front. The defense strategists were of the view that the presence of IBGs would have increased the confidence of Indian Air Force when it carried airstrikes deep inside the Pakistani territory of Balakot where a terror camp of Jaish-e-Mohammed (JeM) was based.