Finance Minister, Nirmala Sitharaman has announced a set of measures to boost the affordable housing. There are 3.5 lakh incomplete homes in affordable and middle-income segment which are "non-NPA and non-NCLT projects". The government has announced to set up 20,000 crore rupees fund to help these projects.
Most of these projects are in the last stage of completion, but struggling to finish due to capital crunch in NBFC sector. The 20,000 crore rupees fund announced by Nirmala Sitharaman will be professionally managed by the people with expertise in housing sector. Half of the money for fund will come from government coffers while the other half will be tapped from private and public entities like LIC.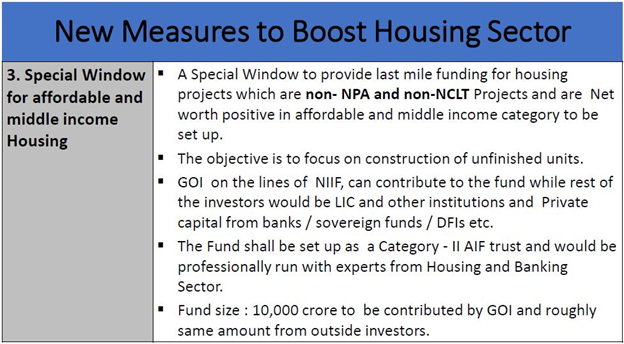 Another measure which will contribute significantly to boost the demand in housing is- easing up credit. Previously RBI has mandated the banks to link personal loans to repo rate/external benchmark; this will bring the loan rates down by 2-3 percentages. The government announced that external commercial borrowing guidelines will be relaxed, in consultation with RBI- to facilitate financing of home buyers who are eligible under the PMAY.
Union Minister @nsitharaman announces measures to boost exports pic.twitter.com/vIBhPxp9wR

— PIB India (@PIB_India) September 14, 2019
The industry leaders welcomed the government support but asked for more rate cuts and easing up credit. "These moves are welcome, but the government could have done more in terms of liquidity and restructuring of loans. Interest rates should have been cut and the rate of goods and services tax should have been brought down at all levels," said J C Sharma, vice-chairman, Sobha.
The government is trying to boost affordable housing sector since its return to power. Previously, in the budget speech, the Finance Minister had announced to increase the income tax deduction that can be claimed for interest paid on loans taken for affordable housing, for a house valued up to Rs 45 lakhs, by an additional Rs 1.5 lakhs to Rs 3.5 lakhs per annum.
The government also plans to increase the penetration of welfare housing and will build 1.95 lakh more houses in rural areas till 2022. "In the second phase of PMAY-G, during 2019-20 to 2021-22, 1.95 crore houses are proposed to be provided to the eligible beneficiaries," said FM Nirmala Sitharamna in her budget presentation. Another 80 lakh homes will be completed by 2022 under PM Awas Yojna (Urban).
The houses built under PMAY-G are equipped with all basic amenities like toilet, LPG connection, electricity connection, LED bulbs, fans and clean drinking water. These facilities are being provided to BPL houses under other welfare schemes such as the Swachh Bharat Abhiyan, the Ujjwala Yojana LPG gas connection and the Saubhagya Yojana electricity connection.
The merger of these schemes which are primarily targeted at poor households helps families get a fully equipped house for living a dignified life. More than 10 lakh households in Madhya Pradesh alone have gotten houses equipped with toilet, LPG connection, electricity connection, LED bulbs and fan and clean drinking water due to the efficient implementation of the welfare schemes.
A country with such a huge poor population cannot improve the living standards without government support to low budget housing for the poorer section of the society. These latest measures will prove instrumental in the promotion of Ease of Living through affordable housing.