Digital payments in India have grown at an unprecedented rate under Modi government.  The government supported BHIM UPI and RuPay Card (Credit+Debit+Prepaid) account for more than 60 percent of market share of digital transactions by volume and above 65 percent share by value.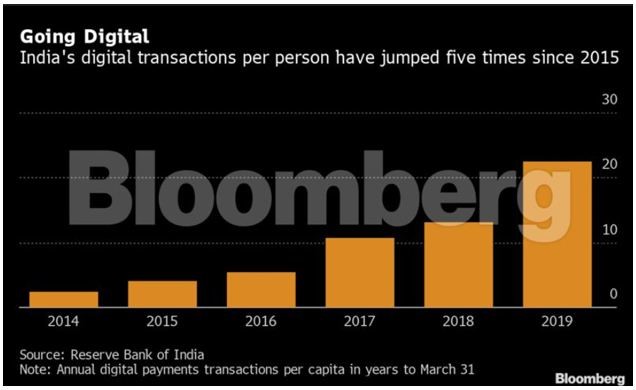 The phenomenal success of RuPay cards has increased its popularity outside India as well. The Modi government is set to launch the facility in many countries including Bahrain, and UAE. Previously PM launched RuPay cards in Bhutan, its South Asian neighbor and an important ally.
Created for Indian users, sellers and banks, #RuPay cards are now accepted in 195 countries across the globe. #OneLifeOneRuPay #IndiaIndependenceDay pic.twitter.com/jZx6ccEjdS

— RuPay (@RuPay_npci) August 15, 2019
RuPay card was created for Indian users for encouraging card-based transactions and phase out cash based economy. Now the card in accepted in 195 countries and foreign companies and users have shown interest in RuPay.  Singapore became first foreign country to get RuPay scheme along with other facilities provided by National payments Corporation of India like Unified Payments Interface (UPI) and BHIM mobile payment app. Another country which got the RuPay facility is the island nation of Maldives.
Previously many experts and committees suggested that UPI and RuPay should be taken on a global scale. The Nandan Nilekani led committee on digital payments had recommended that it was time to take UPI global. In an article published in LiveMint, Rahul Matthan, a partner at Trilegal and author of 'Privacy 3.0: Unlocking Our Data Driven Future' has argued UPI is world-class and it's time to make it international. "UPI may not be decentralized but we know it works well at scale even over patchy mobile networks," wrote Matthan.
The government has also proposed that RuPay card could also be used for public transport under its One Nation One Card scheme. It is very much evident that the efficiency and uses of the card is will only get enhanced over the coming years and this will further increase the demand of UPI and RuPay cards among global community.
In the pre Modi era, the international digital transaction players like Visa, Mastercard and American Express were involved in monopolistic practices as they were the sole players. They used to charge customers an outrageous processing fee and had made card payments an elite practice. The Modi government launched country's own digital payments system and built infrastructure to encourage digital payments.
The UPI and BHIM app, and RuPay card were developed by National Payments Corporation of India (NCPI) which is promoted by the country's central bank, the Reserve Bank of India. Digital transaction is growing exponentially in India since the launch of Unified Payments Interface (UPI).
UPI was rated as best Immediate Payments Interface (IMPS) rated topmost payments service in 'Faster Payments Innovation Index' by Fidelity National Information Services (FIS).  The government made digital and card transaction free to promote digitization of financial system in the country and this hurt the multinationals like Visa and Mastercard which had behaved irresponsibly for decades.
The companies like Visa and Mastercard which behaved in ruthless manner when the country did not have a digital payments infrastructure have now accused the government of monopolistic behavior. But from Indian perspective it will be like teaching a lesson to the multinationals which earlier used to indulge in a show of muscle-flexing, for narrow self-interest. Every nationalist Indian will be happy with the fact that RuPay, a domestic technology is gaining popularity across the world and every country is eager to use it.