The digital payments have grown at unprecedented rate under Modi government.  The government supported BHIM UPI and Rupay Card (Credit+Debit+Prepaid) accounts for more than 60 percent of market share by digital transactions by volume and above 65 percent share by value. UPI is an instant real-time payment system launched by the government of India to facilitate hassle-free digital transactions. The major private players which operate on UPI are Google's Tez, Paytm, PhonePe, Amazon Pay, and the public sector player is BHIM (Bharat Interface for Money) launched by PM Modi on December 30, 2016. The UPI and BHIM app both were developed by National Payments Corporation of India (NCPI) which is promoted by the country's central bank, the Reserve Bank of India. Digital transaction is growing exponentially in India since the launch of Unified Payments Interface (UPI).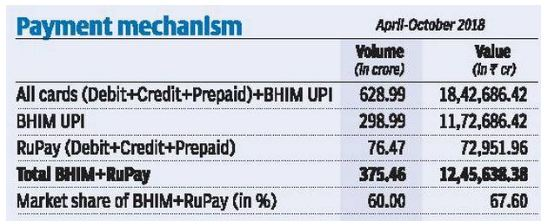 In the pre Modi era, the international digital transaction players like Visa, Mastercard and American Express were involved in monopolistic practices as they were the sole players. They used to charge customers an outrageous processing fee and had made card payments an elite practice. The Modi government launched country's own digital payments system and built infrastructure to encourage digital payments. UPI was rated as best Immediate Payments Interface (IMPS) rated topmost payments service in 'Faster Payments Innovation Index' by Fidelity National Information Services (FIS).  The government made digital and card transaction free to promote digitization of financial system in the country and this hurt the multinationals like Visa and Mastercard which had behaved irresponsibly for decades. "Today, Visa and Mastercard are losing market share in India to indigenously developed payment systems like UPI and RuPay Card whose market share have reached 65 per cent of the payments done through debit and credit cards," Finance Minister Arun Jaitley wrote in a blog on Thursday.
The global digital payments agencies did not store the data in India and did not use to pay a single penny in taxes. Previous governments could not take any strong steps against these multinationals because India did not have any payment interface of its own. Now as the country has its own infrastructure, RBI ordered these companies to save all the data for transactions taking place from October 15, on the servers in India. The major digital transaction multinationals- Visa, Mastercard, and American Express have complied with RBI order. "Compliance with local laws and regulations is a top priority for us in all the countries we operate in. We confirm that we have submitted a report to the RBI detailing our approach to comply with the directive," said Vibha Bajaj, head of public affairs and communications at American Express India. 
Now these companies will also be taxed as per the tax laws of India. Till now these companies were out of tax net of the country because they operated in India through offices in tax heaven countries like Singapore and stored data in jurisdictions of United States and Ireland. But now as these companies have 'permanent establishment' in the country which means a physical presence through data servers, they will be taxed at 15 percent, the tax rate for the companies which have invested in the country through their arms in countries like Singapore with which India has tax treaties. "As per tax treaties India has with various countries, the servers on which a website or data or software is stored and through with it is accessible is a piece of equipment having a physical location. Such location can be considered as a fixed place of business of the enterprise that owns or leases and operates the server," said Dilip Lakhani, a tax expert. 
The companies like Visa and Mastercard which behaved in ruthless manner when the country did not have a digital payments infrastructure have now accused the government of monopolistic behavior. But from Indian perspective it will be teaching a lesson to the multinationals which earlier used to indulge in a show of muscle, for narrow self-interest. Every nationalist Indian will be happy with government's move to force these multinationals for data localization and taxing them for benefit of the country.