Haryana CM Manohar Lal Khattar has been a flag bearer of state's efforts towards improving its sex ratio which has largely been skewed due to practices like female infanticide and foeticides being prevalent in the past. During an event on 'Beti Bachao, Beti Padhao', Haryana CM was speaking about the increase in sex ratio in the state thanks to the various initiatives his government has taken. 
He stated "Earlier there were only 850 girls per 1000 boys, now the number has gone up to 933 girls per 1000 boys, it has gone from 850 to 933, this is a work of bringing social transformation .  In the coming times this can lead to problems, young, old everyone understands this problem (skewed sex-ratio) can arise that there will be less girls than boys "
Don't distort Haryana CM Mahohar Khattar's statement to suit your Kashmir narrative.

Your rivalry against India doesn't give you a certificate for someone's character assassination! #ManoharLalKhattar #MahoharKhattar pic.twitter.com/o62xRmAeZO

— Geetika Swami (@SwamiGeetika) August 10, 2019
"Our minister OP Dhankhar used to say that he will bring a 'bahu' (daughter-in-law) from Bihar. Nowadays, people are saying that the path to Kashmir has been cleared, so now we will bring girl(daughter-in-law)  from Kashmir, jokes apart, if there is a good sex ratio the balance in the society will be set right" CM ML Khattar said at a rally.
However, these comments made by the Haryana CM in good spirit and outlining a major issue from which the state has struggled for long, was picked upon by the pseudo-liberal media to spin another artificial controversy.  Pseudo-liberal media following its long standing trend of selective approach just took the part where CM Khattar mentions Kashmir and conveniently weeded out the larger context around the comments.
Haryana CM himself later clarified on the issue. 
कुछ मीडिया चैनल और न्यूज एजेंसियों के हवाले से एक भ्रामक तथा तथ्यहीन प्रचार चलाया जा रहा है। जनता से मेरा ईमानदार संवाद हमेशा रहा है इसलिये मेरे बयान का पूरा वीडियो मैं सोशल मीडिया के माध्यम से शेयर कर रहा हूँ। बेटियाँ हमारी शान हैं और पूरे देश की बेटियाँ हमारी बेटियाँ हैं। https://t.co/0eCR4pFQCY pic.twitter.com/qRZVOpy24Y

— Manohar Lal (@mlkhattar) August 10, 2019
Several pseudo-liberals were also fast to ride on this fake controversy in a bid to malign progressive work done by Haryana government towards improving its sex ratio and also reeked of a larger conspiracy to defame the Haryana CM looking at the upcoming assembly elections.
Some of the outlets also put out skewed and misleading headlines on the statement by CM Khattar regarding Kashmiri women.
Firstpost in their article along with wrongly attributing these comments had also used sensitive terminology to spark unnecessary controversy.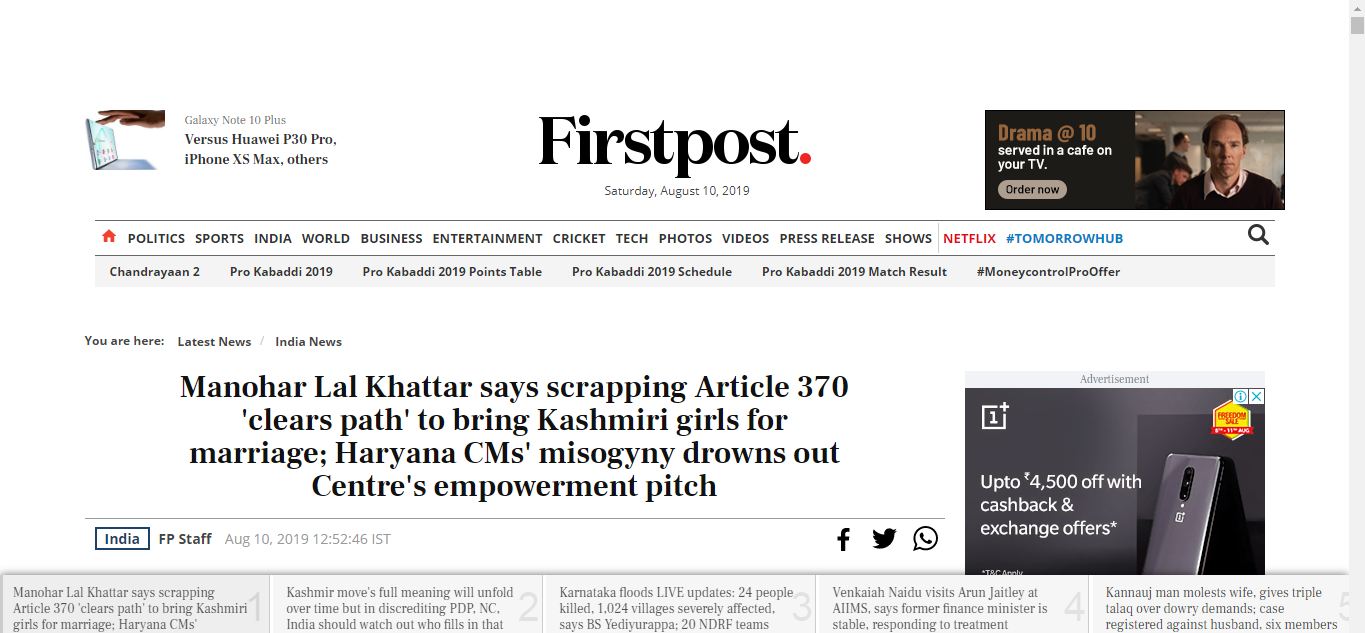 The Hindu also went ahead and put out similar skewed headline.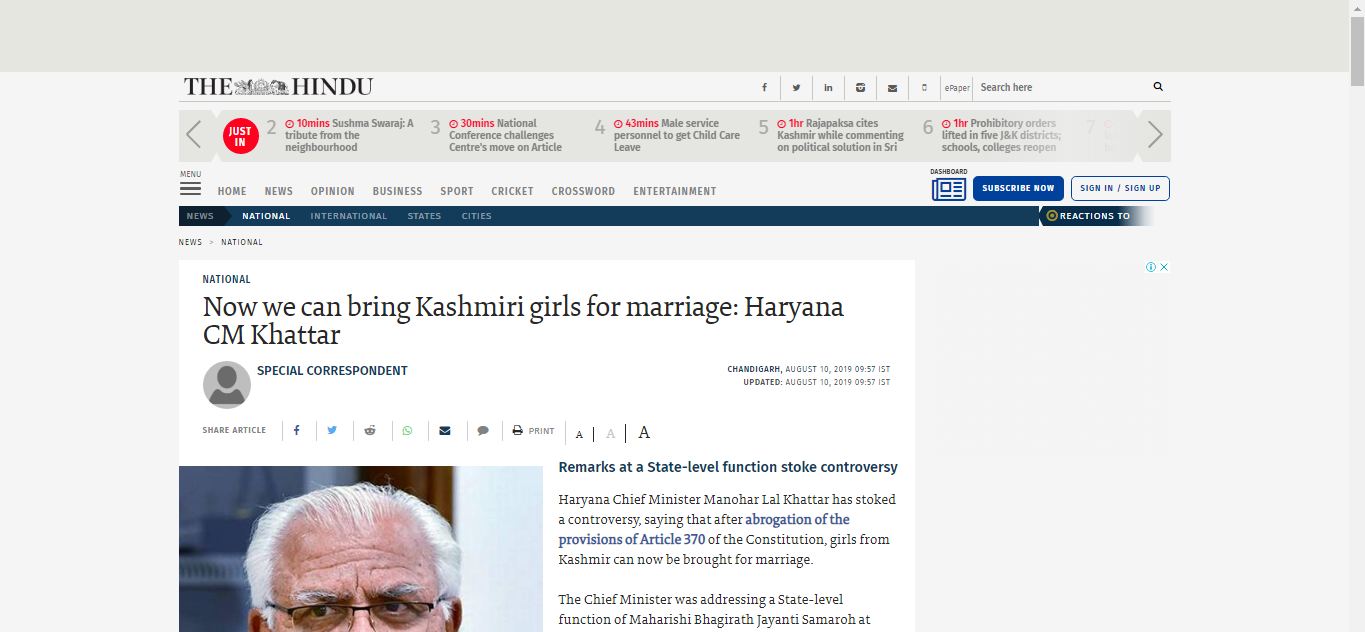 Pseudo-liberal media for long has been indulging in similar selective reporting, while ML Khattar had indicated the comments concerning Kashmiri women came from a third person, but these reports do not shy away from attributing the comments to the Haryana CM. Nonetheless, the comments when taken in context are only aimed towards addressing a larger issue around skewed sex ratio in Haryana rather than denigrating the Kashmiri women.
Similar blatant misrepresentation and false narrative setting over the internet has  facing sharp responses and meek attempts like these surely need to be quickly identified and appropriately exposed.