In a historic decision taken yesterday, Home Minister Amit Shah announced the abrogation of Article 370, which gave undue advantage to the state of Jammu & Kashmir. Apart from revoking the Article 370, he also announced that not only shall Ladakh be a centrally administered Union Territory, but also that Jammu & Kashmir will not be recognized as a full state, but a Union Territory with an Assembly.
With this decision, the BJP led NDA government has sent a powerful message to the entire world. As such, the entire nation had an overwhelmingly positive response to the removal of an arbitrary provision that separated Kashmir virtually from the rest of India. Sensing the mood of the country, even Bollywood congratulated the central government for this bold move.
Leading the brigade was actress Kangana Ranaut, who sent a message through her social media team on Instagram. She said, "Scrapping of article 370 was long due, it is a historic step in the direction of terrorism free nation, I have been emphasising on this for the longest time, and I knew if any one could achieve this impossible feat that is Mr Modi, he is not only a visionary he has the required courage and strength of character to make unthinkable a reality  … I congratulate entire Bharat including JnK on this historic day, we are together looking at a very bright future."
Joining her in congratulating NDA for the move was actor and former MP from Ahmedabad, Paresh Rawal, who wrote the following for PM Modi on his Twitter timeline –
Sau sau Salaam aapko ! pic.twitter.com/OnFcMlM5T0

— Paresh Rawal (@SirPareshRawal) August 5, 2019
Film Producer and a Kashmiri Pandit himself, Ashoke Pandit couldn't control his emotions, and posted an ecstatic thread as follows –
Opp रो कर मातम मना रहा है ! #MissionKashmir#ModiHaiToMumkinHai #Article370 #Article35

— Ashoke Pandit (@ashokepandit) August 5, 2019
"Ek Desh mein do Vidhan, do Pradhan, do Nishan nahin ho sakte"

Thank U @narendramodi ji & the people of #India for fulfilling the dream of Dr. #ShyamaPrasadMukherjee. #Article370 #Remove35A #KashmirParFinalFight @AmitShah

— Ashoke Pandit (@ashokepandit) August 5, 2019
Mohit Raina, extremely famous for his portrayal of Bhagwan Shiva in 'Devon ke Dev Mahadev' and Major Karan Kashyap in the blockbuster movie 'Uri – the Surgical Strike', was equally overwhelmed with this decision. He first posted a congratulatory tweet as shown below and then mentioned, "Today is a historic day for the Indian Constitution. This was long pending. The common man in the Valley has been deprived of basic rights, like education and employment," Raina said.
"This movement will only bring Kashmir to the forefront for the right reasons. investors will create numerous job opportunities for the common man that, in turn, will boost the economy of the state. Also, the youth will not fall prey to people with malicious intentions, which will indirectly reduce violence in the Valley.
He added, "After the sacrifice of lakhs of Indian soldiers and innocent people for the last 30 years, today, thanks to our honourable Prime Minister, we have been able to witness this historic day. Jai Hind."
?? 5.8.2019 ??

— mohit raina (@mohituraina) August 5, 2019
Likewise, stars like Raveena Tandon and Anupam Kher, also expressed their gratitude towards the government for removing the contentious Article, as shown below –
#WATCH Anupam Kher in New York: Today marks a remarkable day in the history of our great nation India. The most damaging #Article370 has been abolished by Modi govt from J&K. pic.twitter.com/em2C8Ys6Qi

— ANI (@ANI) August 5, 2019
??????????????????????????????????????????????????????????????????????????????????????????????????????????????????????????????????????????????????????????????????????????????????????????????????????????????????????????????????????????????????????????????????????????????????????.

— Raveena Tandon (@TandonRaveena) August 5, 2019
However, there were some other folks as well who weren't too pleased with this decision. While some like Dia Mirza and Sanjay Suri only called for peace in the valley, others, toing the line of Congress, and to an extent, the disgruntled Pakistanis as well, expressed their displeasure over the removal of the arbitrary Article 370. One of them was filmmaker Onir, who expressed his displeasure as shown below –
And even after 48 hours …. there is no access of Kashmiris to talk to their own families. No one seems to care about the voice of the people there. How long can one gag an entire state…. dialogue has to start immediately and hopefully that lead us to peace. https://t.co/aQLN5RsKHd

— Onir (@IamOnir) August 6, 2019
Socialite and former host of Indian Idol, Mini Mathur also expressed her disappointment over the removal of Article 370 as shown below –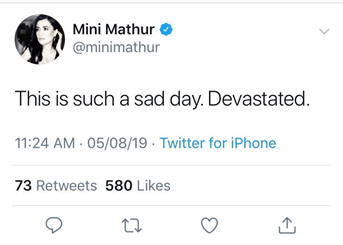 However, the icing on the cake was provided by controversial filmmaker Anurag Kashyap. Going completely senile, Anurag slammed PM Modi for the decision in the following tweet –
You know what is scary , that One Man thinks that he knows exactly what's the right thing to do for the benefit of 1,200,000,000 people and has the access to the power to execute it.

— Anurag Kashyap (@anuragkashyap72) August 5, 2019
However, there were a few Bollywood personalities, who called out such opportunistic people for their hypocritical attitude. Leading them was surprisingly Vikrant Massey, who is considered by many as a left-liberal and had even participated in the ignominious 'Not In My Name' campaign. He congratulated the central government and called out the hypocrites in the following tweets –
Never did I think I'd say this.

But, THANK YOU! @BJP4India @AmitShah & @narendramodi ??

It had to go! #Article370

Those warning of "dangerous consequences" SHAME ON YOU!
#OneNationOneLaw ??

— Vikrant Massey (@masseysahib) August 5, 2019
Full of shit Zainab? A Tweet makes you say that? Wow!!! Leave aside that Kashmiri friend for a moment. Thought you are a friend too.

— Vikrant Massey (@masseysahib) August 5, 2019
Been critical towards #BJP all my life. Will probably continue to be so as a "Liberal."

But for once when I support them.

Hoping & praying for a better future for my fellow citizens in J&K, I get abused & trolled by the very likeminded people.

Liberal? Are we?

— Vikrant Massey (@masseysahib) August 5, 2019
I agree! But the degree of language used, sadly, was worse than the so called SANGHI TROLLS. They faired better in this case. Just a bit ?

— Vikrant Massey (@masseysahib) August 5, 2019
Likewise, Ranveer Shorey and Kunal Kohli also called out the hypocritical left-liberals in Bollywood for criticizing the abrogation of Article 370, as shown below –
#Artical370 was never meant to be a permanent solution. It's been tried for decades,didn't work. Changing the status hopefully should result in peace & prosperity in the region.That's ultimately what we all want,don't we?So give it a chance before thinking otherwise

— kunal kohli (@kunalkohli) August 5, 2019
Welcome move on #Kashmir by the govt. It will go a long way in resolving the issues in the state and bring peace and prosperity to its people. Haters can go on hating. Hope the rehabilitation of Kashmiri Pandits will begin soon too. @PMOIndia @HMOIndia

— रanviर_ डhoरeय_ (Ranvir Shorey) (@RanvirShorey) August 5, 2019
Vivek Agnihotri went full spree on his Twitter timeline, explaining the need to call out such hypocrites for toeing the line of our nation's enemies, as follows –
I like the way @AmitShah exposes hypocrisy without wasting time. pic.twitter.com/5kndH4Ix0B

— Vivek Ranjan Agnihotri (@vivekagnihotri) August 6, 2019
The difference between you and me is that you believe Farooq Abdullah and I believe the Home Minister of india. https://t.co/CmEc86LtbG

— Vivek Ranjan Agnihotri (@vivekagnihotri) August 6, 2019
Ironically, Kashmir is named after Rishi Kashyap. https://t.co/njCtH8WPnt

— Vivek Ranjan Agnihotri (@vivekagnihotri) August 6, 2019
While most of the Bollywood has wholeheartedly welcomed the decision that was long due, a few of the left-liberals within the industry are yet to get over the fact that they no longer have a say in the governance of the country. We are also thankful to people like Vivek Agnihotri, Vikrant Massey, etc., who didn't hesitate to call out such hypocrites for their hypocrisy.